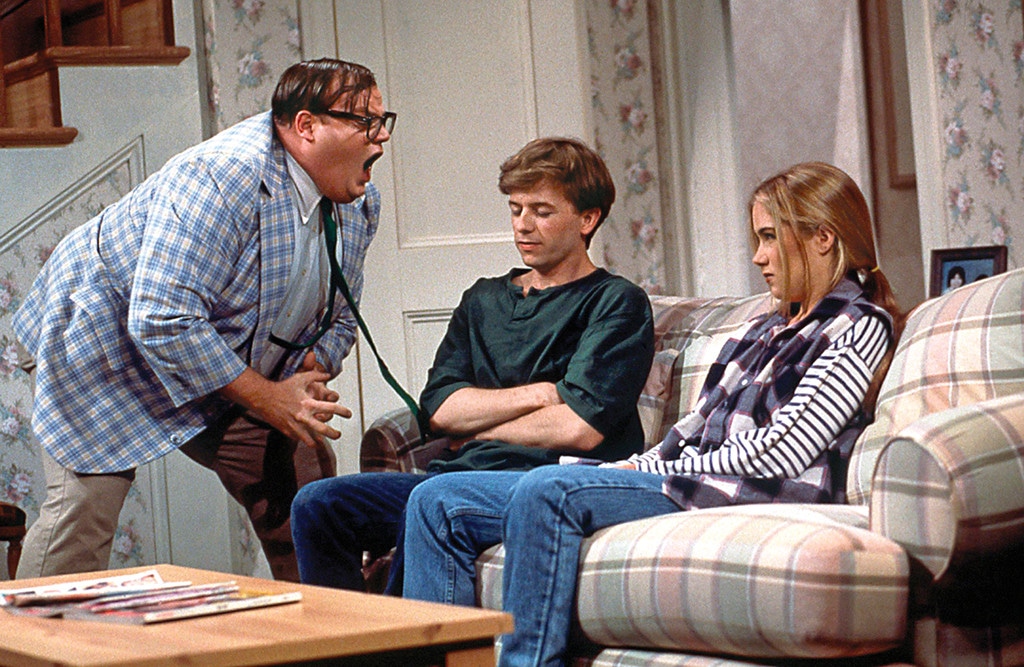 NBC
Today marks the 20th anniversary of Chris Farley's death. David Spade, who starred alongside Farley in the film Tommy Boy, commemorated the comedian's death on Twitter.
"20 years ago today," he tweeted along with a picture of Farley and the years of his life (1964 to 1997).
A comedy legend, Farley later played Mike Donnelly in Black Sheep and Haru in Beverly Hills Ninja. However, some of his most celebrated characters were those he played during his tenure at Saturday Night Live. 
Here's a look back at some of this best moments on the show:
1. When he played the eccentric motivational speaker Matt Foley
In this 1993 sketch, Farley plays a boisterous motivational speaker who talks to two teenagers (Spade and Christina Applegate) about their futures. Watch the video to see Spade struggle to keep a straight face during Farley's performance
2. When he acted as "Da Bears'" super fan
Even though Farley was born in Wisconsin, he still nailed the role as the ultimate fan of the Chicago football team.
3. When he competed against Patrick Swayze to become a Chippendale dancer
Farley wasn't afraid to show a little skin for this 1990 sketch. In the skit, Farley and the Dirty Dancing star auditioned to be a member of the Chippendales. They performed their sexiest moves for judges Kevin Nealon, Mike Meyers and Jan Hooks.
4. When he provided commentary as Bennett Brauer 
In this 1994 skit, Farley explains his "negative Q rating." Watch the whole clip to see him "fly" off the stage.
5. When he interviewed Paul McCartney
Farley could hardly control his nerves in this 1993 skit featuring the famous member of The Beatles.
The comedian passed away from a drug overdose on Dec. 18, 1997. He was 33 years old.