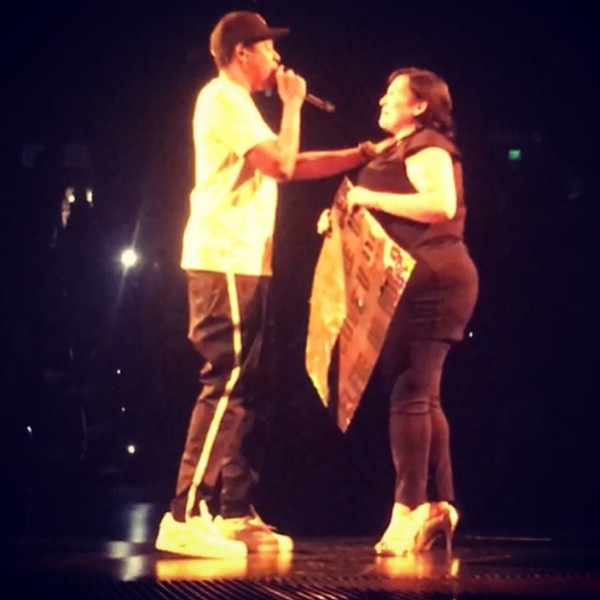 Jay-Z is a big star with a big heart...
During a stop on 4:44 tour, the music man halted his show at Oracle Arena in Oakland, Calif., on Saturday night to bring up superfan Christina Cruz, who got some attention in the crowd when she held up a sign that stated she'd beaten cancer not once, but twice.
Beyoncé's husband couldn't help but catch notice of the sparkling sign and stopped the concert to speak to the brave woman.
In an audience-captured video, the father of three read aloud the glittering sign that said, "I Beat Cancer 2X 2 C U! I LOVE U!!! SELFIE OR HUG?"
In front of the huge crowd, Hova said to the woman, "You beat cancer twice I gotta give you at least a hug."
Much to her joy, the rapper then brought her (and her eye-catching sign) on stage for all to see.
The excited fan hugged her idol and even got to have a brief on-stage chat with the seasoned performer.
Christina took to her social media after to post images from the memorable night and wrote, "I can't believe he pulled me on stage and I got to hug him not once but twice!!! Truly a dream come true!! Thank you Jay-Z!!!!"
Twitter user @@fourleafcl0ver_ shared video footage with her followers:
Looks like luck was on this lady's side on Saturday night!