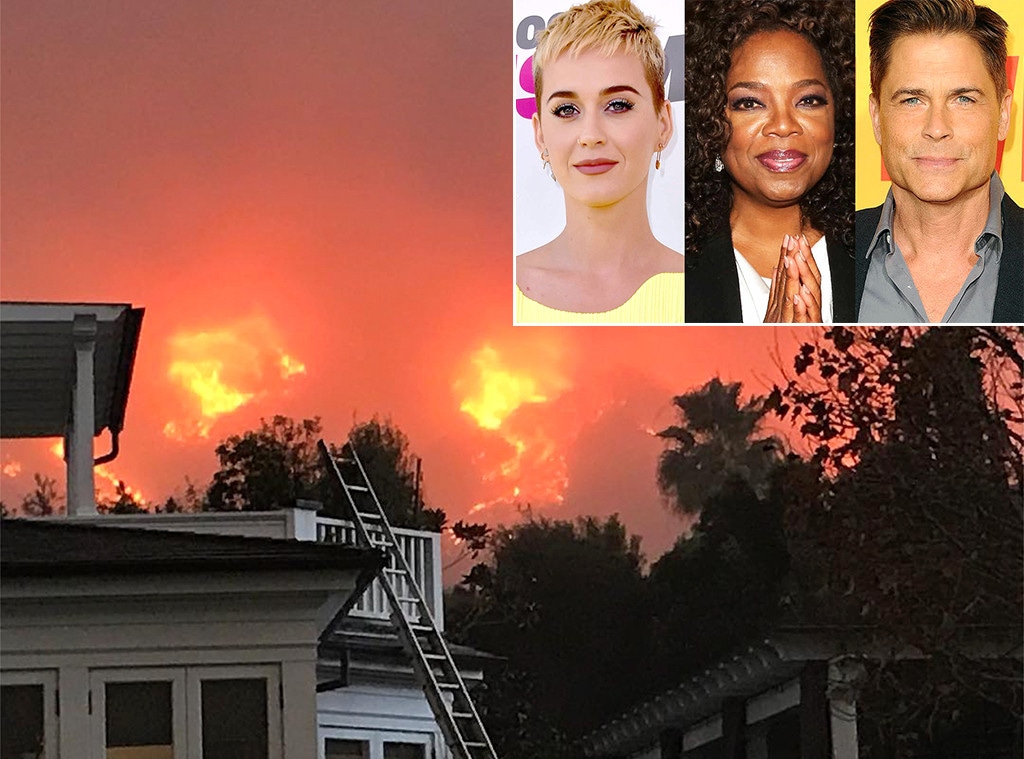 Rob Lowe/Instagram; Getty Images
One of California's largest wildfires in history continues to rage through the southeastern part of the state and threaten thousands of homes, including those owned by celebs such as Oprah Winfrey and Rob Lowe.
When asked on Sunday if her staff and dogs had evacuated her Montecito mansion, nicknamed "Promised Land," Winfrey tweeted, "Evacuated 10 days ago. Smoke was so bad for breathing. Dogs are in Palo Alto."
The day before, she wrote that her home was "so far still standing," adding, "Praying for the Promised Land and everyone else's land. Firefighters on the defense."
Meanwhile, Kary Perry revealed on Twitter on Saturday that her younger brother David Hudson had evacuated her parents from their Santa Barbara home.
On Friday night, while onstage at her concert in Tampa, Perry had called her mother, Mary Hudson, to wish her a happy birthday and sang her "Happy Birthday," with the help of her audience of some 10,000 people.
"Woke up to wish my mom a happy 70th birthday today to find my brother evacuating them from the insane #ThomasFire in Santa Barbara County that has kicked up once again," Perry tweeted. "Praying for the firefighters & first responders that are fighting it back as best they can. Love you SB."
The Thomas Fire, one of several wildfires raging in California, has prompted mandatory evacuations, road closures and unhealthy air quality warnings in parts of Santa Barbara County—which includes Montecito, where in addition to Winfrey, celebs such as Lowe and Ellen DeGeneres own multi-million dollar homes, as well as neighboring Ventura County, which is adjacent to Los Angeles County.
The wildfire has already burned through 269,000 acres, has destroyed at least 1,000 structures and is threatening 18,000 more as of Sunday morning. More than 8,500 firefighters are working to put out the wildfire, which last week killed one of their colleagues, fire apparatus engineer Cory Iverson.
"Firefighter Cory Iverson lost his life in this disaster, leaving behind his pregnant wife, Ashley, and their two year old daughter," DeGeneres tweeted on Sunday. "I can't imagine your loss. I'm sending you all so much love."
Last weekend, DeGeneres and wife Portia de Rossi evacuated their pets from another house they own, a $18.6 million beachfront home in Carpinteria, located southeast of Santa Barbara and Montecito.
"Our home is still standing, but so many homes have been lost," DeGeneres tweeted. "Firefighters continue to be my heroes."
"God bless every firefighter and their families. fighting 3 weeks straight. still going. Imagine their exhaustion! #ThomasFire," Winfrey tweeted on Sunday.
Earlier this month, celebs such as Paris Hilton and Lea Michele, evacuated their homes in Los Angeles amid the threat of another fire that raged near hillside homes alongside the 405 freeway, one of the busiest highways in the U.S.
The fires have also impacted businesses, such as Kylie Jenner's Kylie Cosmetics facility, which temporarily shut down.