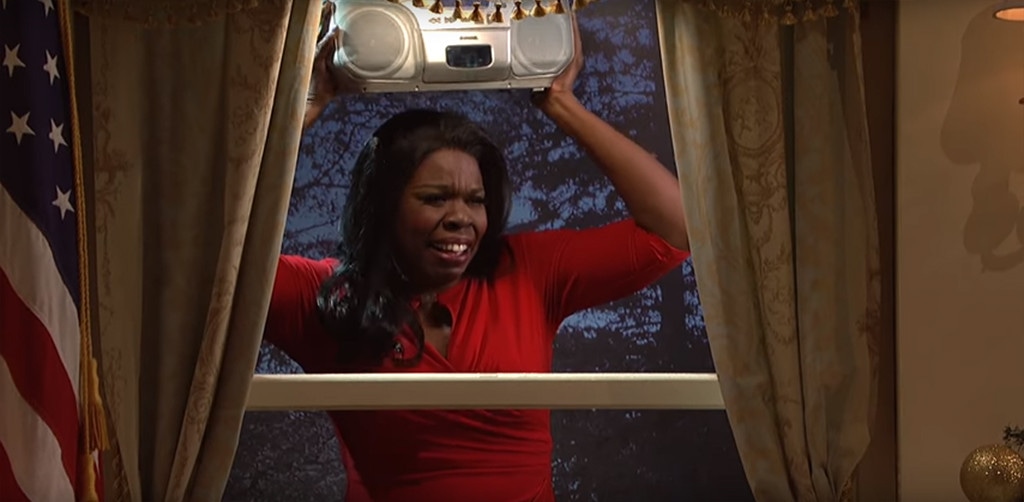 NBC
You can't keep Omarosa out of the White House forever, according to Saturday Night Live.
In this week's cold open, which also featured a cameo from Scarlett Johansson, Alec Baldwin reprised his role of President Donald Trump and said 2017 was "the greatest year in the history of America and maybe the entire Planet Earth." Baldwin's character, who appeared alongside Cecily Strong's Melania Trump, invited White House aides to hang ornaments of "haters and losers" on a Christmas "Tree of Shame."
Leslie Jones later appeared as Omarosa Manigault Newman, who was a "villain" on season one of Trump's former show The Apprentice and whose departure from her job as a White House aide was announced last week, although some reports say she was fired. The character was seen outside an Oval Office window, rapping on the glass.
"Hey!" she shouted. "Let me in!"
"Quick!" exclaimed Baldwin's Trump. "Someone turn off the lights!"
"Too late, I see you in there, Donald. Nobody kicks Omarosa out the White House," she replies, before punching a Secret Service agent and then being dragged away by another.
Omarosa later appeared in the window again, holding up a boombox blasting the theme from The Apprentice, Say Anything-style.
"Take me back!" she shouted. "I'll always love you, Don Don." 
Later in the episode, Leslie's Omarosa appeared on Weekend Update to talk about her departure from the White House.
"I left that job by choice," she said. "I quit. I deactivated my ID card. I changed the locks on my own office. I escorted myself off the premises and then I threw myself into the bushes."
A man then showed up to escort Omarosa away from the Weekend Update set.
"You can't throw me out because I quit!" she said. "yeah, you better take my arm because I'm escorting you out of the building."