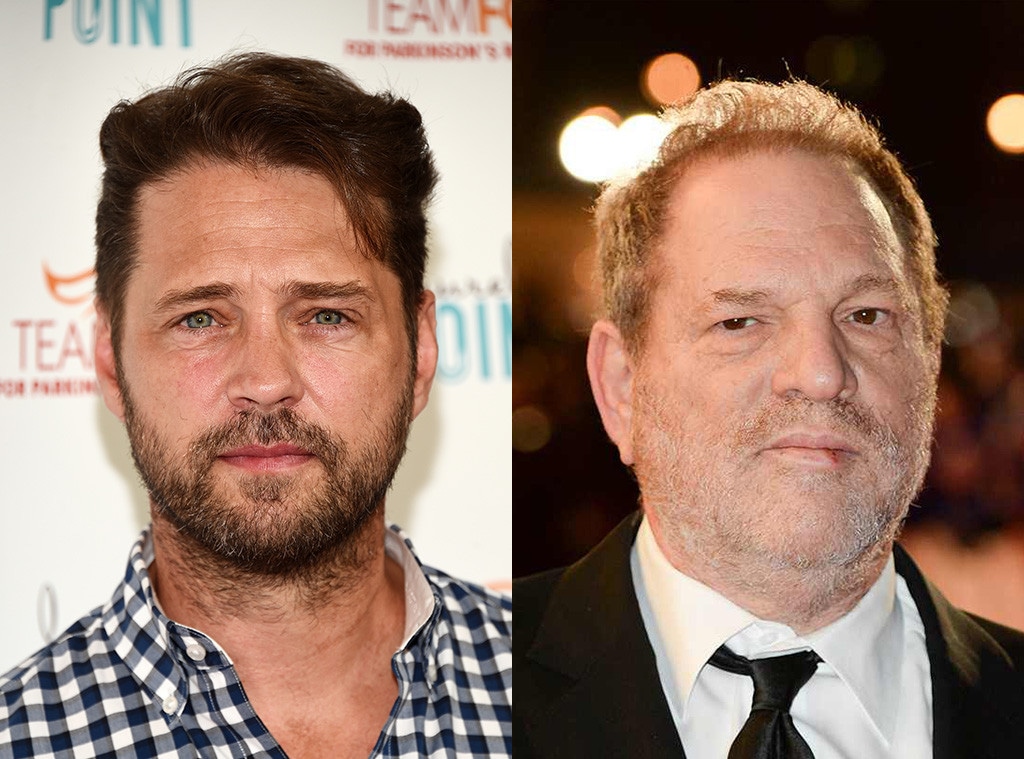 Amanda Edwards/WireImage. Anthony Devlin/PA Wire.
Brandon Walsh did what now?
Jason Priestley, who played Shannon Doherty's good guy twin brother on the '90s series Beverly Hills, 90210, claims that he once punched Harvey Weinstein during a confrontation at a 1995 Golden Globes party hosted by Miramax, a company the producer had co-founded and co-managed at the time.
Weinstein, who has made headlines in recent months over numerous allegations of sexual misconduct, has not commented on the actor's remarks and alleged incident. A rep for Weinstein declined to comment to E! News.
"'95 Golden Globes... at the Miramax Party... Harvey told me I had to leave... I was leaving when he grabbed me by the arm and said, 'What are you doing?' I said, 'You told me leave, I'm leaving,'" Priestley, 48, tweeted on Friday. "'I didn't say you had to leave,' he replied. 'You just told me to leave... right over there,' I tell him once again. Getting heated now. He then grabs me tighter and says, 'Why don't we go outside and talk about this.' That was all I needed to hear."
"'I'm not going anywhere with you,' I said as I pushed him back and punched him with a right hand to his face," Priestley wrote. "Suddenly, there were security guards pulling us apart and I was escorted out of the party..."
The actor had attended the 1995 Golden Globes ceremony with then-girlfriend Christine Elise, who played Emily Valentine on Beverly Hills, 90210.