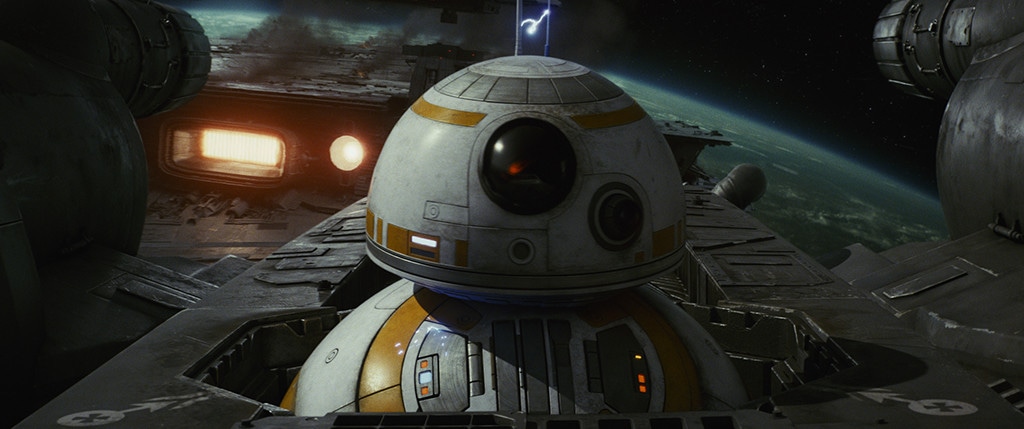 Lucasfilm Ltd.
WARNING: SPOILERS BELOW
Star Wars: The Last Jedi raked in a whopping $45 million in Thursday night previews, and it's expected to debut in the $200 million range—making it the biggest domestic opening of 2017. Fans eager to see the return of Luke Skywalker (Mark Hamill) and the last of Princess Leia (Carrie Fisher) weren't disappointed, but by the end, they no doubt asked: "What happens next?" So, E! News rounded up the key details that have been said about Star Wars: Episode IX.
When Will Filming Begin?
Fisher finished shooting The Last Jedi in the summer of 2016, months before her sudden death. "She was having a blast," Lucasfilm president Kathleen Kennedy later told Vanity Fair. "The minute she finished, she grabbed me and said, 'I'd better be at the forefront of IX!' Because [Harrison Ford] was front and center on VII, and Mark is front and center on VIII. She thought IX would be her movie. And it would have been." Director Colin Trevorrow met with Kennedy in January 2017 to discuss possible story solutions; Lucasfilm has said it will not digitally recreate Princess Leia in future movies, as it did for a key scene in 2016's Rogue One: A Star Wars Story.
The actress' passing isn't the only reason filming has been delayed, of course.
Lucasfilm and Trevorrow "mutually" parted ways in September 2017. Soon after, J.J. Abrams—who wrote and directed 2015's Star Wars: The Force Awakens—took the reigns. "I had no intention to return," he said. "But when the opportunity presented itself to finish a story that we had begun with these new characters, to tell the last chapter of their story, it felt like there was a chance to do it in a way where we could go beyond, and do better than we did in VII." Abrams and screenwriter Chris Terrio have been busy developing the new script ever since. With so many moving pieces in play, filming on Episode IX has been pushed back to June 2018.
Is This the End of the Skywalker Saga?
Luke passed on at the end of The Last Jedi—though he could return as a Force Ghost, as Anakin Skywalker, Obi-Wan Kenobi and Yoda have done in previous films. And with Leia out of the picture, that only leaves Kylo Ren (Adam Driver)—who, clearly, would rather forget his lineage. "I certainly foresee movies past nine," Kennedy promised Fandango in April 2017. "Whether or not we carry on the Skywalker saga...You know, [series creator George Lucas] always intended nine movies, and whether we continue that or not is something we're talking about right now."
"If the story warrants it, we'll absolutely do it," Kennedy said of continuing the epic. "If it actually inspires new ideas, then we'll probably head in that direction. We just don't know yet."
Kennedy promised she would have a more definitive answer in 2018.
And Episode IX won't necessarily be the end for new characters, like Finn (John Boyega) and Rey (Daisy Ridley). "We're sitting down now, we're talking about the next 10 years of Star Wars stories, and we're looking at, narratively, where that might go," Kennedy said on The Star Wars Show in November 2017. But, she's also excited about branching out. "We're also looking at working with people who are interested in coming into the Star Wars world and taking us places we haven't been yet," she said. "That's exciting—because it's a vast galaxy far, far away."
Which Characters Will Return?
The short answer is...no one knows for sure just yet. Boyega, Driver and Ridley's characters will be front and center, of course, and it's hard to imagine a finale without Anthony Daniels as C-3PO, Domhnall Gleeson as General Hux, Oscar Isaac as Poe Dameron, Lupita Nyong'o as Maz Kanata, Joonas Suotamo as Chewbacca, Kelly Marie Tran as Rose Tico and Jimmy Vee as R2-D2. Whether Benicio del Toro will return as the slicer DJ remains a mystery. Several characters, including Captain Phasma (Gwendoline Christie), Vice Admiral Amilyn Holdo (Laura Dern), Admiral Ackbar (Timothy D. Rose) and Supreme Leader Snoke (Andy Serkis), were just killed, making their returns unlikely. But this is Star Wars, so who knows what Abrams has in store?
When Will It Be Released in Theaters?
The film was originally slated for release on May 24, 2019; it was later pushed to Dec. 20, 2018.
(E! and Fandango are both members of the NBCUniversal family.)