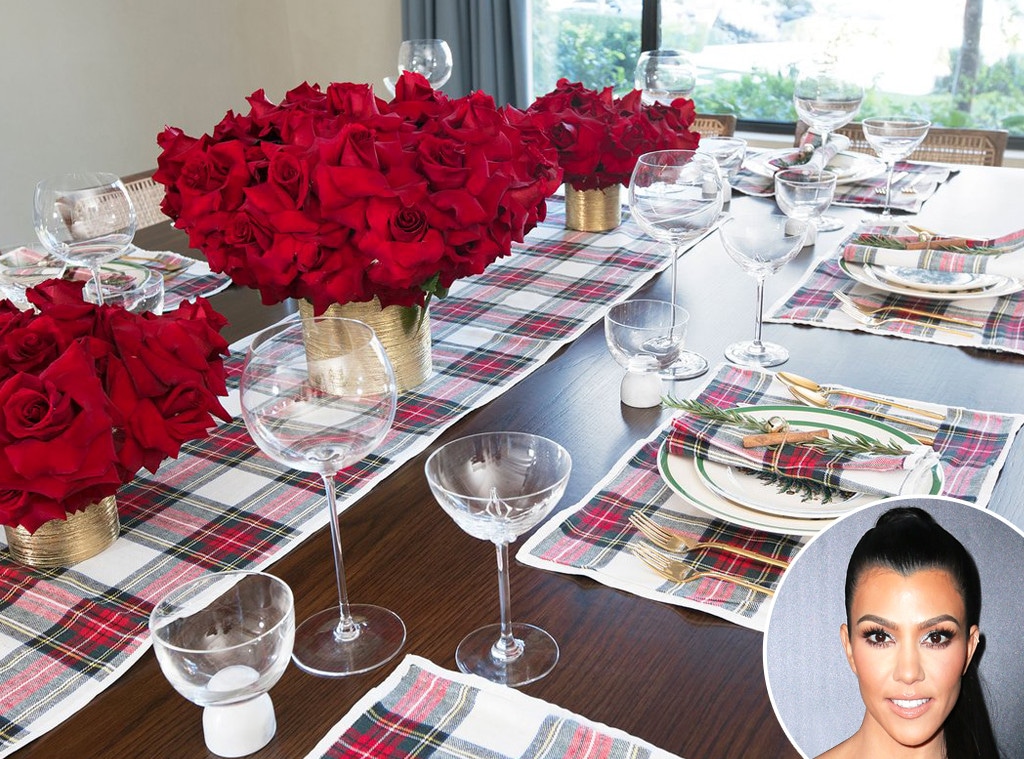 Courtesy of Burke Doeren/kourtneykardashian.com, Rich Fury/Getty Images
Want to host a Christmas as chic as Kourtney Kardashian's? Well, you're in luck!
E! News has the exclusive first look at the Keeping Up With the Kardashians star's Christmas day table setting, which she revealed this morning on her official Kourtney Kardashian app. Here's how you can recreate Kourt's gorgeous table.
"Christmas is one of my favorite holidays and we always go overboard in decorating the whole house," Kourtney writes. "The kids love this time of year, so we have a tree in each of their bedrooms and also a bunch of big trees throughout the house. I usually have my sisters and the entire family over on Christmas morning, so I pull out all my holiday linens and plates to set the table."
Burke Doeren/kourtneykardashian.com
For her table settings, Kourtney mixes new items with older, more sentimental items passed down from her parents Kris Jenner and the late Robert Kardashian. 
"I have a full set of matching Christmas placemats, napkins and table runners from Williams-Sonoma that I use every year. The red, green and white tartan plaid immediately makes the room feel festive and is classic enough to use year after year," Kourt explains. "I set the table with vintage Baccarat champagne coupes from my mom and dad's wedding, tall wine glasses from Crate & Barrel and smaller water glasses from Lee Broom. If there are too many people and I don't have enough glasses, I'll mix in different styles and alternate between each seat—it looks cool and you don't even notice!"
Burke Doeren/kourtneykardashian.com
For the centerpiece, Kourtney writes, "Eric Buterbaugh does the most gorgeous flower arrangements made of peeled-back red roses. I usually go for really simple vases and modern floral arrangements, but for Christmas I love going all out and doing red with gold vases to make the room really pop and feel opulent."
In addition to being visually beautiful, Kourtney also enhances her table with beautiful scents.
"For the place settings, I like to tie fresh rosemary and fresh cinnamon sticks to each napkin. The rosemary sprigs are so fragrant and make the entire room have a holiday scent. To make the little packets, I used natural twine to secure the rosemary and cinnamon stick with a small jingle bell," she details.
And the champagne glasses aren't the only items from mama Kris and papa Robert. "My mom gave me all her Christmas plates years ago—the same ones I grew up with at home. I love using them because they make me a little nostalgic. Plus, they've been used for so many years that it's not the end of the world if something breaks or the kids chip one," she writes. "This vintage gold bamboo silverware is totally over the top, but I love using it for Christmas! This set belonged to my dad—so I love to break it out for holidays when the whole family is together."
Scroll down to shop Kourtney's table setting!
Keeping Up With the Kardashians returns this September, only on E!