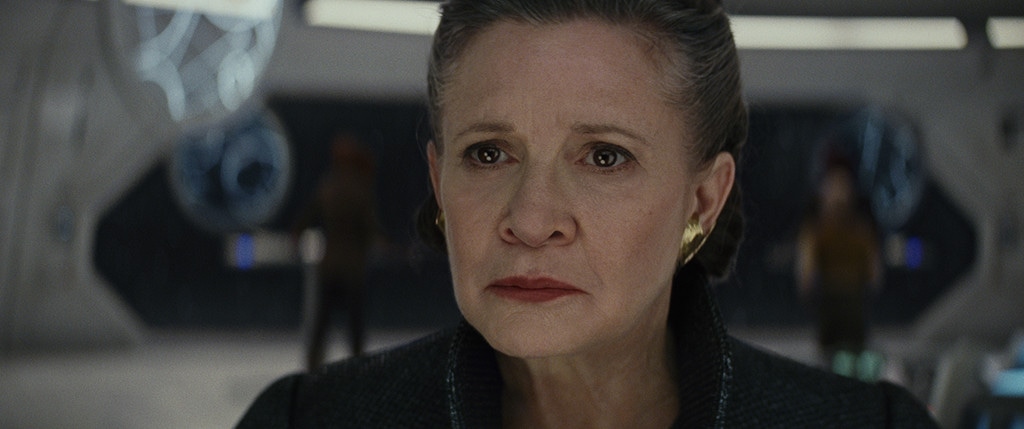 Lucasfilm Ltd.
When audiences flock to movie theaters to see Star Wars: The Last Jedi this weekend, they'll see director Rian Johnson pay tribute to the indelible Carrie Fisher, returning as Princess Leia.
Shortly into the credits, a dedication appears onscreen that reads: "In Loving Memory of Our Princess, Carrie Fisher." The actress died suddenly in December 2016, Star Wars: The Last Jedi marks the beloved star's final turn as the feisty heroine, who first appeared onscreen in 1977's Star Wars: A New Hope alongside Han Solo (Harrison Ford) and Luke Skywalker (Mark Hamill).
Fans first saw the dedication at the film's premiere in L.A. Dec. 9. "I want to dedicate tonight to Carrie, who is up there right now flipping me the bird, saying, 'Damn it, Rian, don't you dare make this night a solemn tribute,'" Johnson laughed. "So let's all have a blast tonight for Carrie."
Fisher's brother said earlier this year that he and Billie Lourd had given Lucasfilm permission to use footage of the actress in Star Wars: Episode IX, set for theatrical release on Dec. 19, 2019. However, Lucasfilm president Kathleen Kennedy told ABC News in April he was "probably confused" about their plans to finish the trilogy. "We've regrouped; we started over again in January. Sadly, Carrie will not be in IX," Kennedy clarified. "But we will see a lot of Carrie in VII."
J.J. Abrams will return to write and direct the final installment, after having revived the franchise in 2015 with Star Wars: The Force Awakens. Kennedy admitted Fisher's character was meant to have a larger role in the third movie, as Ford's did in The Force Awakens and Hamill's does in The Last Jedi. Though a script hadn't been written at the time of her death, Kennedy said, "We were well underway with Episode IX in our thoughts." (Months later, Lucasfilm and the movie's writer/director, Colin Trevorrow, announced they were "mutually parting ways.")
Nearly a year later, Daisy Ridley is still trying to process Fisher's death. "The last thing Carrie and I filmed together was emotional for a variety of reasons. It's the end of the film, and all of this crazy stuff has happened. There's this moment that we share, and thinking about it now, I realize that it's going to be really hard to watch," the actress, reprising her role as Rey, said in Glamour's latest issue. "Because it will seem like a goodbye, even though it wasn't at the time."