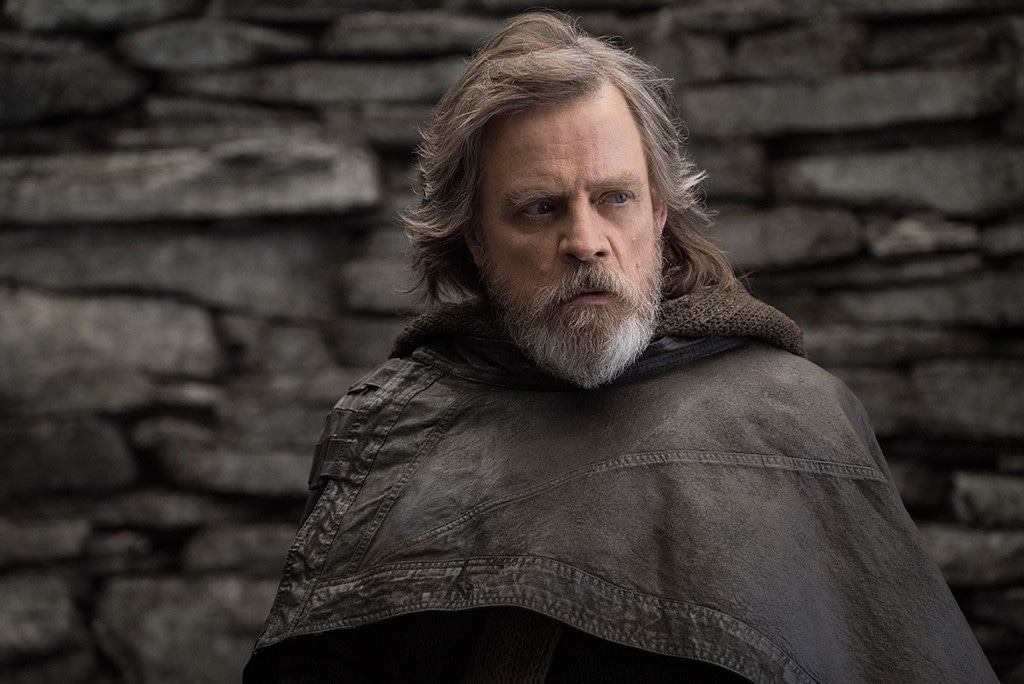 David James/Lucasfilm Ltd.
At long last, Star Wars: The Last Jedi is in theaters.
The film picks up immediately after J.J. Abrams' 2015 blockbuster, Star Wars: The Force Awakens. Written and directed by Rian Johnson, the sequel stars John Boyega as Finn, Gwendoline Christie as Captain Phasma, Anthony Daniels as C-3PO, Benicio Del Toro as DJ, Adam Driver as Kylo Ren, Laura Dern as Vice Admiral Amilyn Holdo, Carrie Fisher Princess Leia Organa, Domhnall Gleeson as General Hux, Mark Hamill as Luke Skywalker, Oscar Isaac as Poe Dameron, Billie Lourd as Lieutenant Connix, Lupita Nyong'o as Maz Kanata, Mike Quinn as Nien Nunb, Daisy Ridley as Rey, Timothy D. Rose as Admiral Ackbar, Andy Serkis as Supreme Leader Snoke, Joonas Suotamo as Chewbacca, Kelly Marie Tran as Rose Tico and Jimmy Vee as R2-D2. Lucasfilm president Kathleen Kennedy produced the movie with Ram Bergman, while Abrams, who will return to helm 2019's Star: Wars Episode IX, served as an executive producer.
Without spoiling anything, here is what eight critics are saying about the movie:
David James/Lucasfilm Ltd.
• "If having pure fun at a Star Wars movie is wrong, I don't want to be right. So for me, The Last Jedi falls right behind The Empire Strikes Back and maybe the original film in providing the thrills and the heartbreak, the heroism and villainy, and the romance and betrayal that makes these films such a treat even for those of us who can't name all the planets or the alien species or even the Empire's flunkies. (Sorry, the First Order's flunkies.) And make no mistake: This is an entertaining chapter, but it also features loss and sacrifice and devastating consequences," The Wrap's Alonso Duralde writes. While a few scenes may "ring familiar," he says, the accusations of The Force Awakens being a redo of the first Star Wars film from 1977 "can't be leveled here."
Jonathan Olley/Lucasfilm Ltd.
• "The Last Jedi is Driver's to rule as much as Force Awakens was Ridley's, and he's awesome in it—Kylo is blockbuster cinema's most magnetic and unpredictable antagonist since Heath Ledger's Dark Knight Joker," USA Today's Brian Truitt writes. "Just as good is the original Star Wars hero: Hamill lends gravitas, warmth, power and even humility to old Luke in a memorable performance." The movie's momentum stalls at times, but it'll still leave fans wanting more. "The sacrifices all pack a gut punch, the space battles and action scenes are killer—one battle featuring Driver and Ridley is a Star Wars all-timer," he says. Perhaps best of all, Johnson infuses "more modern hilarity and occasional quirkiness" than previous Star Wars movies have.
David James/Lucasfilm Ltd.
• Calling the movie "simply stupendous," Rolling Stone's Peter Travers writes, "The Star Wars universe is the best toy box a fanboy could ever wish for, and Johnson makes sure that Jedi is bursting at the seams with knockout fun surprises, marvelous adventure and shocking revelations that will leave your head spinning. Even those few jaded doubters, the ones still reeling from the disastrous trilogy of prequels perpetrated by George Lucas, will roar like Wookies and holler, 'Holy s--t!'" Case in point: "Just when you think you know where this movie is going, Johnson pulls the rug out from under you," he writes. Though it's "simply too long" and "sometimes too damn much," the director somehow "balances the skyrocketing action with tender feeling keeps you emphatically in the game. The actors are stellar in big roles and small."
David James/Lucasfilm Ltd.
• Entertainment Weekly's Chris Nashawaty argues that the film "drags too much" in the middle. "Somewhere in the film's 152-minute running time is an amazing 90-minute movie," he writes, noting that "the second act gets a little bloated and unwieldy." Hamill "gives the single best acting performance of his career," while relative newcomers Boyega and Isaac "seem to be sidelined or stuck in idle for long stretches. Unfortunately for the future of the franchise, it's the old faces that provide the most poignant moments." The film has its "flaws," but Johnson pulls it off in the end. "The climactic last 45 minutes of the film is as thrilling and spectacular as anything Star Wars has ever given us. There are cool, mythic hand-to-hand battles, breathtaking aerial sequences, and one mano a mano showdown that's as epic as anything Sergio Leone ever dreamed up," he writes. And the film "ends on a note that feels...just...right."
Jonathan Olley/Lucasfilm Ltd.
• The New York Times' Manohla Dargis calls the film "satisfying, at times transporting entertainment. Remarkably, it has visual wit and a human touch, no small achievement for a seemingly indestructible machine that revved up 40 years ago and shows no signs of sputtering out (ever)." But, with so many characters, the plot is tangled. "Like most contemporary action flicks, this one more or less plays out as a succession of fights, chases and time outs...across two or more plot lines." In spite of everything that's going on, Driver still "delivers a startlingly raw performance." The realization that this is Fisher's final appearance in Star Wars "imparts real melancholy to a series that from its start has been defined, if not always comfortably, by loss."
David James/Lucasfilm Ltd.
• "Most of the new characters could use more heft, purpose and edge to their personalities, and they have a tendency to turn up hither and yon without much of a clue how they got there; drawing a geographical map of their movements would create an impenetrable network of lines," The Hollywood Reporter's Todd McCarthy writes. "But there's a pervasive freshness and enthusiasm to Johnson's approach that keeps the pic, and with it the franchise, alive, and that is no doubt what matters most." The movie "has the decided feel of a passing-of-the-torch from one set of characters, and actors, to the next," he writes. And that is "generally pleasing, even as it sometimes strains to find useful and/or interesting things for some of its characters to do."
David James/Lucasfilm Ltd.
• "Fisher doesn't get as many big moments as you'd hope for—probably because the filmmakers were holding off for the trilogy's final film, which was meant to be her showcase. (The first was Harrison Ford's, this one Hamill's.) But it's moving to hear her soulful croak for the last time," Vulture's David Edelstein writes. "It took 40 years, but she and Leia finally merged." Ridley's Rey is "even more appealing" than she was in the Force Awakens—"plucky, steadfast, doggedly determined to find her place in the cosmos." But it's actually Driver's Kylo Ren "who ranks with cinema's most fascinating human monsters." As Edelstein notes, "There's a lot of sleight-of-hand involved in making you think that the plot is moving forward instead of in circles." But, for all its flaws, it's "shockingly good." In fact, he writes, "The joys outweigh the downers tenfold."
Jules Heath/Lucasfilm Ltd.
• "Although The Last Jedi meets a relatively high standard for franchise filmmaking, Johnson's effort is ultimately a disappointment. If anything, it demonstrates just how effective supervising producer Kathleen Kennedy and the forces that oversee this now Disney-owned property are at molding their individual directors' visions into supporting a unified corporate aesthetic—a process that chewed up and spat out helmers such as Colin Trevorrow, Gareth Edwards, Phil Lord and Christopher Miller," Variety's Peter Debruge writes. "But Johnson was either strong enough or weak enough to adapt to such pressures, and the result is the longest and least essential chapter in the series." It's "entertaining," and to its credit, "women basically run the show this time around." But, "audiences could presumably skip this film and show up for Episode IX without experiencing the slightest confusion as to what happened in the interim."
Star Wars: The Last Jedi is rated PG-13.