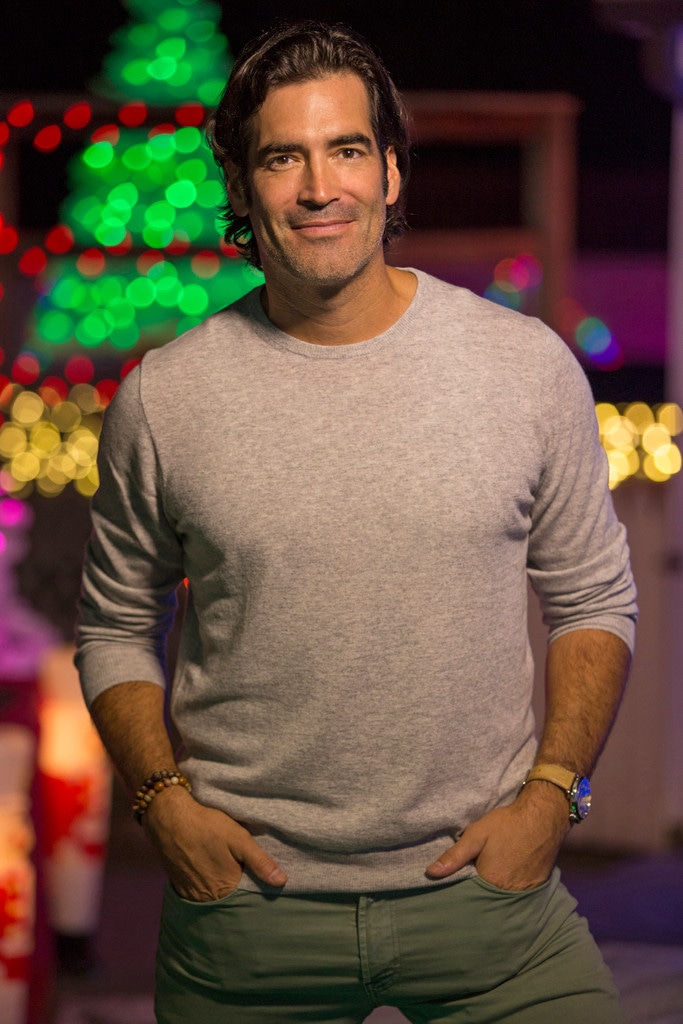 ABC/Eric Liebowitz
HGTV star Carter Oosterhouse is the latest celeb to be accused of sexual misconduct, following months of accusations made against a slew of powerful men.
The 41-year-old carpenter and TV personality, who has been married to actress Amy Smart since 2011 and is also known for his work on TLC and ABC shows, says he had a past intimate relationship with the accuser, his former makeup artist, and that it was "100 percent mutual and consensual."
Kailey Kaminsky, 44, told The Hollywood Reporter in comments posted on Thursday that during production of Oosterhouse's HGTV show Carter Can in 2008, a year after she began working there, he allegedly started coercing her into performing repeated acts of oral sex. She said she lost her job after she took time off from work to treat anxiety and a stomach ulcer and that after she was fired, she was hospitalized for depression.
"While we have not been in production with Carter Oosterhouse on an HGTV series for many years, we take matters such as this very seriously," HGTV said in a statement to E! News. "We do not tolerate harassment of any kind."
She said one alleged encounter took place as they were driving to a project site. She said Oosterhouse pulled off the road and asked her, "Do you enjoy your job?"
She said she told him she did and that she would like to work more and also handed more of his personal appearances outside the show. She said he told her, "Well, I can help you with that. But you need to do something for me.'"
Kaminsky said she interpreted the conversation as imperiling their professional relationship and that she dutifully submitted to his requests on between 10 and 15 occasions.
"When he would assault me, he insisted on finishing on my face—every time—knowing that I had to go back out and work," Kaminsky said. "I asked him about that. He said, 'It's just what I wanted to do.'"
"I had an intimate relationship with Kailey nine years ago and it was 100 percent mutual and consensual," Oosterhouse told E! News in a statement. "In no way did I ever feel, nor was it ever indicated to me, that Kailey was uncomfortable during our intimate relationship. I would have never done anything that I was not sure was mutually agreeable."
"The reality is that I knew it was consensual because she initiated it the first time and many of the 15 or so times we had relations thereafter," he said. "We were together outside of work and I considered her a friend."
Kaminsky said Oosterhouse's initial advances towards her were especially surprising because she identifies as a lesbian. He said in his statement he did not know of her sexuality.
Kaminsky said she took a week-long absence from the show due to anxiety and was hospitalized for a stomach ulcer. She said Carter Can director Patrick Jager was unaware of her situation and told her she would not be returning the following season, citing her absence. Jager told The Hollywood Reporter that he does not recall the reason her contract wasn't renewed.
"I didn't have anything to do with her not being invited back to the show—that was a producer decision," Oosterhouse said in his statement.
Kaminsky said that she descended into a depression and underwent in-patient treatment. Kaimsky said that a year after she left the show, she told an official at its production company about Oosterhouse. She said the reality star later called her and apologized, stating, "I'm so sorry. I thought it was mutual."
"I did say I thought it was mutual—because it was," Oosterhouse told The Hollywood Reporter. "I didn't apologize because I never did anything wrong. That's the God's honest truth. I felt bad that she was, in that moment, not-super-positive."
Kaminsky told The Hollywood Reporter that when she worked with Ooosterhouse, she told two female Carter Can producers about him and "definitely went out of my way to pretend it was something that I was participating in willfully," adding, "It was Stockholm Syndrome-y, justifying-what-you're-doing." One of the producers told the outlet that the relationship "didn't seem like it was abusive."
In his statement to E! News, Oosterhouse said he is "very passionate about what is a happening right now with the #MeToo movement, especially because I have so many strong woman in my life, like my wife, mother, sister and of course my little baby girl."