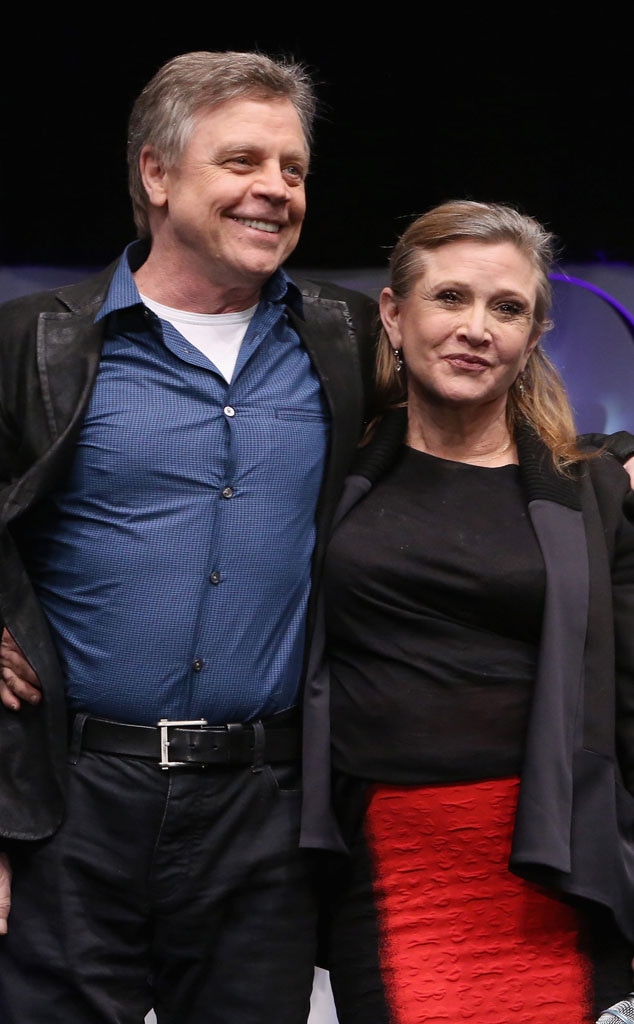 Jesse Grant/Getty Images for Disney
Harrison Ford wasn't the only Star Wars cast member to have been romantically involved with Carrie Fisher. Turns out Mark Hamill and the late actress also mixed business with pleasure while filming 1977's Star Wars. 
Despite learning from previous acting gigs that it was a "bad idea" to pursue anything past the professional with a co-star, Hamill admitted "Carrie and I were attracted to one another" and shared the details of their admittedly memorable hookup in an interview with The Guardian. 
"I remember one time—I'm sure alcohol was involved—we were talking about kissing techniques," the actor, 66, recalled. "I said: 'Well, I think I'm a fairly good kisser. I like to let the women come to me rather than be aggressive.' And she said: 'What do you mean?' Well, next thing you know we're making out like teenagers!"
Watch:
Mark Hamill Reflects on His Close Bond With Carrie Fisher
But Mark said their makeout sesh was over just as soon as it began, as he continued, "Are you kidding me? We were all over each other! But the one thing that drew Carrie and me back from the precipice was we kind of became aware of what we were doing and just burst out laughing."
Hamill added with a laugh, "Which was unfortunate for me because the rocket launch sequence had been initiated." (TMI, Skywalker... TMI.) 
Ford made headlines earlier this year when he addressed his long-speculated affair with Fisher, which the late movie star previously confirmed in her The Princess Diarist memoir.
"I looked over at Harrison," a then-19-year-old Fisher wrote in her diary about Ford, 33, who was married with two children at the time. "A hero's face—a few strands of hair fell over his noble, slightly furrowed brow. How could you ask such a shining specimen of a man to be satisfied with the likes of me?"
In an interview with GQ, Ford said he felt "strange" over their past relationship going public, ultimately resolving, "You know, with Carrie's untimely passing, I don't really feel that it's a subject that I want to discuss."
And Hamill also addressed Fisher's absence at the world premiere of Star Wars: The Last Jedi. He told E! News exclusively on the red carpet, "I always think of her in the present tense, not the past... Instead of being upset that she's not here, I have to remember all the years of fun that she gave me."
Star Wars: The Last Jedi is in theaters now.