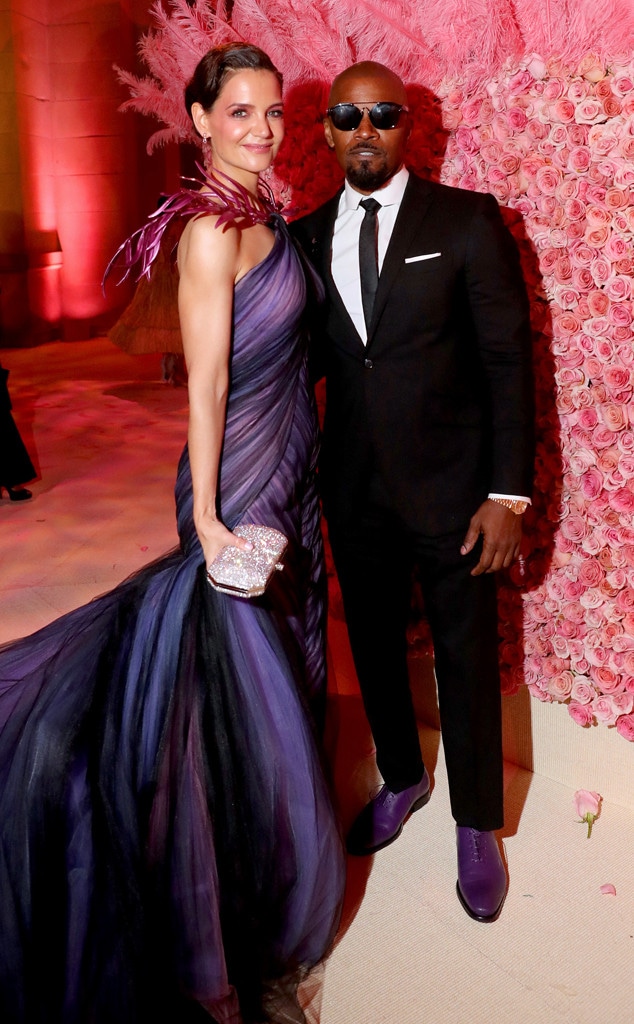 Kevin Tachman/MG19/Getty Images for The Met Museum/Vogue
Slowly but surely, Katie Holmes and Jamie Foxx emerged from their relationship cocoon.
Alas, too much time out in the open didn't work for the famously private pair.
The pair have split up after almost six years of are-they-or-aren't-they and what-are-they intrigue, and we're told the actors haven't been a couple since May—when they seemingly were making their red-carpet debut as a duo at the Met Gala.
Barely a month beforehand they had been photographed together with Foxx's daughter Corinne, but these two were never ones to engage in recognizable patterns of relationship behavior—other than their pattern of purposely giving almost nothing away.
The level of privacy that these two decided to operate on marked a whole new chapter in the never-to-be-finished book of how celebrities come together and become couples, their decision to hide in plain sight and deny-deny-deny for almost four years making perfect sense sometimes and no sense at all at others.
Not until 2017 did Foxx and Holmes seem to be easing the tight grip they had on their own narrative. And not that much, but definitely a little. Let's say, it would've been far more noticeable if Holmes had missed her guy's 50th birthday party.
She was in attendance at Foxx's birthday bash on the Paramount lot in Hollywood, where the studio set was made up to look like a LIV on Sundays party at the famed Miami nightclub. Holmes first joined Foxx for a group dinner at The Highlight Room, which commands a dramatic view of the city, and then they left together for Paramount Studios, where Katie "looked on as Jamie gave speeches and danced with his friends," according to a source. 
Another insider told E! News, "She seemed like she was in a great mood...Katie wasn't going to miss this night."
Birthday celebrations have been more of a constant for the pair, whose sporadic sightings together had otherwise had very little rhyme or reason as far as timing goes. (Their birthdays also happen to be just five days apart, Foxx's on Dec. 13 and Holmes' on Dec. 15.)
In 2015, just a couple of months after Holmes reportedly donned a wig to up the chances of meet-up with Foxx in New York being incognito (it was a valiant effort), she joined several of Foxx's pals in throwing him a party for the Oscar winner's 48th birthday at Manhattan restaurant Le Bilboquet. 
And in December 2016, once again after another year of noncommittal public behavior, they reportedly went to Mexico on vacation together. So their priorities seem to have been in order for some time as far as what they expect from each other, regardless of how little they wanted to crack open their inner circle and let the world in.
Yet for a reason that is likely to remain unexplained for the foreseeable future, Foxx and Holmes finally did allow themselves to be photographed (we give all the credit to them, because we know for a fact they can avoid getting caught on camera together) walking hand in hand on the beach in Malibu over Labor Day weekend in 2017.
It's impossible to say for certain why these two grown-up, successful people spent the first two years of their relationship (or, to give them a little benefit of the doubt, the first two years of their blossoming friendship) acting as if the other didn't exist.
Taking it slow, that's understandable.
Holmes' daughter, Suri, was only 6 when her parents split up. (She's 13 now, an easier age to have more serious mother-daughter chats with.) Holmes and Foxx seemed to have met in the first place through Cruise, who co-starred with Foxx in the 2004 thriller Collateral. That was a couple of years before Cruise and Holmes burst on the scene as a couple with a proverbial brass band's worth of fanfare, but they were all photographed together on the sidelines at a football game in 2006.
Holmes and Cruise divorced in June 2012, accompanied by stories of an iron-clad prenup and no post-split analysis of what went wrong whatsoever. (As agreed upon in the prenup, perhaps.)
Rumors of Foxx and Holmes' romantic association commenced in August 2013, when they both danced onstage at a charity event in the Hamptons, arms casually but comfortably slung around each other's shoulders. Foxx maintained that they were just friends whenever asked (and he was always being asked), and obviously Holmes had a whole other none-too-distant past to shed as the ex-wife of one of Hollywood's biggest, most inscrutable stars. 
Holmes had just gotten out of one relationship that had defined her entire persona for the previous six years (not to mention altered her career trajectory), so she surely didn't want to jump right into another twosome that would also inevitably dominate the Katie Holmes headlines.
Sophie Fritzl/startraksphoto.com
She couldn't help that even just a rumored relationship would serve the same effect, but she stood her ground and ultimately, when she got into the single-parenting groove with Suri, sat down for interviews and attended events, became the first-ever celebrity face of Bobbi Brown, returned to acting and directed her first film—at the end of the day it was just about her.
But then...some time went by.
Foxx has kept himself pretty busy over the years, dividing his time between movies (his most recent was the hit Baby Driver) and music (he released his fifth studio album, Hollywood: A Story of a Dozen Roses in 2015 and earlier this year joined Barbra Streisand onstage for a duet that was featured in her Netflix concert film The Music… The Mem'ries… The Magic!). As for the personal stuff, his now 23-year-old daughter Corinne was Miss Golden Globe in 2016, and his younger daughter Annalise turned 10 in August.
Jordan Strauss/Invision/AP
And though Katie still ducked when the cameras found her en route from one Foxx birthday party location to another in 2017, they had come a long way from that first spotlit dance (while surrounded other people).
Over the past six years they evolved from "100 percent not true" and "quite hilarious" to "just friends" to "not about to run off and make some serious commitment" to Holmes telling the New York Times,"no, I'm not married, but thank you for asking."
A source told E! News in August 2017 that the couple, while they had no plans to ever talk about their relationship, remained "really happy." And, incidentally, that their relationship is "easy."
They were even spotted, almost a year after their Labor Day 2017 beach party for two...working out together in Atlanta. 
Chills.
Carefully coordinating arrival times and steering clear of sneaky camera phones and making sure you only share your relationship status with the most trustworthy people imaginable may seem like a pain. It was a lot of effort to put into what could have turned into a regular, red carpet-walking relationship at any point, if they had so desired.
But doing it their way worked for them, until it didn't. But we bet they both still agree that that's all you need to know.
(Originally published Dec. 14, 2017, at 2:54 p.m. PT)