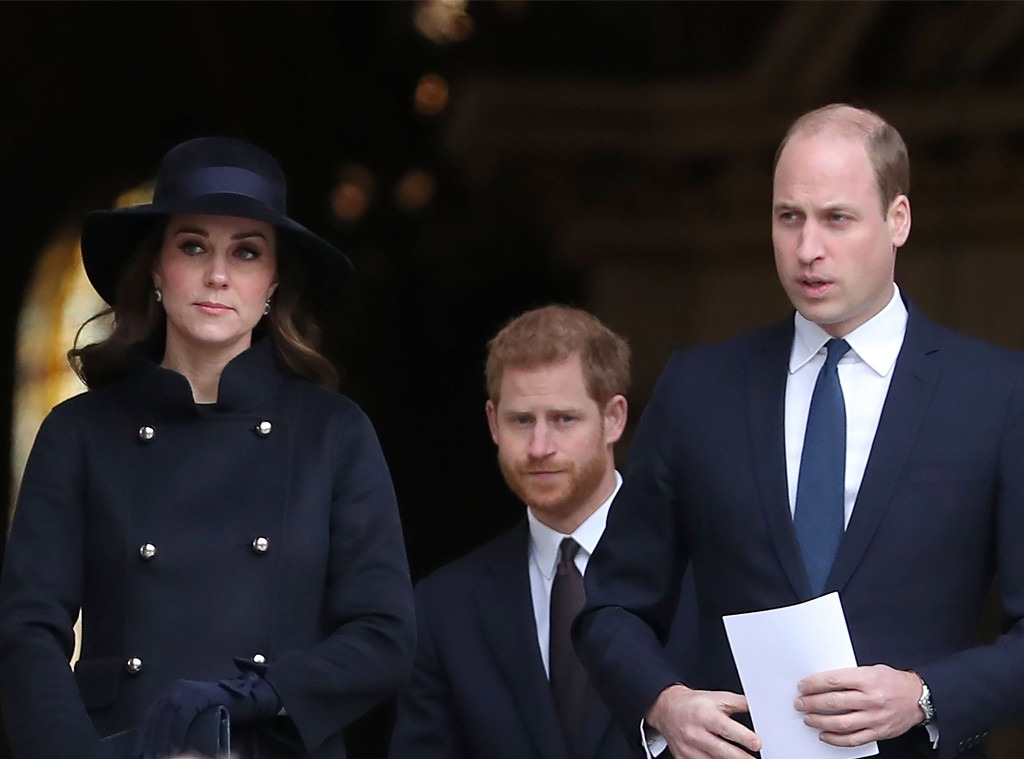 Daniel Leavl-Olivas-Pool Getty Images
Kate Middleton, Prince William, Prince Harry and other royals, as well as singer Adele, joined survivors and families and friends of victims of this year's Grenfell Tower fire at a national memorial service on Thursday.
On June 14, exactly six months ago, a blaze destroyed a London tower block of apartments, killing 71 people, including a stillborn baby, in what marked the worst building fire in the city in years.
Around 1,500 people, including rescue workers who saved and treated survivors, attended the multi-faith memorial service, which took place at St Paul's Cathedral in London.
Kate, who is pregnant with her third child, covered her baby bump in a black Carolina Herrera double-breasted coat. William and Harry wore black suits. They were all spotted talking to mourners.
The royals were joined by the princes' father Prince Charles and his wife Camilla, Duchess of Cornwall. Harry's new fiancée Meghan Markle was not spotted.
"It was very moving," attendee Jane Gang told E! News exclusively. "The Duke and Duchess of Cambridge and Prince Harry came through the Great West Door, as most of us did. They walked down the aisle passing the crowd, unlike the politicians who snuck in a side door to avoid the crowd."
"Prince William, Kate and Price Harry provided the right composure to the occasion," Jane added. "They were somber and respectful. Having them there provided comfort to the victims and families. It helped a great deal that the young royals were present."
Mark Cuthbert/UK Press via Getty Images
Adele appeared at the memorial dressed in a baggy black coat and carrying a wrapped white rose. She sat with actress Carey Mulligan and husband and Mumford & Sons frontman Marcus Mumford inside the cathedral.
"A lot of people were happy to see Adele there," Jane told E! News. "It was uplifting. She didn't mingle this time but her presence was a big help and reassurance that she hadn't abandoned the 'cause.' She has become an important vice here."
Earlier this month, Adele promoted a petition in which victims and their families call on British Prime Minister Theresa May "to take urgent action to restore their faith in the Grenfell Tower inquiry."
A day after the fire, Adele and husband Simon Konecki attended a vigil held on the site and comforted mourners. Days later, she surprised firefighters at a fire station to thank them for their work and also offered them cake.
Beretta/Sims/REX/Shutterstock
The British Prime Minister also attended the memorial. Members of the Kensington and Chelsea council, which was responsible for the management of the building, did not attend after mourners requested they stay away, CNN reported.
At the end of the service, people carried a Grenfell banner out of the Cathedral, while mourners, holding white roses and photographs of their loved ones, followed, the outlet said.
Over the past few months, the royals have met with people affected by the Grenfell Tower fire at various events and locations, such as Kate, William and Harry's Royal Foundation's Support4Grenfell emotional support community hub.
—Reporting by Holly Passalaqua