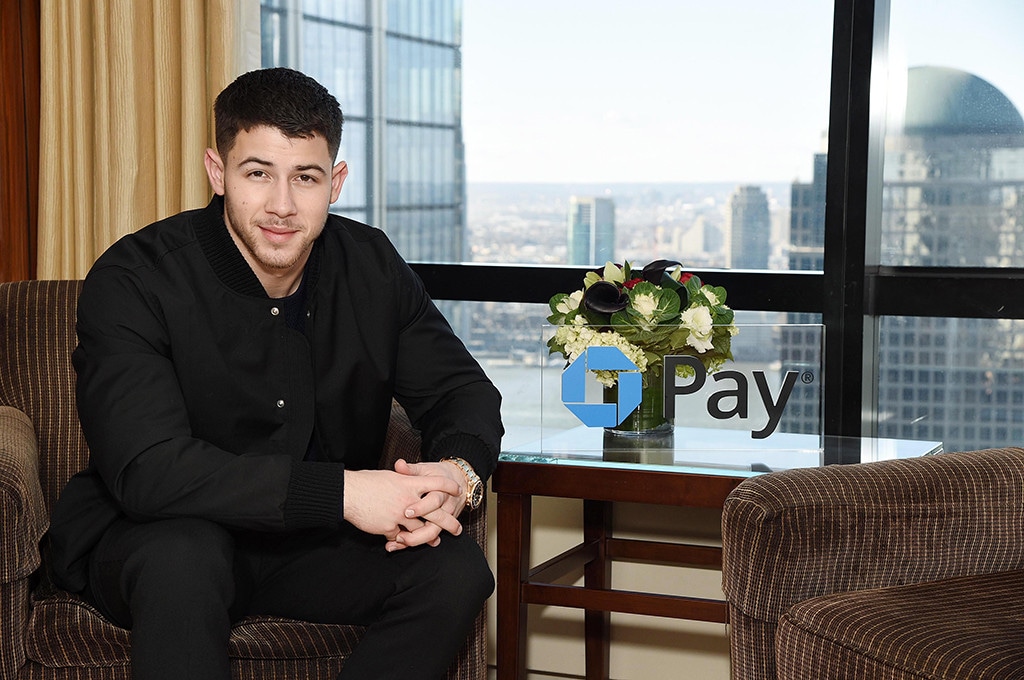 Michael Simon/startraksphoto.com
December has been the busiest month of Nick Jonas' year—and there's still two weeks left.
The 25-year-old star has been all over the world promoting Jumanji: Welcome to the Jungle, attending premieres and doing interviews in Berlin, L.A., London and Paris with co-stars Kevin Hart and Dwayne Johnson. He's also been supporting the animated feature Ferdinand, and on Monday, he received his first Golden Globe nomination for the original song "Home." Nick will get some downtime in a few days, but then he'll end the year with a performance on Dick Clark's New Year's Rockin' Eve. "It's been a busy month—but kind of exhilarating," the superstar admitted. "I just started to think, 'Man, I should be tired.' But I'm not! I think the Golden Globe nomination this week was a career highlight. It was a moment that fueled the rest of this run that we've got left before I'm sort of done for the holidays."
E! News spoke to Nick in New York City Wednesday, moments before he surprised shoppers with a pop-up performance at the Chase Pay Village at Oculus. Nick sang five songs—"Levels," "Close," "Find You," "Home" and "Jealous"—but opted not to perform "Say All You Want for Christmas," his holiday duet with Shania Twain. "I need her for that. It's just not the same without Shania," he explained. "But working with her was a dream come true, and I'm glad people like the song. It's a fun one." Not that anyone seemed to mind, as holiday shoppers were treated to an acoustic, "broken-down" version of his usual set. As Nick said, "Today is about bringing a really unique experience to the people who show up."
Michael Simon/startraksphoto.com
Before long, Nick will get to join his brothers and former bandmates, Joe Jonas and Kevin Jonas, for some well-deserved family time. "I think people have this idea of what the Jonas family holiday is like on Christmas, like it's all of us singing Christmas carols together. But I think we probably will do that this year, because my niece, Alena, is newly really into singing. She's learned a bunch of Christmas songs, so I'm going to have to do some singing with her." Nick's favorite holidays tunes include Bing Crosby's "White Christmas," as well as some of Michael Bublé's music. "And I'm going to be selfish and say my song with Shania Twain!" he said with a laugh. As for his 3-year-old niece, Nick said she's almost old enough to grasp what he does for a living. "I think she's getting it, but she's not fazed by it at all. She's still the princess of the house when we walk in, and when she says it's playtime, we've all got to go play with her. You have to go! She's not fazed, but I love watching her. They'll send me videos of her watching me or Joe on TV, and she freaks out. She loves it! But I don't know if she's fully connected the dots yet."
After the holidays, it's back to work for Nick. As of now, he's planning to take his manager to the Golden Globes—as well as his mom, if he can score an extra ticket. "The first and only time I went to the Golden Globes [in 2009], we were seated with Zac Efron and Blake Lively. That was our table. My brothers and I, I don't think we were 21 yet; I definitely wasn't...We couldn't have the champagne at the table. I'm really looking forward to that aspect of it." So, it was kind of like being at the kids' table? "I think it was, kind of, now that I think back to it," he laughed. "I think Zac was maybe newly 21."
Nick will have plenty of reasons to pop some bubbly in the New Year, if all goes according to plan. Early next year, Nick will turn his attention back to music full-time. "There's already a record that's finished...We just want to make sure we have the time to really dedicate to it. So, the beginning of next year, I expect to be putting out this body of work," Nick revealed. "I'm very excited about it. I think it's some of my strongest yet."