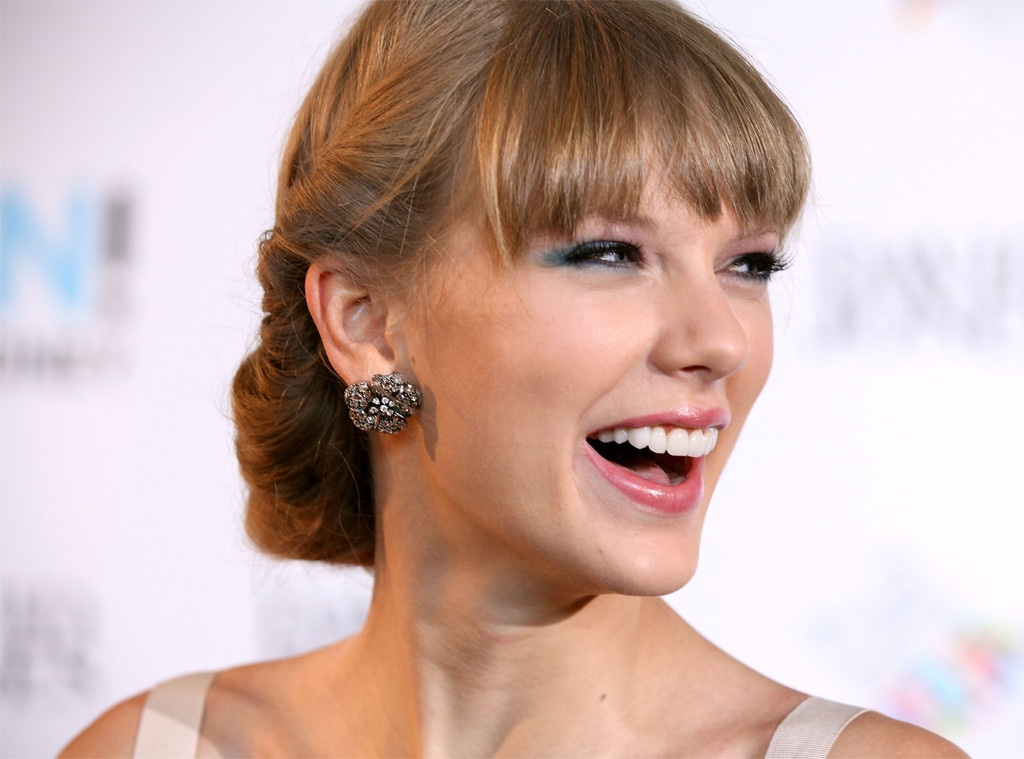 Caroline McCredie/Getty Images
Taylor Swift may only be 28 years old, but judging by this list of milestones, many of her wildest dreams have already come true. 
In honor of the megastar's birthday today, Swifties all over the world are celebrating in her honor. As some fans highlighted online, the songstress accurately predicted early on that she would be a great success by this point in her life. 
"I will be, hopefully, headlining and I would love to, you know, just be doing great touring and still be putting out successful albums and having the albums' material grow with me and never, ever alienate my fans, ever," Swift said in a 2007 interview with the Great American Country cable network in response to a question about what she would be up to at 28. "It's always going to be all about the fans and I hope that that never changes."
Now, as she officially toasts to 28 years, we wonder if she truly expected just how much she would achieve in the scope of a decade. Setting multiple Guinness World Records? Four Vogue covers? Making the best-selling album of the year...three times? 
As fans celebrate the star's special day, here's 28 of the impressive milestones she's reached in the last 28 years: 
ROBYN BECK/AFP/Getty Images
1. In 2010, Swift became the youngest main artist to win the Grammy Award for Album of the Year in 2010 for her second studio album, Fearless. She was 20 years old at the time.
2. Swift's Fearless became the best-selling album of 2009, making her the youngest artist to have a best-selling album of the year.
3. At 14 years old, Swift became the youngest songwriter ever signed to Sony/ATV Music Publishing.
4. Five of her six studio albums have peaked at number one on the Billboard 200 and all six have peaked in the top ten.
5. In 2016, she became the first woman to win the Grammy's Album of the Year more than once after she won for 1989.
6. Swift currently holds the record for most Billboard Music Awards with 21 awards.
7. In 2008, she received her first Grammy Award nomination—for Best New Artist. In 2010, she won for the first time. She has collected 10 Grammy Awards in total and 31 nominations.
8. Her 1989 tour became 2015's highest grossing concert tour with roughly $250 million in sales worldwide.
9. In 2006, her debut album, Taylor Swift, became 7-times multi-platinum certified, the first of all six studio albums to go platinum.
10. Her lyric video for "Look What You Made Me Do" became the most-watched lyric video of all time in August 2017.
11. The music video for "Look What You Made Me Do" gave Swift her best YouTube debut, but also became the most viewed music video in its first 24 hours in history with more than 43 million views.
12. In just one week, Reputation sold 1.22 million copies, making it the top selling album of 2017—and her second time achieving the feat.
13. In 2009, Swift both hosted Saturday Night Live and performed as the musical guest. She's appeared as a musical guest two other times.
14. Since 2012, she's had five number one songs on Billboard's Hot 100. 
15. In 2017, she was included as one of Time's People of the Year, the "Silence Breakers."
16. "Look What You Made Me Do" set a new record for most plays generated by any song in one day since Spotify launched.
17. In 2010, Swift set a new Guinness World Record for the fastest-selling digital album in the USA by a female artist with Speak Now.
18. In 2010, she set a new Guinness World Record for most simultaneous U.S. hot 100 hits by a female with 11 tracks on the chart, 10 of which were making their chart debut.
19. In 2009, she won her first MTV Video Music Award for "You Belong With Me." She's gone on to win six more and 17 nominations.
20. In 2012, she appeared on the cover of Vogue for the first time. She's appeared on the American cover two more times since.
21. In 2010, she made her movie debut in Valentine's Day.
22. She was nominated for her first Golden Globe Award in 2013 for "Best Original Song," She's been nominated a second time since.
23. She won her first Emmy Award nomination, for Original Interactive Program, in 2015. In 2016, she set a Guinness World Record for highest annual earnings ever for a female pop star with estimated earning of $170 million.
24. In 2017, Fearless was certified diamond by the RIAA, meaning it had achieved sales and streams exceeding 10 million album units.
25. In 2010, Swift was listed as one of Time's most influential people in the world in the annual 100 issue.
26. In 2008, she was included in People's "World's Most Beautiful People."
27. She was nominated for her first American Music Award in 2007 and won her first awards in 2008, among them Artist of the Year. She has won 19 in total and has been nominated 25 times.
28. Her second studio album, Fearless, won the Country Music Association, Academy of Country Music Award and Grammy Award for Album of the Year. 
That's certainly a list to be proud of. Happy Birthday, Taylor!