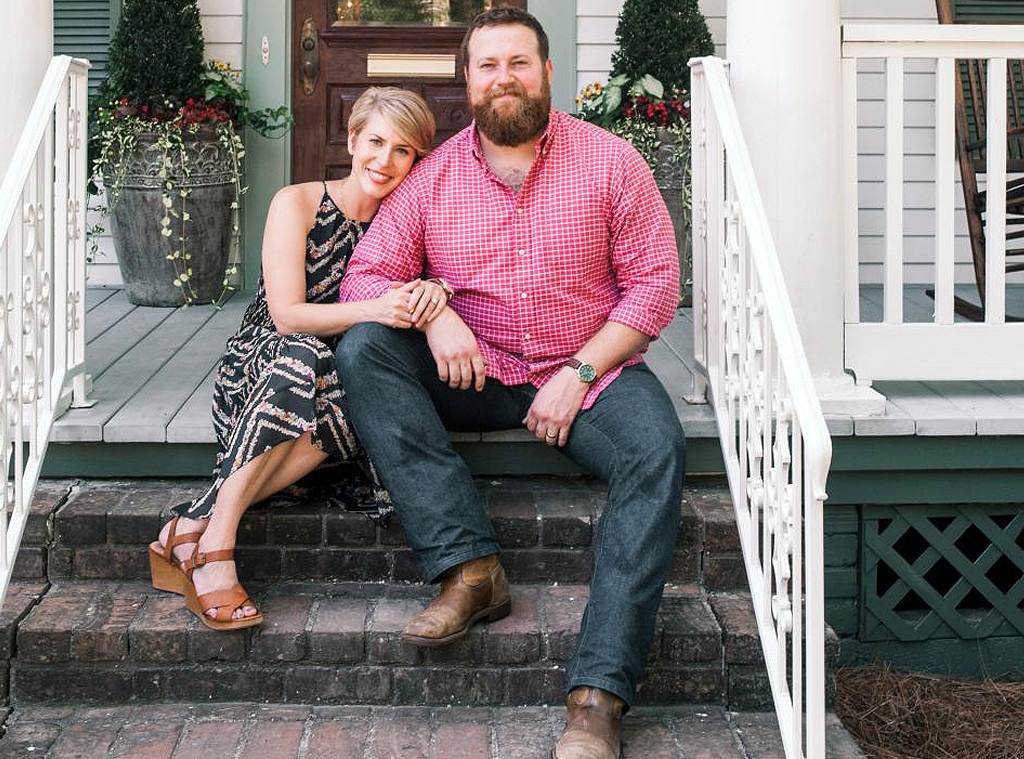 Courtesy HGTV
When Erin and Ben Napier came onto the HGTV scene they were every bit an instant sensation. The premiere of their show Home Town was the second-highest rating of any in the network's history and it was consistently ranked among the most-watched series in its time slot. Their social media presence and surrounding buzz began to climb along with their television viewership and Home Town was almost immediately renewed for a second season. In short, they were firing on all cylinders. 
Now the Napiers are back. They just wrapped filming on their sophomore season, which will hit airwaves on January 8. Coincidentally—or maybe not—this is all going down as HGTV's biggest stars, Chip and Joanna Gaines are pulling back from the spotlight and Fixer Upper is set to end. That leaves a big gaping hole at the top and the Napiers are more than worthy contenders to launch into superstardom. 
And to make the couple even more the picture-perfect HGTV headliners, they're about to become three. The Napiers announced their pregnancy back in the fall and will be welcoming a baby girl next year. Now that filming is all set they're turning their focus completely to the baby (who they've announced will be named Helen). Things are already off to a great start thanks to what Erin describes as a fantastic pregnancy. 
"I feel amazing, I've felt awesome the whole time," she raved. "I was a little tired in the beginning and I'm a little tired now, but this is not what I thought pregnancy was gonna be like. I haven't had any of the terrible symptoms that I've heard of so I feel really lucky. I mean, I don't even feel pregnant most of the time until I feel somebody kick my ribs."
There is one pressing matter at hand: The nursery. 
"We're not prepared at all," Erin said before explaining that she had laid out a plan for the nursery but found the process tricky. "It's hard to design for yourself. Luckily I have my best friend as a second set of eyes and she has a daughter so she's in the know about the things that I need and the things that I don't."
Once Helen arrives all eyes will certainly be on their little bundle of joy. It's no secret that audiences love HGTV for the warm fuzzies they feel from the families as much as for the awe-inspiring home makeovers, which gives each of the networks' stars a big decision to make when it comes to putting their children next to them in the spotlight. 
"We're still new to this TV thing but we're more experienced at being on television than we are at being parents, so we're going to see how it goes," explains Ben. "Helen will be our priority and we'll wanna always protect her privacy and let her have the most normal childhood possible. She'll probably spend a lot of time behind the camera and not a lot of time in front of it."
Erin adds that what they will always share is their own relationship, noting that they've learned exactly how much is enough. 
"I feel like I'm not good at a lot but what we are good at is our relationship," she says. "And if there's any way I could tell people what is working in our relationship that might help somebody else's marriage that may be struggling, then that's a huge blessing and a really special privilege we have with a public platform like this."
Of course that's all a matter for future seasons—right now the Napiers are looking forward to sharing seasons two with all their fans. They say the show will continue with what audiences have come to love about Home Town—the craftsmanship, the focus on Ben's woodworking and the stunning architecture—but they'll also be doubling down on the creative process and giving viewers a glimpse into all of the hard work and thought that goes down before the demo plans are even drawn up. 
"This season it was exciting to share that we really get to know the homeowner," Erin explains before Ben adds: "You actually get to see part of the interviews, when we sit down with the homeowner and get to know them. For instance one of the homeowners said she loved Gatsby style and 1920's music, so we implemented that into the house. One homeowner's favorite memories from childhood were playing hide and seek and watching I Love Lucy, which told us that there's a silliness about her she would appreciate in her home. Things like that give us a lot of visual cues, which is the coolest part of the whole process."
So what have the Napiers learned now that they're bona fide HGTV experts? For starters that they love what the show has allowed them to do for their town. Much like Fixer Upper sent fans by the thousands on pilgrimages to Magnolia Market, people are starting to flow into Laurel, Miss., for a taste of the quaint and very picturesque life it has to offer. The result is not only a validation of all of Laurel's revitalization, which Erin and Ben say has been going on for the better part of a decade and was simply shown off to the rest of America on the show, but lots of love for all of the local shop owners the couple is so close with. 
Not that the Napiers would ever let us give them that credit, though. 
"We know Laurel's success is thanks to the TV show," Erin says. "It's not me and Ben, we don't take any credit for any of it. It's just been a really magical thing that in a year a ton has changed as far as how our downtown looks."
They've also learned how to navigate the limelight. As their star power grows so does the public's ability to recognize them, and that affects each half of the now-famous couple differently. Ben relishes in meeting each and every new fan, learning their stories and taking in all  of their kind words. Erin is admittedly less used to that part and, as such, chooses to shield herself from the spotlight when she can. 
"Erin's very introverted," says Ben. "The way she explains it is that when she wakes up in the morning her battery is 100% charged and every person that she talks to drains it a little bit more. Whereas for me, every person I talk to I get a little bit more amped."
Erin cuts in to elaborate: "I'm just a little shy and it's a big adjustment. I'm incredibly grateful and I want to hug everybody that's been so kind to watch our show and love it so much, but it wears me out. So I protect myself and the little bit of energy reserve I have, especially now that I'm pregnant, by being a hermit."
Although, the fact that Ben gets recognized is probably by design, and Erin's explanation is the most fitting description of the couple: "People see Ben out a lot more often than they see me, because I'll be sitting in the car waiting." 
And for now, a little bit of anonymity is probably the best thing that a budding HGTV superstar can hope for.