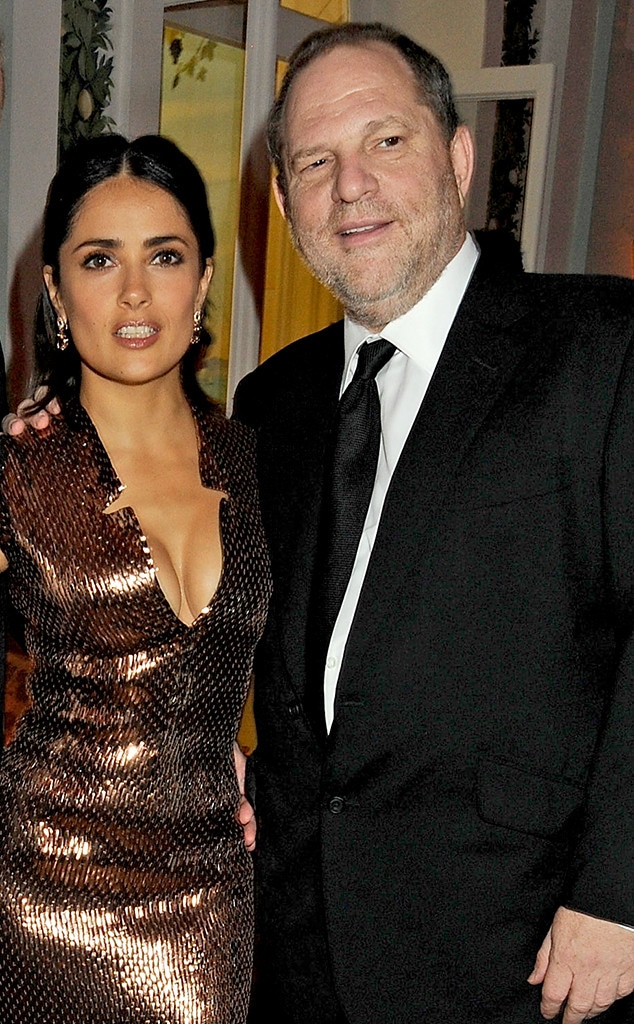 Dave M. Benett/VF1/WireImage
UPDATE: Harvey Weinstein's team is speaking out following Salma Hayek's op-ed. 
"Mr. Weinstein regards Salma Hayek as a first-class actress and cast her in several of his movies. He was very proud of her Best Actress Academy Award nomination for Frida and continues to support her work," a spokesperson on behalf of Weinstein said in a statement to E! News. "While Jennifer Lopez was interested in playing Frida and at the time was a bigger star, Mr. Weinstein overruled other investors to back Salma as the lead. Miramax put up half of the money and all of the P&A; the budget was over 12 million. As in most collaborative projects, there was creative friction on Frida, but it served to drive the project to perfection. The movie opened in multiple theaters and was supported by a huge advertising campaign and an enormous Academy Awards budget."
The statement continued, "All of the sexual allegations as portrayed by Salma are not accurate and others who witnessed the events have a different account of what transpired." 
————
Salma Hayek has come forward with her own harrowing experience about Harvey Weinstein.
In an op-ed for the New York Times, Hayek recalled working with the Hollywood producer on 2002's Frida, which she also helped produce. Though the movie ended up winning several Academy Awards and was nominated for several more, Hayek admits she felt as though she "went to war" to even get it made in the first place.
"For years, [Harvey] was my monster," she explained.
Not only did Hayek deny Weinstein's alleged sexual advances—which she said included requests for oral sex, showers and massages—but she also claimed the producer threatened her life and her career.
"I will kill you, don't think I can't," he allegedly told her.
She claimed he eventually changed his tactic. Instead, Hayek said he took the script away from her and offered it to another actress, forcing her to resort to lawyers to ensure she didn't lose all of her hard work and research.
Peter Sorel/Miramax/Dimension/Kobal/Shutterstock
Weinstein allegedly made a list of seemingly impossible tasks for her to finish in order to keep the film going, which she somehow managed to do.
However, as filming proceeded, he continued to make demands—one of which Hayek said was to "agree to do a sex scene with another woman." She said Weinstein also "demanded full-frontal nudity."
She said she consented, if only to save the film after everything she'd already been through.
On the day the scene was filmed, Hayek said she faced her "first and last" mental breakdown and had to be tranquilized to get through it. But even that wasn't enough.
When the film was eventually ready for release, Hayek claimed Weinstein first attempted to send it straight to video before finally agreeing to released it in one theater in New York and one in Los Angeles.
By October of 2002, the film was up for six Academy Award nominations, including Hayek for Best Actress.
At the conclusion of her piece, Hayek simply asks: "Why do so many of us, as female artists, have to go to war to tell our stories when we have so much to offer? Why do we have to fight tooth and nail to maintain our dignity?"
She continued, "I am grateful for everyone who is listening to our experiences. I hope that adding my voice to the chorus of those who are finally speaking out will shed light on why it is so difficult, and why so many of us have waited so long. Men sexually harassed because they could. Women are talking today because, in this new era, we finally can."
Amid all of the allegations that have come forward, Weinstein's attorneys have released the following statement on his behalf: "Mr. Weinstein has never at any time committed an act of sexual assault, and it is wrong and irresponsible to conflate claims of impolitic behavior or consensual sexual contact later regretted, with an untrue claim of criminal conduct. There is a wide canyon between mere allegation and truth, and we are confident that any sober calculation of the facts will prove no legal wrongdoing occurred. Nonetheless, to those offended by Mr. Weinstein's behavior, he remains deeply apologetic."
(Originally published Wednesday, December 13, 2017 at 10:48 a.m. PST)