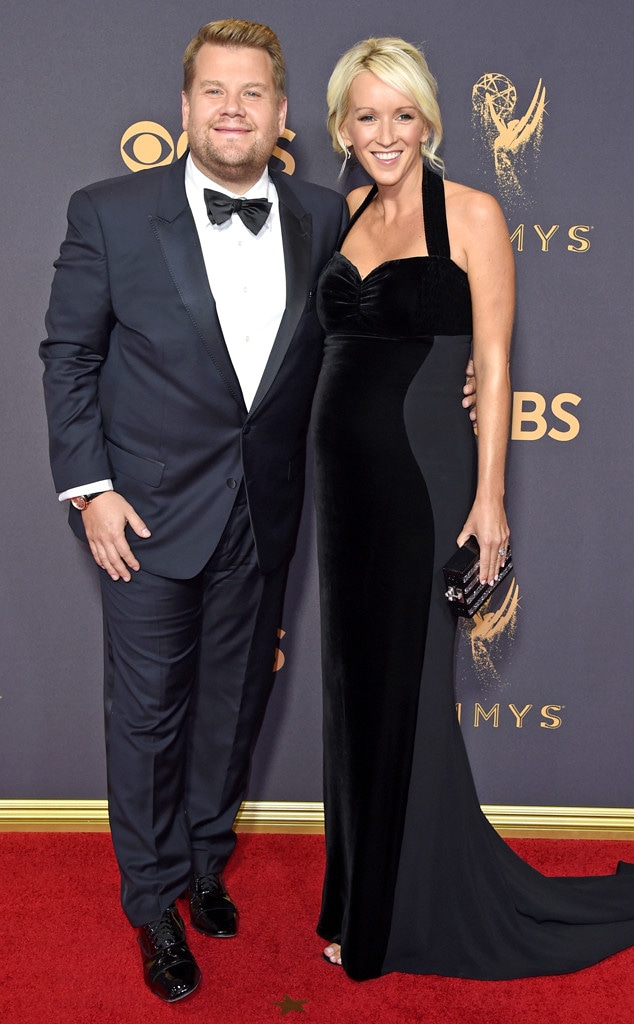 John Shearer/WireImage
...and baby makes five!
James Corden and wife Julia Carey welcomed their third child, a baby girl, earlier today. 
On Tuesday, The Late Late Show host took to Twitter to announce the exciting baby news.
The funnyman wrote, "Today we welcomed a beautiful baby daughter into the world."
The proud papa added, "Both she and her mother are doing great. We can't stop smiling."
The Brit wit also thanked Harry Styles, whom he featured on Monday's show, for taking on his hosting duties last minute.
Corden added, "Thank you Harry for stepping in to host the show at 2 and a half hours notice!"
In July, a rep for the actor confirmed to E! News that the couple would be expecting another wee one in December.
The British comedian, who's quite the hit in the States, and his lady love were married on Sept. 15, 2012. The couple already has two children, 6-year-old son Max, born on March 22, 2011, and 3-year-old daughter Carey, born on Oct. 27, 2014. 
Corden rose to fame in the U.K. with a successful TV show Gavin and Stacey, which debuted in 2007. 
While he's been a roaring talent in England for a decade, not many in the states knew of him here up until a few years ago. Eventually, he starred in a Broadway show and won a Tony award for One Man, Two Guvnors in 2012. He then landed a highly coveted role in the film version of Into the Woods in 2014. But even when he nabbed the hosting gig of The Late Late Show in March 2015 he was still relatively unknown in the States. Of course, all that's changed...
As for his love life, in 2016, the beloved funnyman talked to Rolling Stone about his wife.
"I could never understand when I watch romantic comedies the notion that for some reason unattractive or heavy people don't fall in love. If they do, it's in some odd, kooky, roundabout way—and it's not. It's exactly the same," he said.
He added, "I met my wife; she barely owned a television and worked for Save the Children. We sat down one night and we fell in love and that was it."
The new party of five should make for quite the rousing episode of Carpool Karaoke with James at the wheel!