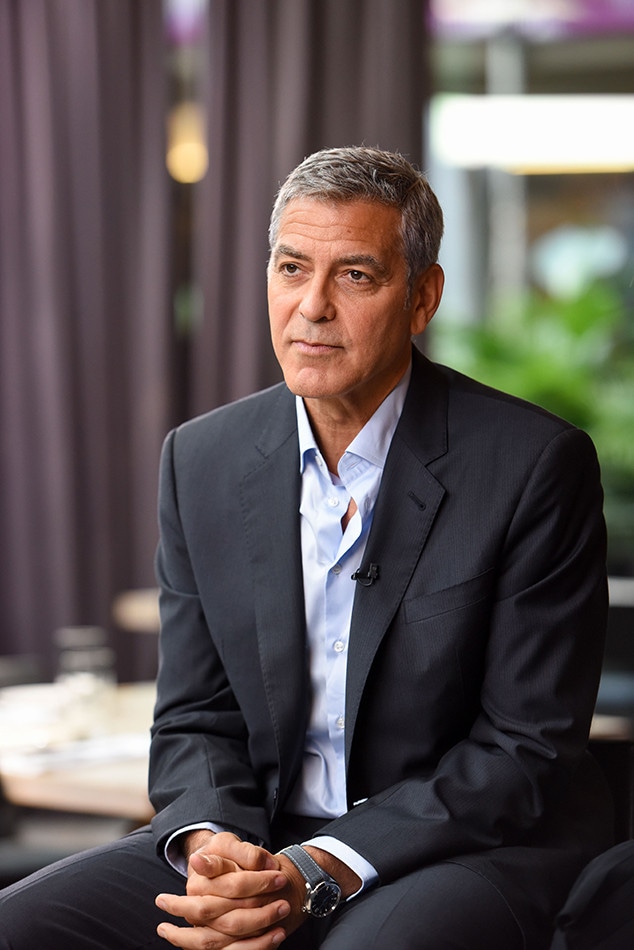 Michelle Quance/Variety/REX/Shutterstock
It pays to be pals with George Clooney… literally.
The A-list movie star's best friend Rande Gerber revealed on a recent episode of MSNBC's Headliners that back in 2013, George not only paid 14 of his closest friends' taxes for the year, he gave them $1 million each. One. Million. Dollars.
As Gerber recalled, "There's a group of guys that we call 'The Boys.' George had called me and 'The Boys' and said, 'Hey, mark September 27, 2013 on your calendar. Everyone's going to come to my house for dinner."
When George's dinner guests arrived they found black suitcases at each of their spots around a table, and the Suburbicon director shared a special message to the men who helped him early in his career. 
David M. Benett/Getty Images
Rande (who is married to Cindy Crawford and is a part-owner of Clooney's Casamigos Tequila company) explained, "George begins to say, 'Listen, I want you guys to know how much you've meant to me and how much you mean to me in my life. I came to L.A., I slept on your couch. I'm so fortunate in my life to have all of you and I couldn't be where I am today without all of you.'"
"'So,'" Rande said Clooney shared, "'it was really important to me that while we're still all here together, that I give back. So I want you all to open your suitcases.'"
Inside was $1 million in $20 bills. As Gerber remembered it, "Every one of us—14 of us—got a million dollars. Every single one of us. We're in shock. Like, what is this? He goes, 'I know we've all been through some hard times, some of you are still going through it. You don't have to worry about your kids, you don't have to worry about, you know, school, you don't have to worry about paying your mortgage.'"
"One was working at a bar in Texas at the airport, trying just to support his family," he added. "Rides a bicycle to work every day. I mean these are guys that took care of George and now he's giving it all back. And George said, 'Not only that, I have paid everyone's taxes so this million dollars is yours.'"
And even when Rande, who is a successful entrepreneur, told George he could never accept the generous gesture, the actor had quite the response. 
"I pull him aside and said, 'I absolutely am not taking this million dollars,'" Gerber said. "Immediately George goes, 'I'm just going to make one announcement. If Rande doesn't take the million dollars, nobody gets it.'" (For the record, Gerber complied but donated the hefty gift to charity.)
Gerber described this never-before-heard story as a testament to Clooney's character, adding, "This is who George is. That was September 27th, 2013. Now September 27th, 2014, he marries Amal. Now that's good karma right there."
Good karma, indeed. 
(E! and MSNBC are both part of the NBCUniversal family.)