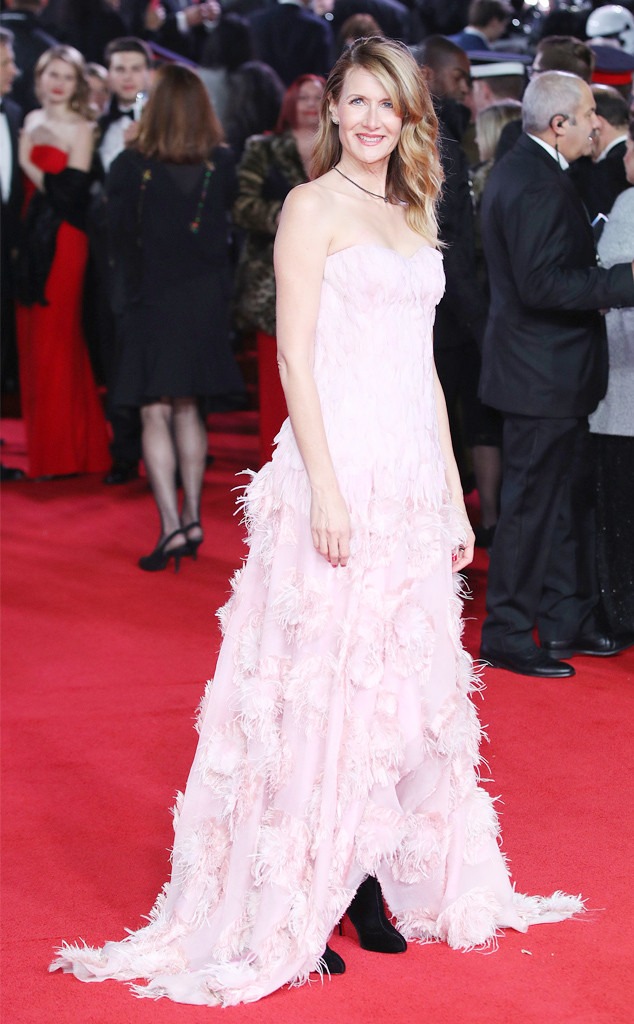 Mike Marsland/WireImage
Laura Dern has had a long and illustrious career in Hollywood dating all the way back to 1973, but 2017 may have been the actress' best and biggest year yet—so it should come as no surprise that the recent Emmy winner is having the time of her life at the European premiere of her new film, Star Wars: The Last Jedi, at the Royal Albert Hall in London.
The indie queen-turned-household name, who takes on the role of the purple-haired Vice Admiral Amilyn Holdo in the new Star Wars film, hopped social media to document her out-of-this-world night of fun on Tuesday.
The 50-year-old strutted her stuff in her feathery frock by Alexander McQueen, stormed the red carpet with some storm troopers and posed with pals Daisy Ridley and John Boyega.
All in a day's work for the Big Little Lies actress!
Dave J Hogan/Dave J Hogan/Getty Images
Before the premiere, Dern, who is the daughter of celeb parents Diane Ladd and Bruce Dern, struck a pose in her elaborate frock, writing, "Quick change for the European Premiere! Here we go! #thelastjedi @alexandermcqueen @louboutinworld."
The 5'10" actress made sure to take a pic with Game of Thrones' Gwendoline Christie, who stands at an impressive 6'3". Along with the photo of the statuesque women, Dern wrote, "The DIVINE Captain Phasma #gwendolinechristie #thelastjedi."
In the big-budget film, Dern, who has lit up the screen for decades as a muse for eccentric director David Lynch, plays the Resistance leader tasked to get things on track against the First Order. 
Posing with the film's stars Boyega and Ridley, Dern captioned another image, "Love them!!!! @johnboyega #daisyridley #thelastjedi."
The actress also made sure to take a pic with Disney's top man, Alan Horn, the chairman of Walt Disney Studios, while at the star-studded event which was held at the Royal Albert Hall.
Dern, who has been nominated for two Academy Awards, recently talked to the Huffington Post about joining the Star Wars galaxy.
She explained that she had a feeling something big was going to happen when the film's director Rian Johnson and producer Kathleen Kennedy called her up separately.
"Rian Johnson called to ask me to lunch and talk about something," Dern explained, "and then Kathleen Kennedy also called and I knew something was up."
During the lunch meeting, Johnson said told the actress that he was looking to explore the complexity of light and dark.
"It is like what independent filmmakers that I have worked with love to explore...that's what George Lucas invented. That's why it [Star Wars] stands the test of time. It's not a franchise. It's a legacy of the deepest story telling we have."
Star Wars: The Last Jedi hits theaters on Dec. 15.