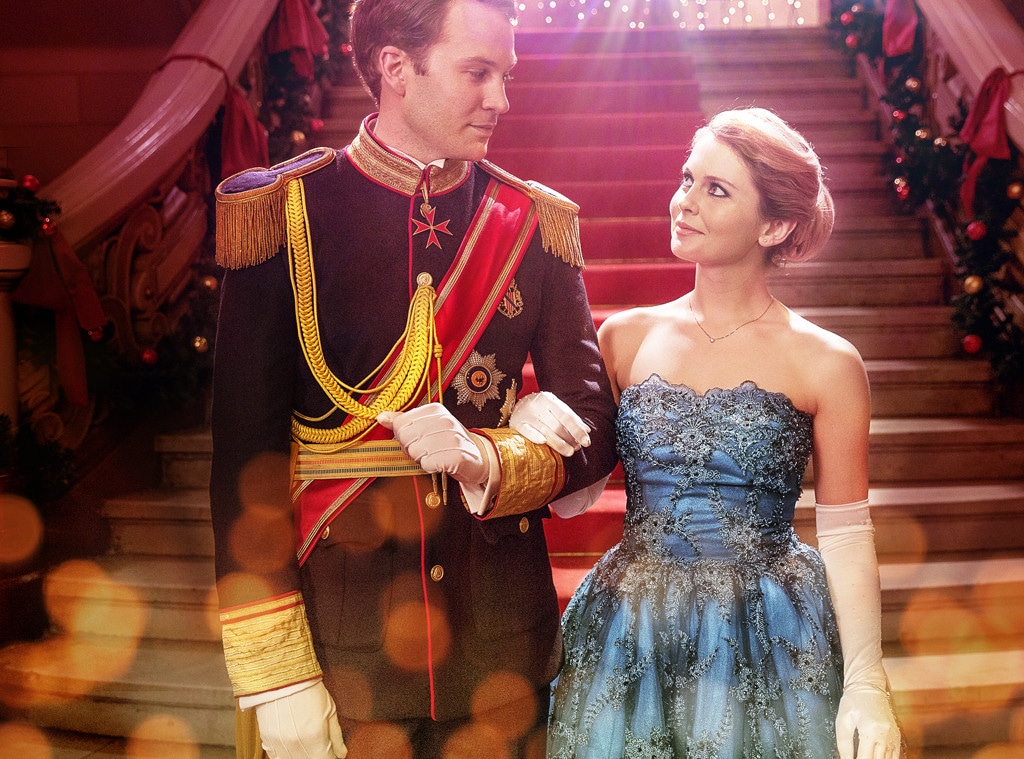 Netflix
Everyone can't stop talking about A Christmas Prince.
The Netflix movie, starring Rose McIver and Ben Lamb, is getting a lot of attention right now. The film follows journalist Amber Moore (McIver) who arrives in Aldovia to report on a press conference about Prince Richard (Lamb). However after a series of events, Amber ends up pretending to be the tutor for the prince's sister Emily (Honor Kneafsey) to get the inside scoop on the royal family.
But as we're looking closer at this movie, we're finding a lot of similarities between A Christmas Prince and some of your other favorite princess movies. Let us show you some of the major references.
1. The Princess Diaries: When Amber has to go report on the story, she's sent to "Aldovia." Which, is not real a country, and sounds a lot like the name of the far away land in The Princess Diaries, Genovia.
2. The Prince and Me: In the 2004 movie starring Julia Stiles and Luke Mably, Stiles plays a college student named Paige Morgan who meets Eddie (Mably) while at school in Wisconsin. She doesn't know of course that Eddie is actually Prince Edward of Denmark, who is at school to get away from his royal duties in Denmark. So we have one character going undercover in both movies and both princes have a bad boy reputation. Also, both princes have younger sisters in their respecting movies.
3. A Cinderella Story: Amber is spotted wearing Converse sneakers with her ball gown in the movie, which just so happens to be Hilary Duff's character's favorite footwear in A Cinderella Story.
4. Beauty and the Beast: There's also a reference to Beauty and the Beast in the movie when a wolf almost attacks Amber. SPOILER ALERT: The prince saves her.
5. The Princess Diaries 2: Royal Engagement: Viewers are also finding many similarities between A Christmas Prince and the second Princess Diaries movie starring Anne Hathaway and Chris Pine.  
"Why is A Christmas Prince on Netflix literally like Princess Diaries 2," one Twitter user wrote.
While another tweet reads, "A Christmas Prince is basically the guy version of The Princess Diaries 2. So so so corny."
And this Twitter user sums up the comparisons, "'The Christmas Prince' is like someone trying to do a 'Drunk History' description of 'The Princess Diaries 2' but getting it confused with parts of the 'The Prince & Me' and then making a Hallmark movie based on that. In other words, it's incredible."
Have you watched A Christmas Prince? Let us know which princess movie you think it's most like in the comments below!