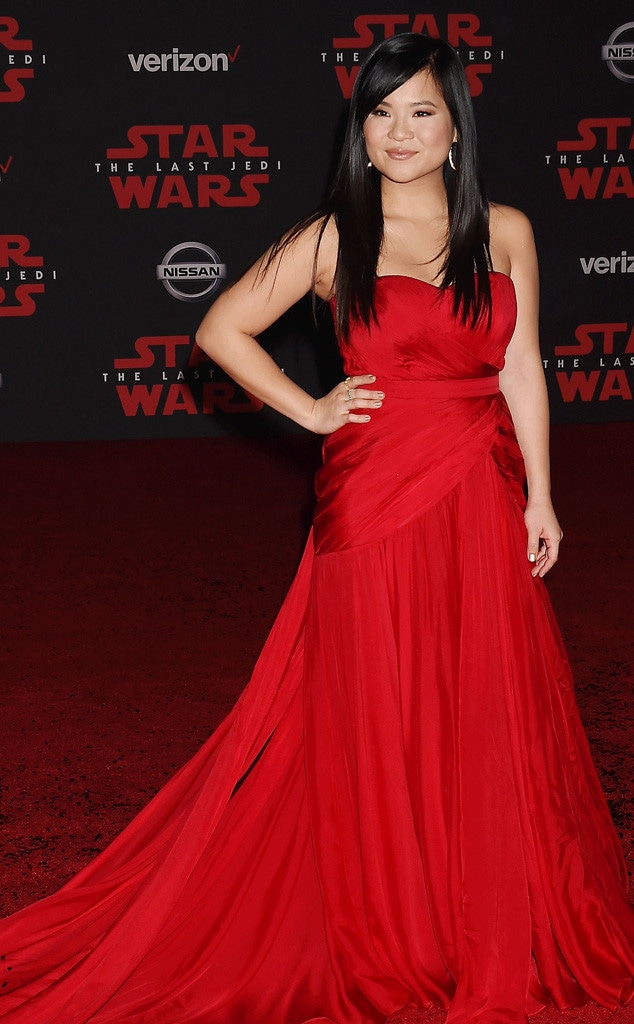 Jeffrey Mayer/WireImage
Kelly Marie Tran has become the breakout star of Star Wars: The Last Jedi.
The actress plays Rose Tico in the upcoming movie and she's been having the time of her life on the film's global press tour. Before landing this role, Kelly was making appearances on TV shows and webseries. But now her star is on the rise and she's enjoying every second of it, according to her Instagram.
Just a few months ago, Kelly went as a Porg for Halloween and no one recognized her. Now she's on red carpets all over the world, premiering one of the biggest movies of the year. Pretty incredible, right? Let's take a look at some of her Cinderella moments from the past couple of months.
1. When she was saw the Star Wars merchandise and was so excited. "BLERPPPPPPPPPP I HAVE SO MANY FEELINGS!!!! And toys. But mostly feelings!!!!!" Kelly captioned the pic above.
2. When she had this adorable moment at Disney. "Yesterday I went to Disney to talk about the press tour for The Last Jedi. I sat in a room with some of the NICEST/FUNNIEST/SMARTEST publicity team in the world, and they gave me a breakdown of what the press tour would be like. I truly cannot believe how lucky I've been, from filming to press. Every person I've worked with has been the absolute best. I feel as if we are coming to the end of this experience — the end of my first movie — and my heart is so full it might burst," she captioned the post. "Part of me wants so much to share this movie with you, the other part of me selfishly wants to keep it safe like a locket near my heart so I can have an excuse to hang out with everyone who made it, everyone who is marketing it. Anyway, less than two months now. Seeeeee youuuu sooooon. (ALSO I WORE MY MONSTERS INC SWEATER YESTERDAY AND HAD TO BORROW ANOTHER HAIR TIE WHEN I FOUND OUT THERE WAS A LIFE-SIZE SULLY & MIKE THERE. Obviously, I had to pretend I was Boo)."
3. When she couldn't have been more excited to share this moment.
4. When she saw herself in a photo shoot and had this question for her Instagram followers: "Can someone with more photoshoot experience tell me when seeing photos of yourself becomes less of an out-of-body experience? I know that's me, but also.... IS THAT ME??????? Whooooooa. It's like looking at an alien."
5. When she saw herself on the cover of Entertainment Weekly and couldn't help but get emotional. "Look at these @entertainmentweekly covers... I .... I'm crying," she wrote on Instagram.
6. When she thanked the fans for their support.
7. When she had a full circle moment on Jimmy Kimmel Live! Kelly did a sketch for the show in 2013, four years later she returned to promote Star Wars!
8. When she learned what "turn down service" meant.
9. When her friends had the best reaction to seeing her in her red carpet dress before the L.A. premiere!
You can watch Kelly in Star Wars: The Last Jedi when it hits theaters on Dec. 15!