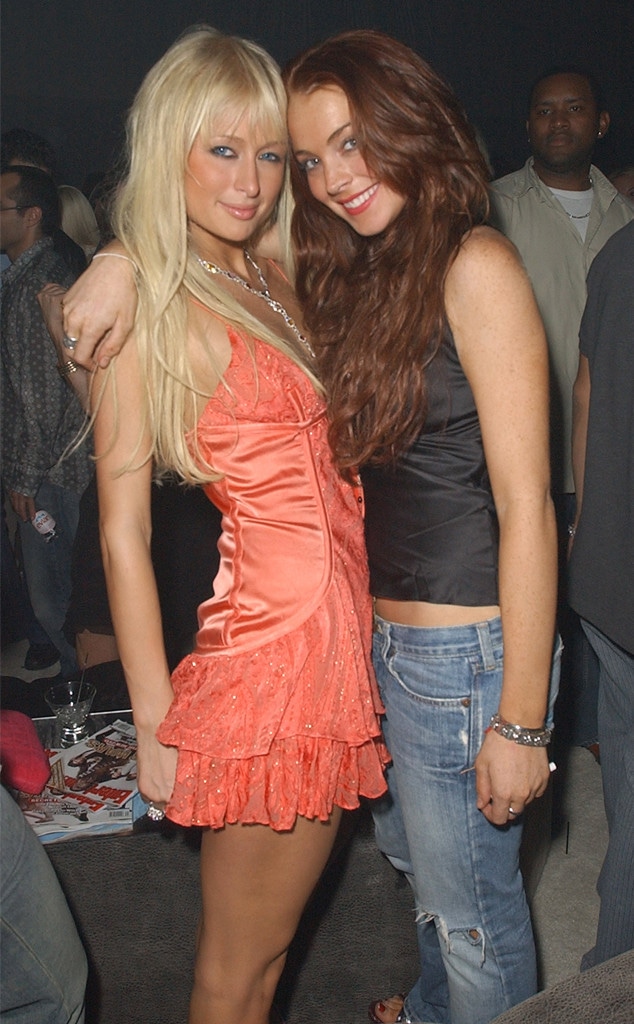 Michael Caulfield/WireImage for BWR Public Relations
Some dramas never end.
Paris Hilton proved her feud with Lindsay Lohan is alive and well earlier this week when she was asked about her infamous night with Britney Spears 11 years ago. "It was just Brit and I out, and then she just, like, chased us to the car and got in," Hilton said. "She wasn't invited." When an MTV Australia host said Lohan appears to be doing well, Hilton giggled, "Yeah...sure." And to think, Lohan had tried to organize a reunion with Hilton and Spears just six months ago.
But, as history has shown, Hilton and Lohan have always behaved more like frenemies than real friends. Their drama dates back to May 2006, at L.A.'s Hyde nightclub, at a time when Lohan was reportedly linked to Hilton's ex, Greek shipping heir Stavros Niarchos. Days later, Hilton laughed as her friend, Brandon Davis, trashed Lohan to the paparazzi. "I think she's worth about $7 million, which means she's really poor. It's disgusting," he said. "She lives in a motel." He made disparaging comments about the actress' body, branding her a "fire crotch" and asking, "Who would want to f--k her?" All the while, Hilton laughed and pretended to be taking a call. After the video went viral, Hilton's publicist, Elliott Mintz, issued a statement TMZ. "It is unfair to characterize Brandon's statements as being reflective of Paris' feelings about Lindsay. We're dealing with two different people," her publicist said in part. "It was Brandon who was speaking, of course there are moments when Paris was laughing, but she never said anything." Mintz added that Hilton "uses her cell phone as a defensive tool" to avoid reporters' questions.
Davis publicly apologized to his "friend" a week later, calling his behavior "inexcusable."
"What started out as a joke got completely carried away," the oil heir told The New York Post's Page Six in a statement. Davis added, "I am horrified at the words that came out of my mouth."
Lohan told ELLE that August she never watched the video and would "never see it." She also shamed Hilton for her infamous sex tape: "Obviously, she's very comfortable making videos."
The actress claimed Davis and Hilton prank called her afterward and said the socialite also pulled her aside at a club after she had called Niarchos. Lohan insisted she wasn't in a love triangle with the exes. "I would never fight with a girl over a guy," she said. "It's bad karma."
By November of that year, Lohan allegedly called Hilton the c-word on-camera. Asked to clarify her comment, she immediately denied it, saying, "I never said that. I love Paris. Paris is my friend." A week later, Lohan alleged to the paparazzi Hilton hit her in the arm with a drink at a party. "It hurts and it's not OK," she said. "I'm sorry for that everyone thinks I'm crazy. I'm not; I'm just trying to act." A day later, she joined Hilton and Spears for a night out, cementing their party girl reputations. "She's my friend," Lohan said of Hilton. "Everyone lies about everything."
In May 2007, Hilton was sentenced to spend 45 days jail for violating her probation; she spent five days behind bars. Lohan entered rehab over Memorial Day weekend, and when Hilton was asked about her friends getting help in a June interview on Larry King Live, she said, "I have no friends in rehab." But they apparently patched things up and hung out at Lohan's Fourth of July party in Malibu—about a month before Lohan was arrested again and checked back into rehab.
In August 2008, at the grand opening of the Apple Lounge, the two partied liked old times. Hilton told Glamour in January 2009 everything was resolved. "I saw her a month ago and she was really sweet and seemed really happy," she told the magazine. "And we're all adults now." For more than a year, everything appeared copacetic between the stars. They ran in similar circles, and they were both seen leaving a party at Niarchos' house at 7 a.m. in November 2009.
Flash forward to May 2011, when the Hilton's reality show, Oxygen's The World According to Paris, was airing in its first and only season. In one memorable scene, she gave her earrings to a homeless woman—who mistook her for Lohan. "If I was Lindsay, I'd be stealing the earrings, not giving them away," Hilton said. Her timing was off, as Lohan had recently been sentenced to spend 120 days in jail for stealing a necklace. "I apologize to Lindsay for the comment that I made. I was joking around but it was thoughtless and unnecessary," Hilton told TMZ in a statement soon after the episode aired. "I am reaching out to Lindsay so I can tell her myself." Lohan accepted her apology, and by July, they were photographed partying at Hilton's house.
Things took a turn for the worse during Art Basel in Miami in December 2013. Hilton's younger brother was attacked and posted images of his injuries on Instagram. He blamed Lohan, though his attacker was later identified as Ray Lemoine. Hilton commented on her brother's photo, writing, "They both will pay for what they did. No one f--ks with my family and gets away with it." A rep for Lemoine said Hilton's brother got physical first, after refusing to leave their house.
Hilton's brother filed a police report, TMZ said. The criminal investigation was dropped, as he became uncooperative afterward. In the end, no charges were filed and no arrests were made. Since then, Lohan has been living quietly in Dubai; just last week, while in town to visit family in New York City, she told E! News she hopes to start work on a Mean Girls sequel. "We need Rachel McAdams!" she said. L.A.-based Hilton, meanwhile, continues to jet set as a popular DJ.
The party pals are bound to cross paths, as they did most recently in May during the amfAR Gala at the 2017 Cannes Film Festival. Whether they'll ever be friends again is anyone's guess.
Watch Daily Pop weekdays at 12:30 p.m., only on E!