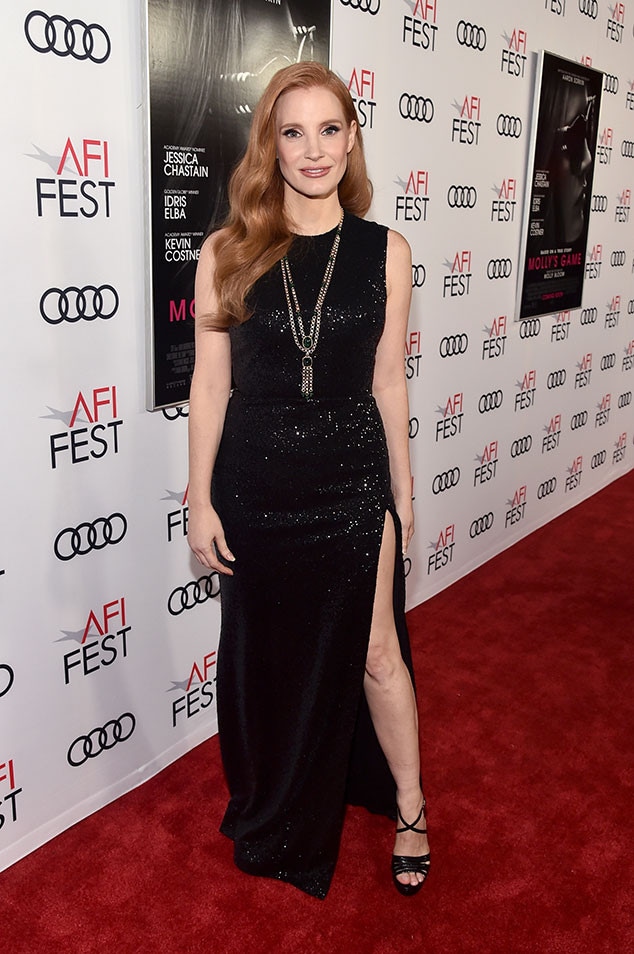 Alberto E. Rodriguez/Getty Images for AFI
Jessica Chastain was surprised by her Golden Globe nomination for Molly's Game—but not for reasons fans might expect. In a new interview with The New York Times, Chastain opened up about speaking out against sexual harassment in Hollywood and the impact she worried it would have on her career. 
"To be honest, I'm mainly surprised about my nomination," the Best Actress in a Motion Picture (Drama) nominee told the newspaper. "As an actor, I have a lot of fear, thinking that if I speak my mind, or something that feels like it deviates from the norm as a woman, am I going to be made to disappear in my industry?"
Back in October, The New York Times published an exposé detailing decades of sexual misconduct allegations against Harvey Weinstein—allegations Weinstein's attorney Charles Harder called "false and defamatory."
After the story was released, Chastain took to Twitter to share her own experiences in Hollywood.
"I was warned from the beginning," she tweeted. "The stories were everywhere. To deny that is to create an environment for it to happen again."
As the conversation around sexual harassment evolved and more accusers came forward, Chastain continued to speak out. While appearing on The Graham Norton Show, Chastain claimed a "well-known actor" even advised her to "calm down."
Chastain started to worry that letting her voice be heard could negatively impact her career.
"I've got a good group of girlfriends on WhatsApp, and I said, 'I'm really terrified I'm destroying my career right now. I wonder if people will still see me as an actress, and want to work with knowing I have these opinions,'" she told The New York Times.
Antonio de Moraes Barros Filho/FilmMagic
However, it seems like her friends were able to calm her nerves.
"In the way that only good girlfriends can do, they helped me eliminate fear and understand that the only way to change something that's wrong is to change it, not ignore it," she continued. "And rather than saying it's an industry-wide issue, it's more than that. It's a society-wide issue. We can't ignore farmworkers or women who have been invisible."
As more people have spoken out, Chastain says a "new world" has emerged where people are held accountable for their actions.
"We've been since birth in a society that makes us feel like we're easily replaceable, that we need to be grateful for any work, and grateful for what we have," she said. "But what that does is it limit our acknowledgment of the power we have, especially when we work together. It's like what Margaret Mead said. 'Never doubt that a small group of thoughtful, committed citizens can change the world.' And that's what we're doing."
Visit The New York Times to read Chastain's full interview.