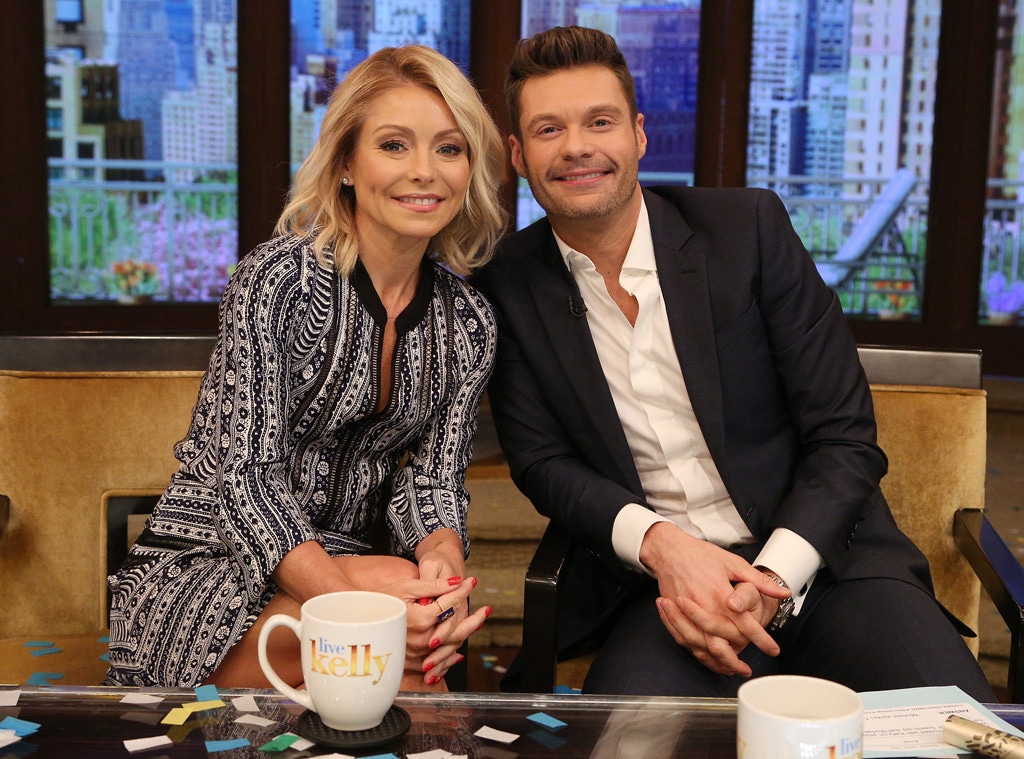 David M. Russell, Disney/ABC Home Entertainment and TV Distribution
Kelly Ripa has had quite a few co-hosts over her 16-year tenure at Live. First there was Regis Philbin; then there was Michael Strahan; now there's Ryan Seacrest. It looks like third time's the charm, too.
In an interview with The New York Times, Ripa weighed in on her friendship with Seacrest and how it differs from her relationships with her former co-hosts. While she texts and hangs out with Seacrest outside of the show, she didn't have this level of camaraderie with Philbin.
"Regis had a mandate: Absolutely no talking off-camera," she told the newspaper. "He had almost a superstition about it. You save it for the show. I'd be like, 'Good morning,' and he'd say, 'Save it for the air!'" 
Ripa even considers Seacrest "the future of the franchise" and "the future of ABC."
Disney-ABC Domestic Television
Philbin has talked publicly about his strained relationship with Ripa. During a 2015 interview on Today, Philbin told Hoda Kotb he hadn't seen Ripa since their final taping in 2011. The former Who Wants to Be a Millionaire? host also told Larry King Ripa was "very offended" by his decision to leave.
"She thought I was leaving because of her," Philbin told him earlier this year. "I was leaving because I was getting older and it wasn't right for me anymore."
However, Philbin did reunite with Ripa for a 2015 Halloween special.
There also appears to be some bad blood between Ripa and Strahan over his departure for Good Morning America. Fans will recall how Ripa went M.I.A. for a few episodes after receiving word of Strahan's exit. When she returned, the tension was apparent and Strahan was asked to leave the show early.
"I wasn't surprised by her reaction at all, but I can't control somebody else's actions," he told People regarding the fallout. "I was there four years, and it's about more than just being in front of the camera."
Ben Sherwood, president of the Disney and ABC television group, told The New York Times, "There was some post-traumatic stress from that experience."
The on-air chemistry is important to the success of the show.
"One of the things about morning TV and live TV is when you are on 250 or 260 mornings a year, the audience is smart," Sherwood said. "They have X-ray vision. They see who you are. They know when you're in a good mood. They can tell if you really like each other. In the face of new competition, Ryan and Kelly and 'Live' have stayed true to themselves and true to their mission in the morning."
So, what does Seacrest think of Ms. Ripa? "If it were raining outside and there was a puddle, I'd want to stand in front of Kelly so she wouldn't get wet," he told the newspaper. "There's that protection thing."
To read more of Ripa's interview, visit The New York Times.