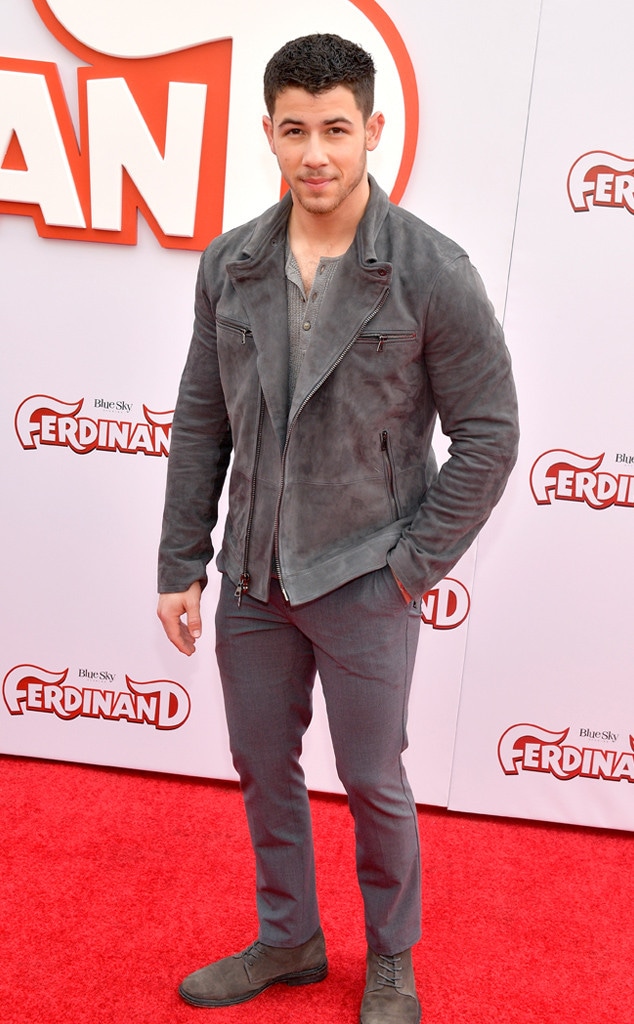 Matt Winkelmeyer/Getty Images
Nick Jonas is officially having a very good year. 
2017 was filled with firsts for the Hollywood triple threat: He had his first part in a major studio blockbuster, with this month's Jumanji, he wrote his first song for a movie soundtrack ("Home" in Ferdinand), and as of today he has his very first Golden Globe nomination, for Best Original Song. 
But lest anyone think he was starting to get used to all this success, just know that he was doing anything but waiting around for news of the nomination. In fact, he found out about it not by monitoring the news on Twitter or watching the announcement live on television, but with a good old-fashioned knock on the door. 
"My wake up call this morning was one of my friends banging on my door because I wasn't answering my phone," he told E! News. "He handed me his phone and at first I feared that something was wrong, but then it was my manager telling me the news and I freaked out. I was like a ten-year-old child who just got a new Gameboy." 
Jonas, who says he has spent the day "reeling it in and just trying to enjoy every second and every feeling," has good reason not to be up at 5 a.m. watching the results: He's been out on a major worldwide press tour promoting both Ferdinand (out Friday) and Jumanji: Welcome to the Jungle (out December 20). As he relayed to E! News, he went straight from appearances in Europe and Brazil to Los Angeles and then to last night's Ferdinand premiere practically straight off the plane. While it was a whirlwind it helped him keep his mind off the pending nominations announcement. 
"To be honest I just sort of said, 'whatever happens, happens,'" he explained. 
Nick was seemingly the only person in his circle who used that strategy.
"I had calls from the director of Ferdinand, Carlos Saldanha, who is just so amazing," said Jonas. "Then from my dad, and I had like five missed calls from my manager. My first couple of calls were to my parents and my brothers and some other friends. It was really exciting."
Watch:
Nick Jonas Excited For Nieces to Hear His "Ferdinand" Song
To be able to share the big career milestone with his family was especially important because "Home" was actually the first song he wrote for his family. 
"The theme for the song was the idea of home being the place we feel most accepted and loved," he explained. "Home being your family, your friends, your loved ones. When I started thinking about that it was sort of like an outpouring. I don't know that I have actually ever written a song about my family before, and so for the first one to be recognized in this way is great."
Now that he already has a Golden Globe under his belt it begs the question of whether he's going to plunge into show business head first. He had his first big leading role in last year's Sundance darling Goat and his first blockbuster role in Jumanji, which he says helped him realize his love for movie-making. (And working opposite Dwayne Johnson didn't hurt). 
"My first day on set, after the other cast had been shooting for about a week, I had to jump in and shoot my biggest scene of dialogue," said Jonas. "I think it said something of the cast because the atmosphere on set was really amazing. I was certainly intimidated but they were so welcoming and warm."
Next year he'll be seen in the upcoming Chaos Walking, opposite young breakouts like Daisy Ridley and Tom Holland, and Jonas says there is some very strong momentum going for him in the movie business. Ideally, though, he says he'd love to "be greedy if I can and do both" music and movies. Something tells us that will probably work out.