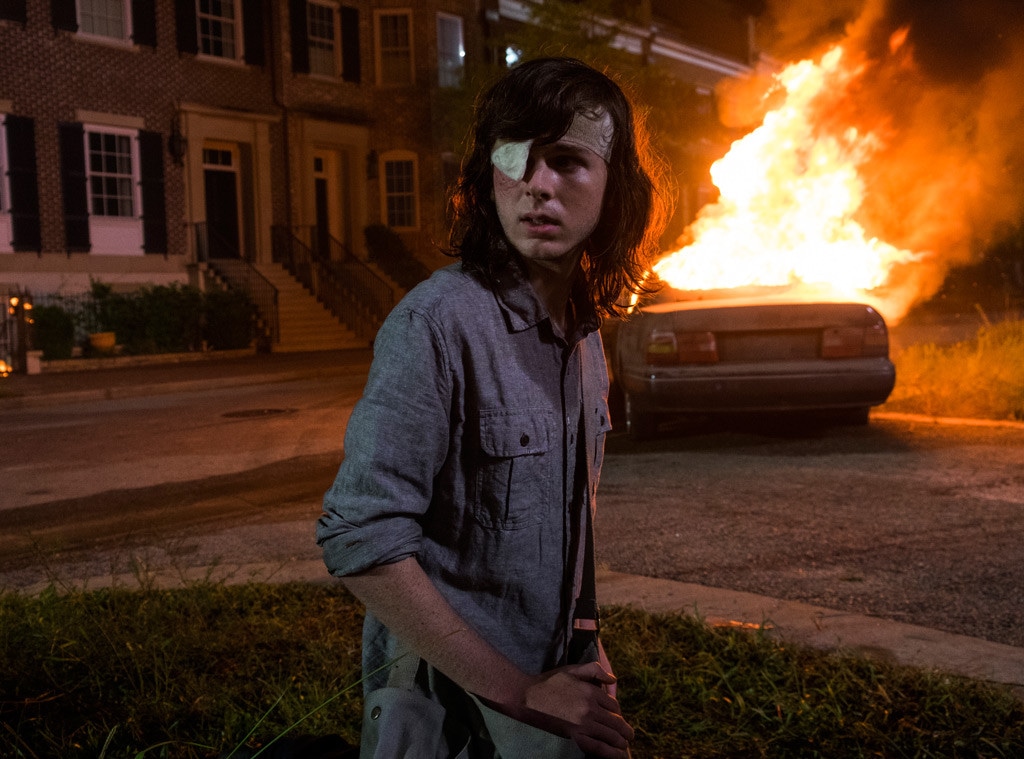 AMC
Not everyone is handling the the events of The Walking Dead's midseason finale so well.
While fans are no doubt still reeling over the shocking revelation that poor Carl (Chandler Riggs) had been repaid for his heroic actions in Alexandria in the face of Negan's imminent attack with a walker bite to the ribs, someone a little closer to the actor is making it known that they're none too pleased with the decision to kill off one of the show's few remaining original cast members. Especially one whose character is still alive and well in the show's source material.
Shortly after the episode aired, William Riggs, the actor's father voiced his displeasure in a since-deleted his Facebook page, calling out showrunner Scott M. Gimple and AMC in the process. 
"Watching Gimple fire my son 2 weeks before his 18th birthday after telling him they wanted him for the next 3 years was disappointing," William wrote. "I never trusted Gimple or AMC, but Chandler did. I know how much it hurt him. But we do absolutely know how lucky we have been to be a part of it all and appreciate all the love from fans all these years!"
As Chandler revealed in his interview with The Hollywood Reporter, he'd just purchased a house in Senoia, Ga., close to the show's sets. "It was devastating for me and my family because the show has been such a huge part of my life for so long. For a few days, we didn't know what to do," he added. However, Chandler, who's already at work on his next project, the indie film Inherit the Viper, is choosing to stay positive. "It ended up being a great thing because now I get to do all kinds of other stuff that I haven't been able to do in the last eight years," he said.
Gimple has yet to publicly defend his decision to veer from the source material in such a manner, though Chandler attempted to explain his reasoning to THR, saying it was the writer's only way to make Rick's (Andrew Lincoln) decision to spare Negan's (Jeffrey Dean Morgan) life down the road make any sense. 
"In the comics, Scott was trying to figure out why there was a hole between Rick slitting Negan's throat at the end of the 'All-Out War' arc and then there's the time jump and Negan is alive and in prison and Rick didn't kill Negan. Scott was trying to figure out how to bridge the gap between Rick not wanting to kill Negan and Rick also really wanting to kill Negan, which he does right now [in the show's story]," the actor explained. "Scott's way to get around that was to make Carl this really humanitarian figure and person who could see the good in people and see that people can change and not everyone out there is bad. That's what Carl's talk to Rick was in this episode: there's no way that they can kill every one of the Saviors and not everyone is a bad person and there has to be some way forward than just killing people."
AMC did not immediately respond to a request for comment.
What are your thoughts on the decision to kill Carl? Sound off in the comments below!
The Walking Dead returns to finish up season eight in February 2018 on AMC.