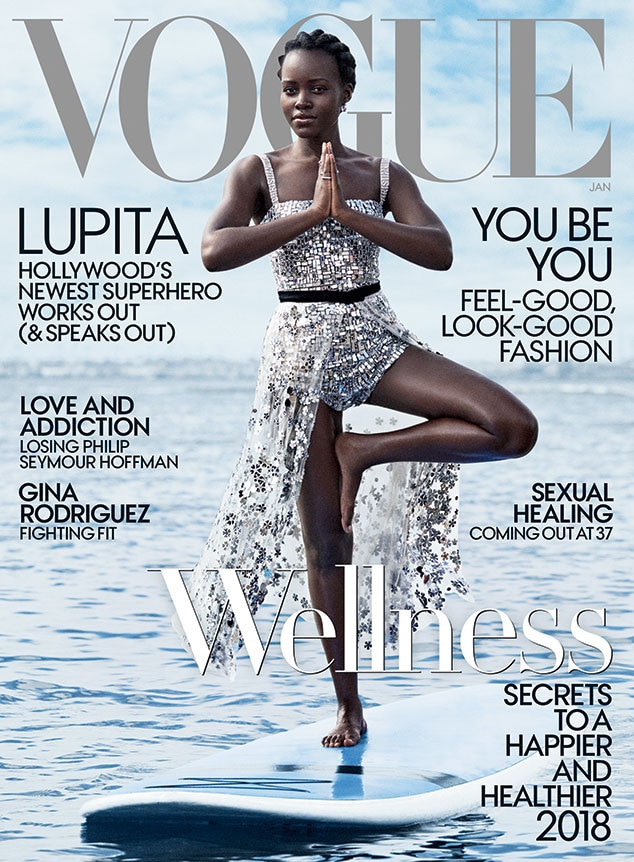 Mikael Jansson/Vogue
Lupita Nyong'o is adding pole dancing to her arsenal of talents. 
Vogue's January 2018 cover girl and featured star of the upcoming Star Wars: The Last Jedi and Black Panther has certainly been busy since she last appeared on the cover of the magazine in October 2016. 
In addition to a handful of film projects with pockets of personal time, the Oscar winner has also began dabbling in pole dancing. As she explained to Vogue for its wellness-dedicated issue, she was inspired after visiting a New York City strip club at the request of a visiting friend. 
"It was incredible and sexy, and I thought, I need to learn how to do that," she said of the dancers' acrobatics.  
While the regimen differs from the "boot camp" she and her castmates undertook in preparation for their performances in Black Panther, the new experience fits into Nyong'o's overall philosophy for preserving her childlike self. 
"That's why I like to try new things, like pole-dancing," she told Vogue. "I value not being good at things, because children are not good at things."
The 34-year-old star is less tight-lipped about her newest hobby or her upcoming slate of ventures—among them turning Chima­manda Ngozi Adichie's novel Americanah into a film and keeping an eye out for the stage role that will bring the self-described "theater baby" back to the medium. 
However, if you're waiting for a few quotes about the actress' personal life, pull up a chair because you may get tired. "You can ask, but you definitely won't get an answer," she told Vogue about any dating questions.
"There have been rumors and rumors and rumors about my love life," she added. "That's the one area that I really like to hold close to my heart."