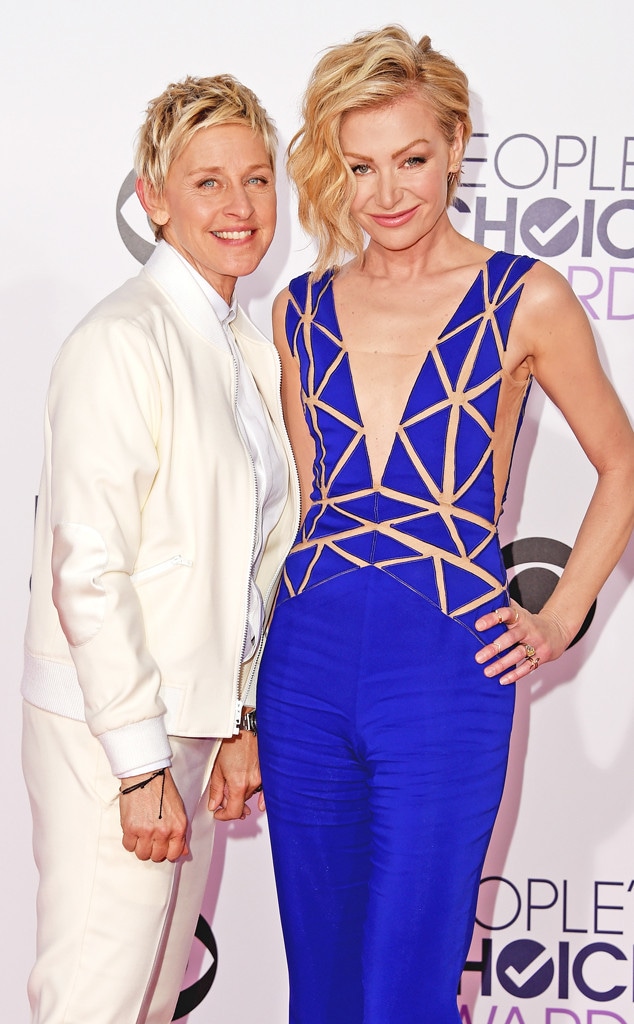 Steve Granitz/WireImage
Ellen DeGeneres says she and wife Portia de Rossi had to evacuate their pets from their California home due to the threat of a raging wildfire that has destroyed and damaged hundreds of properties over the past week.  
The two have several cats and dogs. This past October, the couple bought an $18.6 million beachfront home in Carpinteria, located near Santa Barbara. The Thomas Fire, one of a few wildfires raging in California, has prompted thousands of evacuations, road closures and unhealthy air quality warnings in Santa Barbara County and as well as neighboring Ventura County.
"Our house is under threat of being burned. We just had to evacuate our pets," DeGeneres tweeted on Sunday. "I'm praying for everyone in our community and thankful to all the incredible firefighters."
"Everyone in the Montecito area is checking up on each other and helping to get people and animals to safety," the daytime host added. "I'm proud to be a part of this community. I'm sending lots of love and gratitude to the fire department and sheriffs. Thank you all. #ThomasFire."
Ronen Tivony/NurPhoto via Getty Images
According to the CAL FIRE website, the Thomas fire began on December 4 and has so far burned through 173,000 acres, destroying more than 750 structures and damaging more than 160. On Sunday morning, mandatory evacuations have been ordered in areas around DeGenerous and de Rossi's home.
Evacuations have also been ordered for parts of the Montecito area—home to other celebs such as Oprah Winfrey. If it unclear if they have been affected.
DeGeneres and de Rossi also own a massive Italian-style villa in the Santa Barbara area that they have been trying to sell since early this year. It remains for sale for $39.5 million.
The Thomas Fire was 15 percent contained on Sunday morning and smoke could be seen dozens of miles away in Los Angeles County.
Last week, many people who live in the area, including celebs such as Paris Hilton and Lea Michele, evacuated their homes amid the threat of another wildfire that raged near hillside homes alongside the 405 freeway, one of the busiest highways in the U.S.
The fires have also impacted businesses. Kylie Jenner's Kylie Cosmetics facility in Ventura County has temporarily shut down as a result of the Thomas Fire to ensure the safety of workers, according to a message posted on the brand's Twitter page earlier on Sunday.
"The impact of the fires has meant that many of our staff members have been evacuated from their homes, and have to relocate their families," the message read. "Those who weren't evacuated came in yesterday and have been working around the clock to get orders out."
"Our team is incredible and everyone is working hard to catch up and we are going everything we can to ship orders, while ensuring the health and safety of our team members," the message continued. "Orders are continuing to ship and we appreciate everyone's patience and support."