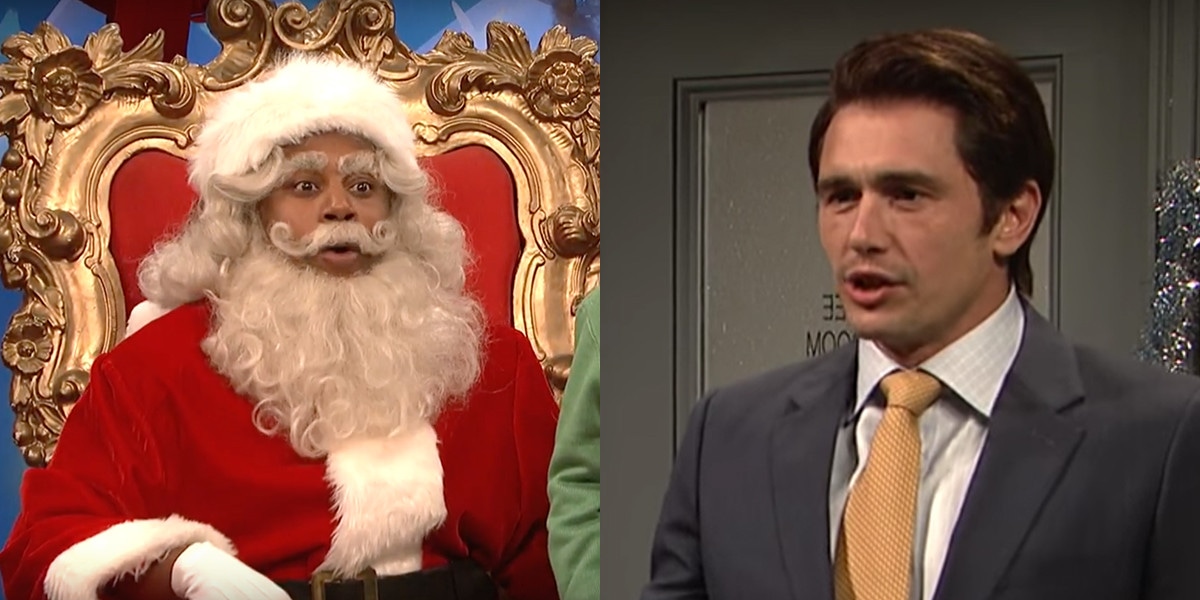 NBC
James Franco hosted Saturday Night Live and helped the sketch comedy series continue to tackle the growing sexual harassment allegations that have made headlines this year.
The episode also made reference to SNL alum Al Franken's recent scandal; The Democratic announced his resignation as Minnesota senator on Thursday after facing weeks of sexual misconduct allegations.
In a sketch titled "Sexual Harassment Charlie," Franco and cast member Kenan Thompson play terminated employees who apologize to their female colleagues, played by Melissa Villaseñor, Cecily Strong and Leslie Jones, for sexually harassing them.
"I just want to say to all of you that I am deeply and truly sorry for anything inappropriate that I may have done while working here," Franco's character says.
"Yeah, my bad," says Thompson's "Charlie."
"To Janet in particular, I know that I playfully referred to you as my little honey bee and it made you feel uncomfortable and I know now it was wrong and I'm sorry."
"It was gross," Villaseñor replies. "And you're gross."
"Janet, I know that you sometimes, you would walk by me and I would say something like, 'Mmmm, mm!' Then I'd shake my head, do a little dance and ask you not to hurt nobody with that thing. It was wrong. I'm sorry."
The women don't seem too upset with Charlie, calling his behavior "classic Charlie." They even question the decision to fire him, a "sweet old man," and reiterate their disgust with Franco's character.
"It just feel like you guys are going easier on him because he's a charming old black man and he has done way worse stuff," he tells them.
But it is later revealed that Charlie is not who he seems.
"Everyone knows a Charlie," one YouTube commentator wrote.
In a sketch titled "Visit With Santa," Thompson plays Santa and several kids ask him about some of the men accused of sexual assault and harassment.
"Can you tell me, what did Al Franken do?" a boy asks.
"Well, Tyler, I guess you could say that Al Franken is on Santa's naughty list this year?" Santa tells him.
Franken, a former comedian who was a writer and performer on Saturday Night Live in the '70s and '80s, was accused of allegedly groping and trying to kiss women without their consent. He had said weeks ago he was embarrassed and ashamed by his behavior. His resignation announcement came after a new allegation was made and after many Democratic senators called for him to step down. In his speech, he said some of the allegations were untrue.
SNL also tackled the Franken scandal on Weekend Update, with Strong's recurring character Cathy Anne saying, "Why are you gonna resign if you ain't gonna apologize? And if you ain't got nothing to apologize for, then why the hell are you resigning?"
Franken is one of several powerful men who have been accused of sexual misconduct over the past year, joining the likes of President Donald Trump, Alabama Republican senate candidate Roy Moore, newsmen such as Matt Lauer and a slew of Hollywood personalities, notably Harvey Weinstein. 
Last month, Moore was accused of sexually assaulting or pursued a few women when they were teens and he was in his 30s. He has denied the allegations.
"And what about Roy Moore? Which list is he on?" Tyler asks Santa in the SNL sketch.
"It's not really a list, it's more of a registry," replies Kate McKinnon's character, a Christmas elf.
In his resignation speech, Franken mentioned Trump and Moore, saying he was "aware that there is some irony in the fact that I am leaving while a man who has bragged on tape about his history of sexual assault sits in the Oval Office and a man who has repeatedly preyed on young girls campaigns for the Senate, with the full support of his party."
Trump had bragged to Billy Bush about groping women in an Access Hollywood 2005 open mic recording, which was leaked last year just before the U.S. election. He apologized for his comments and had said he had not actually performed the acts he discussed on the tape. He also dismissed his remarks as "locker room talk."
"He said it. 'Grab 'em by the p---y,'" Bush, who lost his job over the scandal, wrote in an op-ed published in the New York Times last weekend.
Trump has also denied allegations of making sexual advances and groping at least a dozen women.
"Our president may have said or done a few naughty things," Thompson's Santa tells a girl named Jessica, when asked if the president was "on the naughty list."
"Nineteen accusers. Google it," adds Kate McKinnon's Christmas elf.
Trump, like many presidents before him, is often criticized and mocked on the show.
"I'm sure we can all learn a lesson from what's going on in the news," Santa tells Jessica.
"We sure can," she says. "I learned that if you admit you did something wrong, you get in trouble. But if you deny it, they let you keep your job."
"Maybe you'd like a toy from Santa?" Santa asks a boy in the SNL sketch.
Oh, you mean a toy like the one Matt Lauer gave to his co-worker?" the boy asks.