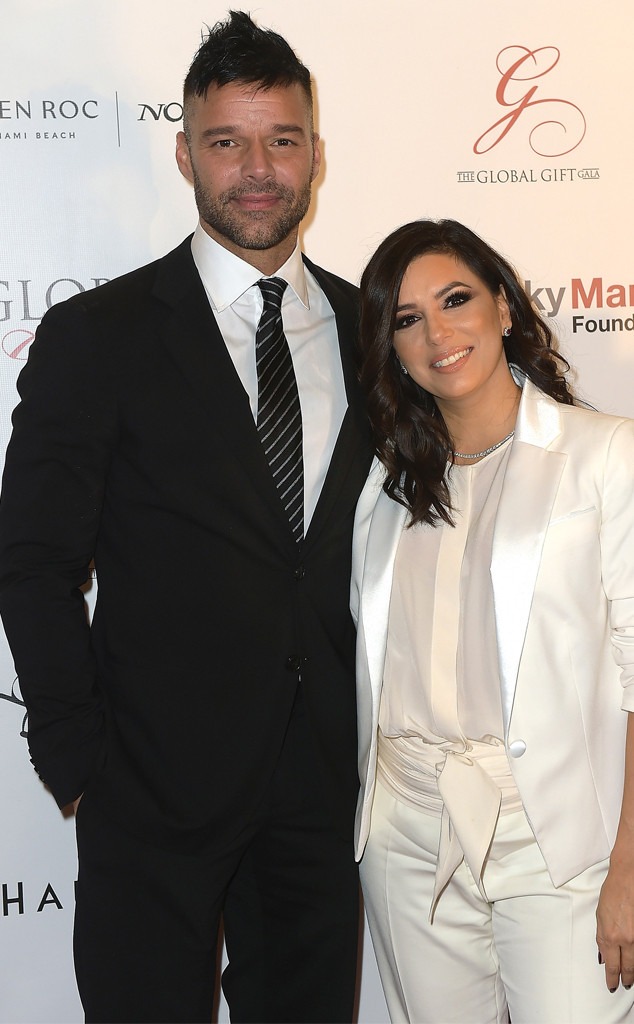 Gustavo Caballero/Getty Images
Ricky Martin and Eva Longoria teamed up last night for an extraordinary cause! 
The American Crime Story star and the former Desperate Housewives actress joined forces at the Global Gift Gala at the Nobu Eden Roc Hotel in Miami Beach. The hurricane relief event was held to support victims in Puerto Rico. 
Longoria sported an all-cream-colored outfit, and her blazer is from her Eva Longoria collection. Martin hit the carpet in a suit and brought his Fiancé Jawn Yosef as his date.  
Serena Williams, Loren Ridinger, and Miguel Bose also attended the event. 
In October, Martin also went live on Facebook to raise funds for his beloved island. 
"A dollar that you give to me is a dollar that will go straight to the victims. I cut the middle man because I am the middle man. You give me, and I give to the victims," Martin explained. "I will be posting through my social media everything that I'm doing with the money that you're donating." 
Gustavo Caballero/Getty Images
Gustavo Caballero/Getty Images
"On our way to The Global Gift Gala Miami. Thank you @lyft for your support and the free rides for#BetterTomorrows. We are #AllIn4PR#GGGMIA17 #GGFUSA," the 42-year-old actress captioned the photo of herself and Martin on the way to their big night. 
"Global Gift is almost ten years old. It's an initiative and a platform that we use to help a lot of people around the world. This year, Ricky called me and asked me, he said, 'We need to make the entire night for Puerto Rico,'" Longoria explains to Univision's Alan Tacher.
"She gives me all the credit, but it's really her. You don't understand the heart that this woman has, you don't know," Ricky says with a smile. "I had the opportunity to do this type of gala on various occasions in different countries like she said, but now we…well, I want to focus on my people. Sadly, we're going on 77 days and a lot of people in my land don't have light, they don't have power, and they don't have drinkable water."