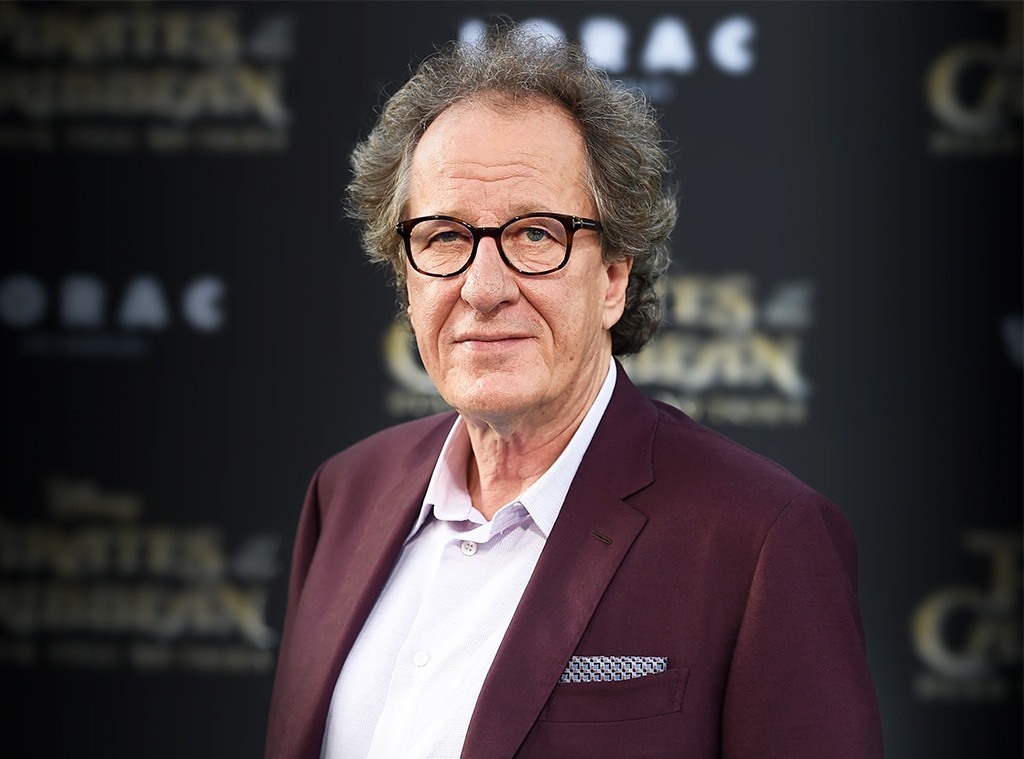 Jordan Strauss/Invision/AP
Australian Pirates of the Caribbean actor Geoffrey Rush has filed a defamation lawsuit against the Australian newspaper The Daily Telegraph over a report it had published about a complaint alleging inappropriate behavior by him.
Last week, in an article that was later deleted, the outlet had reported that the Sydney Theatre Company had received the complaint after the 66-year-old star had starred in a 2015-2016 production of King Lear. A company spokesperson later told E! News in a statement that the "Sydney Theatre Company received a complaint alleging that Mr. Geoffrey Rush had engaged in inappropriate behavior. The Company received the complaint when Mr. Rush's engagement with the Company had ended."
In his defamation suit, Rush claims the Daily Telegraph made him out as a "pervert" and "sexual predator" with their "KING LEER" headline, according to Australia's ABC Radio.
"Today I have filed defamation proceedings against The Daily Telegraph in the Federal Court of Australia," Rush, best known for playing Captain Hector Barbossa in Disney's Pirates of the Caribbean movies, said in a statement on Friday at a press conference in Melbourne. "It is an action I am taking in order to redress the slurs, innuendo and hyperbole they have created around my standing in the entertainment industry and greater community." 
"The Daily Telegraph has made false, pejorative and demeaning claims—splattering them with unrelenting bombast on its front pages," he said. "This has created irreparable damage to my reputation, been extremely hurtful to my wife, my daughter and my son; to my extended family—and to many colleagues in the Film, Television and Theatre industry. The situation is intolerable and I must now seek vindication of my good name through the courts."
In a statement posted by the newspaper's website, The Daily Telegraph Editor Chris Dore said, "The Daily Telegraph accurately reported the Sydney Theatre Company received a complaint alleging that Mr. Geoffrey Rush had engaged in inappropriate behavior. We will defend our position in court."
A hearing at the Federal Court in Sydney has been set for February 8, the newspaper said.
Details about the complaint have not been made public and no charges have been filed against Rush.
After the allegation was first reported, Rush denied them via a statement from his legal team, which said, "In this current environment, 'inappropriate behavior' may mean abuse, bullying or other forms of reprehensible activity. These are matters that deserve forthright and objective levels of discussion. It must be made clear from the outset that Mr. Rush abhors any form of maltreatment of any person in any form."
"Mr. Rush has said, 'The moment I became aware of rumors of a complaint I immediately phoned and spoke to senior management at the Sydney Theatre Company asking for clarification about the details of the statement. They refused to illuminate me with the details. I also asked why this information was being withheld, and why, according to standard theatre practice the issue had not been raised with me during the production via stage management, the director, my fellow actors or anyone at management level. However, no response was forthcoming.'"
"At this stage, Mr. Rush can only reiterate his statement that he denies having been involved in any 'inappropriate behavior' whatsoever,'" the statement had said. "Until there is the decency afforded to Mr. Rush of what the 'inappropriate behavior' actually is then there is nothing more that can be said at this stage."
A couple of days after the allegation was made public, Rush stepped down as the president of the Australian Academy of Cinema and Television Arts (AACTA).
"Certain recent media reports have made untenable allegations concerning my standing in the entertainment community," he had said in a statement last week, posted by numerous outlets. "It is unreasonable that my professional colleagues should be somehow associated with such allegations. In the circumstances, I have decided to step aside in my ambassadorial role as president of AACTA effective immediately and until these issues have been resolved."
"This decision has not been made lightly," he had said. "However, in the current climate of innuendo and unjustifiable reporting, I believe the decision to make a clean break to clear the air is the best for all concerned."
The AACTA said in a statement posted on its website on December 2 that the organization "acknowledges the decision today of Geoffrey Rush to voluntarily step aside as President of AACTA and accepts and respects his decision to do so. We have been deeply concerned about the situation and support a course of action that both respects Geoffrey's rights to the presumption of innocence and due process, but also acknowledges good corporate governance in these circumstances."
In his defamation suit, Rush claims he was forced out of his role, rather than voluntarily stepping aside, ABC Radio said.