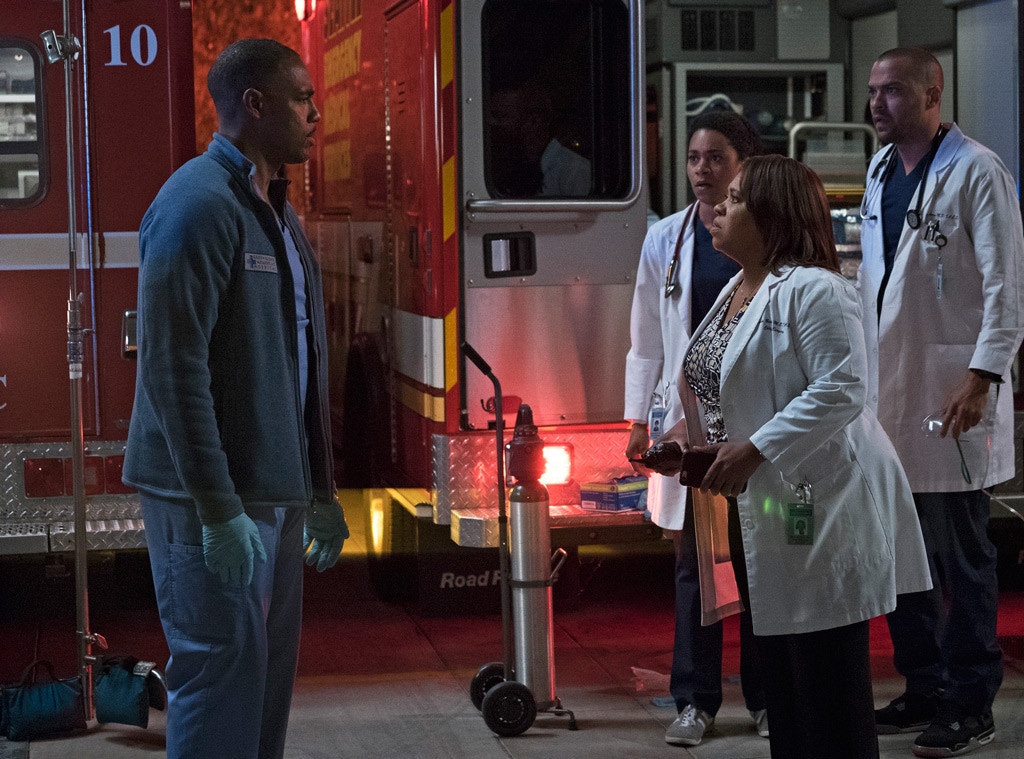 ABC
Get ready for plenty of crossover goodness when Grey's Anatomy's still-untitled spinoff finally debuts this spring, Shondaland fans!
When the Seattle firehouse-set series hits the air, after introducing at least one of its characters in an upcoming episode of the mothership, you can look forward to plenty of cross-pollination courtesy of Jason George's Ben Warren and his deep connections in both worlds. After all, his wife and all his pals will still be working at Grey Sloan Memorial, a hospital that the first responders at his new firehouse will no doubt be tasked with delivering victims to. And unlike Grey's' first spinoff, the L.A.-set Private Practice, not all crossovers will be big tentpole events. (Although you can certainly look forward to those too.)
"My understanding is, Ben will be popping up in Grey's Anatomy some and some of your favorite Grey's Anatomy folks will be popping up in the spin-off," George explained to Entertainment Weekly. "When it was Private Practice, the show was located in Los Angeles, so by definition, it had to be an event when they came up to Seattle or vice versa. This one can be an event, but it also doesn't have to be. The fun part is, the writers have an embarrassment of riches, they can play it any way they want it at any given time. They could have a mega event that goes across both shows, or they could just drop off a person for a little bit and go have a beer. 'Hey Avery, this is my friend from the firehouse.'"
While nothing is set in stone yet, showrunner Stacy McKee admitted to the magazine that keeping the stories on both shows interwoven shouldn't be all that difficult. "We're throwing every idea against the wall, and it's like spaghetti, we'll see what sticks. What's fantastic about this show is because it's Grey's Anatomy-adjacent, there's the potential for things to connect really, really easily," she said. "This show takes place in a Seattle fire station that could, in theory, be just a few blocks down from Grey Sloan Memorial. Plus, I know all the writers over at Grey's and vice versa, so it'll be a very symbiotic relationship."
Of course, before we can get there, the show needs to get off the ground, with Ben officially switching jobs and switching shows. Before the spinoff premieres, fans will get a mini-introduction to the firefighting world when spinoff star Jaina Lee Ortiz, who will be playing Andy Herrera, stops by. "It's going to be such a fun, fantastic introduction to her character," McKee teased. "It will also showcase a really lovely story for Ben, where we get to just juxtapose his two worlds and see his reaction as he transitions from one world to the next. We're actually shooting it right now. It's going to be so good."
And if you're worried about what Ben's decision to leave the hospital might mean for his marriage to Bailey (Chandra Wilson), especially after seeing her initial reaction to hearing the news, well, there's good news and bad news. The bad? George admitted that the true fallout in his marriage is still being hammered out. "They told me, 'Well, you're probably right to be concerned, because I'm sure Bailey is going to be concerned,' so I think we're still in the middle of working out what that means. I'm as much a fan of the show as anybody, so I'm figuring it out myself," he said. "This goes one of two ways—either it stresses them out, perhaps breaks them, or they find a way to work through it."
And the good news? These words from McKee on the matter: "I don't think anyone should feel hopeless."
Do you think Ben and Bailey can make this work? Or are you worried about them? And who from Grey's are you hoping to see crossover first? Sound off in the comments below!
Grey's Anatomy returns on Thursday, Jan. 18 at 8 p.m., while the spinoff will debut sometime in the spring, on ABC.