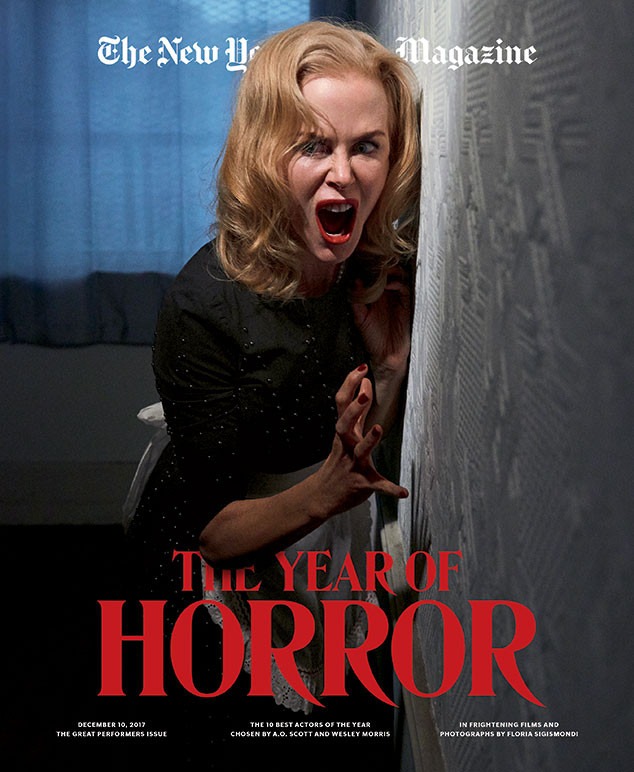 The New York Times Magazine/Floria Sigismondi
Sleep with the lights on tonight because the year's brightest stars are going dark. 
In honor of New York Times Magazine's Great Performers issue, the magazine's "10 Best Actors of the Year," among them Nicole Kidman, Jake Gyllenhaal, Saoirse Ronan and Tiffany Haddish, stepped into the imagination of director and photographer Floria Sigismondi to encapsulate "The Year of Horror."
"Horror films dominated the cultural conversation this year. From the surprise hit Get Out to the movie adaption of It to the campy Happy Death Day, scary movies had an unusual hold on the collective imagination in 2017," an introduction to the visual presentation read. "Maybe it's because reality was pretty horrifying, too."
As part of the magazine's multimedia production, each star appeared in his or her own tableau in which they depicted some of the genre's classic archetypes, such as "The Ghost Bride," "The Demented Clown" and "The Cannibal."
The New York Times Magazine/Floria Sigismondi
The New York Times Magazine/Floria Sigismondi
The New York Times Magazine/Floria Sigismondi
For example, Kidman subtly horrifies as a possessed housewife, breaking plates and eggs as she devolves into mania. Timothée Chalamet, the buzzed about star of Call Me By Your Name, takes a more poised approach to his performance as The Cannibal, who prepares to feast on his own heart. 
Get Out leading man Daniel Kaluuya is every level of disturbing as a bloody-handed serial killer sitting down to watch TV, until an arm pokes out from under his bed and latches on to his leg. Gyllenhaal is more disheveled and crazed as he urgently draws on the walls as The Damned, haunted by an eerie voice approaching.  
Andy Serkis is entirely unhinged as a Demented Clown quickly shifting emotions in his makeup while Lady Bird's Ronan breaks out of her mannequin shell after being trapped in an attic with her doll counterparts.  
Comedian Haddish brings a touch of light to the sinister series as she cheerfully dances with a skeleton, Sigismondi describing it as "a power play with death."
Check out more of the featured stars, including Cynthia Nixon, Brooklynn Prince and Daniela Vega, on the New York Times' website here.