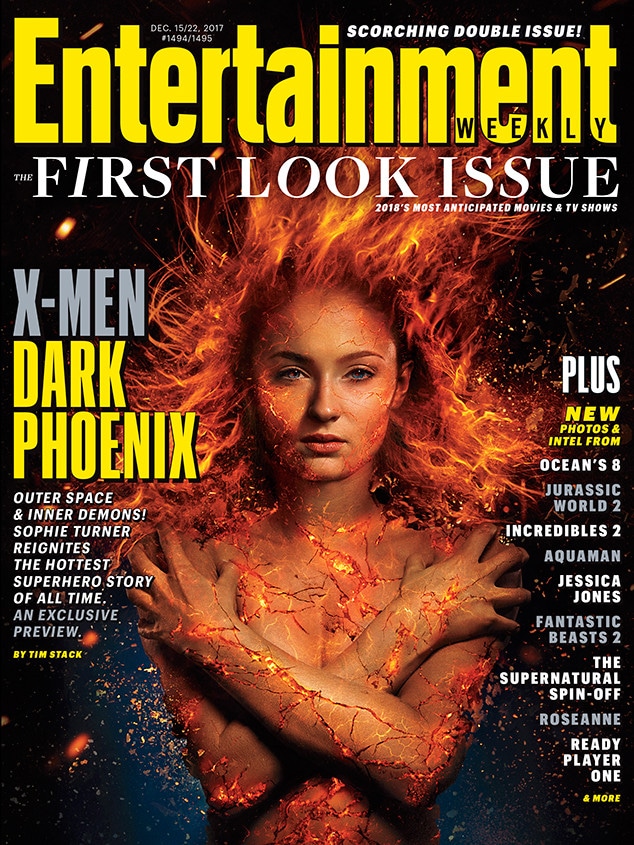 Entertainment Weekly
Sophie Turner has never looked hotter.
Entertainment Weekly released the cover of its Dec. 15/22 "First Look Issue" Thursday, giving fans their first look at Turner in 20th Century Fox's upcoming mutant epic X-Men: Dark Phoenix.
In the climatic final moments of last year's X-Men: Apocalypse, Jean Grey (Turner) unleashed the Phoenix force that lay dormant inside her. In the next movie, out Nov. 2, 2018, the X-Men team is dispatched to space for a rescue mission. After a solar flare hits the X-Jet, a surge of energy taps into the power-hungry force within Jean: The Phoenix. "It's about the butterfly effect of this thing happening," says Turner, who studied schizophrenia and multiple personality disorders to prepare. "What happens when the person you love the most falls into darkness?"
For Turner, stepping into the lead role was a big challenge. In fact, she admits, "I have to go from broken-down Jean to this confident, arrogant, know-it-all character within milliseconds."
Jean is both the hero and villain. But X-Men: Dark Phoenix also introduces an alien shape-shifter, played by Jessica Chastain, who tries to manipulate Phoenix for her own secret agenda.
Chastain says it was writer-director Simon Kinberg's female-driven script that intrigued her most of all. "I've always wanted to do a big comic-book film, but I had some issues with the female characters I was being offered," she says. "This definitely passes the Bechdel test, and I don't know how many comic-book films can say that." Jennifer Lawrence, who returns as Mystique, adds, "It was unrecognizable. Everything was on time. Everything was organized. These movies have always been fun amidst chaos, and now they were fun with no chaos."
"The movie does not work if she's not great," Kinberg says of Turner's performance in the upcoming movie. "Sophie really lived and breathed the movie in a way that was extraordinary."
X-Men: Dark Phoenix features an ensemble cast that includes Michael Fassbender as Magneto, Nicholas Hoult as Beast, James McAvoy as Charles Xavier, Kodi Smit-McPhee as Nightcrawler, Evan Peters as Quicksilver, Tye Sheridan as Cyclops and Alexandra Shipp as Storm. For more movie details from Entertainment Weekly's "First Look Issue," buy a copy on newsstands Friday.