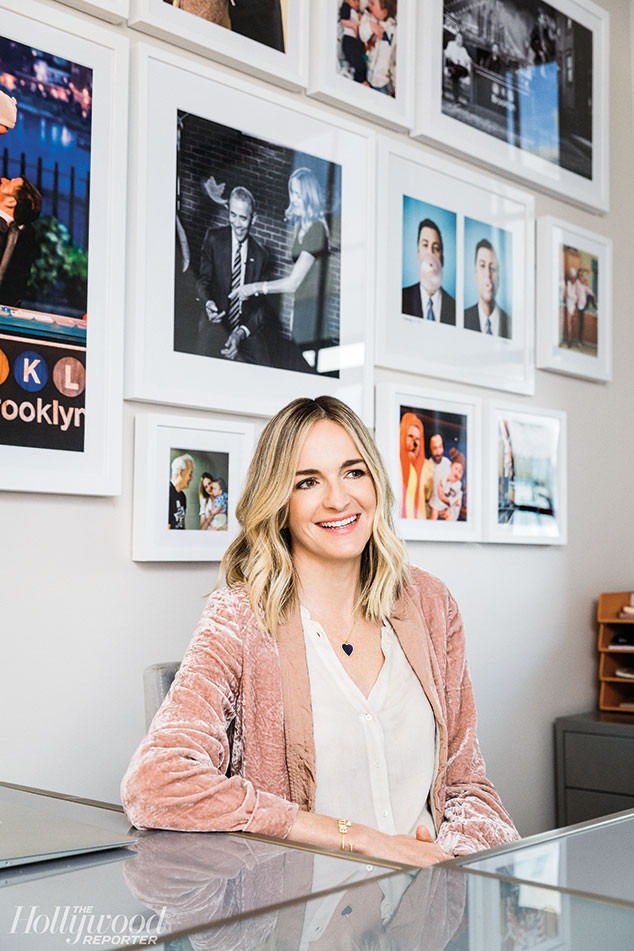 The Hollywood Reporter/Emily Berl
Jimmy Kimmel and his wife Molly McNearney managed to turn a personal battle into a moment that rocked the nation. 
During a monologue that has been viewed more than 11 million times since he first delivered it on May 1, the late-night host shattered viewers' hearts as he mixed words with tears during his opening remarks, confirming that his son Billy had been born with two heart defects that demanded immediate open-heart surgery. 
"On Monday morning, Dr. Vaughn Starnes opened his chest and fixed one of the two defects in his heart. He went in there with a scalpel and did some kind of magic that I couldn't even begin to explain," Jimmy explained at the time while trying to hold back tears. "He opened the valve, and the operation was a success. It was the longest three hours of my life."
His beloved wife and Jimmy Kimmel Live! co-head writer revisited those days six months ago for The Hollywood Reporter, particularly the moment she and her famous husband decided to share their terrifying account with the world. 
After nearly a week of being in the hospital, the couple was heading to dinner when the TV personality made a suggestion. "Jimmy turned to me and said, 'I want to talk about Billy on the show on Monday.' I said, 'OK.' And then he said, 'And I want to talk about the health care problem in this country.' Again, I didn't think much of it. I figured he'd tell the story and then he'd probably cry because, well, he once cried on the show over a lion dying," she recounted to THR. 
Little did McNearney or Kimmel realize, the remarks would strike quite a nerve in the public discourse as debate over health care was heating up at the same time. "We were brought up to believe that we live in the greatest country in the world but until a few years ago, millions and millions of us had no access to health insurance at all," Kimmel told his audience that night as he made his case for available healthcare, regardless of political party or income. "If your baby is going to die and it doesn't have to, it shouldn't matter how much money you make," he emotionally urged. 
However, McNearney had little idea about what exactly her husband was going to say as she had not received his prepared monologue ahead of the show. "I emailed Jimmy, and he said, 'I just want you to watch.' So, there I am, in my living room breastfeeding Billy with my mom beside me, and we're watching," she recalled to the magazine. "I sobbed through the entire thing. I couldn't believe the strength that it took to tell that story a week after it happened. He didn't have to do that. Our family has excellent health care; he had nothing to gain from that. He did it for the other people whom we met in that hospital."
While the response has been overwhelming since, the reactions to the couple were not all gleeful. "People were sending letters to our home, attacking both of us on Twitter, saying things like we deserve this and we're terrible people," the mother of two revealed, noting she even took a Twitter hiatus. "Nine out of 10 [replies] are positive, but that one nasty one will shake me."
Though public life as they knew it has changed—"I don't necessarily like that everyone knows what's going on with the health of my child"—McNearney wouldn't take it all back.
As she explained to THR, "If we were to do this all over again and someone said, 'You would have an opportunity to have a perfectly healthy baby boy,' I would take the one we got because I think it helped a lot of families."