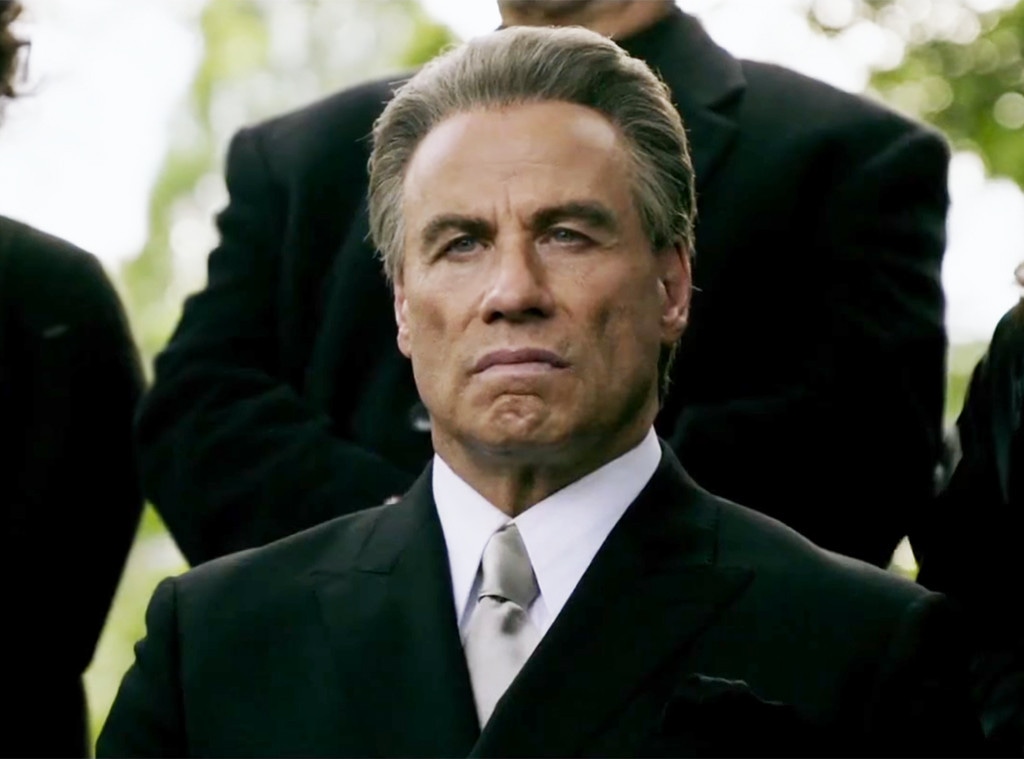 Emmett/Furla/Oasis Films
John Travolta is voicing his disappointment about some of the false reports surrounding Lionsgate's upcoming film, Gotti.
The actor maintains Lionsgate didn't drop the film. In fact, the film is getting a wider release. 
"Unfortunately, the reports were speculation bordering on fake news," Travolta told Deadline. "Lionsgate was planning on a minimal release, and I did an investigation into people who might have the interest and financial wherewithal to better release it."
Travolta believes Gotti is worthy of a bigger release than was originally planned, and thus, he ended up seeking Edward Walson to help buy out Lionsgate for the rights to the film.
"Ed is a fan of mine and of the Gotti story and really wanted to see the movie," Travolta continued. "I invited his group, they saw it and bought it. That is the simple explanation for this. It wasn't dropped. It wasn't easy to get Lionsgate to give it up. They said no, twice, and I literally begged them to reconsider, and they finally and generously let it go. We signed this deal about three weeks ago...[But] we didn't anticipate this speculation that is so grossly wrong."
Walson reciprocated Travolta's feelings.
"Not knowing anything about the release plans, I saw the film and loved it, especially John's portrayal as Gotti," he told Deadline. "It's a supreme piece of work I thought deserves proper recognition. Having produced eight films, I've seen the frustration that sometimes happens when distributors don't think of out-of-the-box ways to promote a movie...I thought, 'Here is an opportunity to take a magnificent movie, and get it seen.'"
Speaking of Travolta's role, he plays John Gotti, in an Italian-American gangster who became the boss of the Gambino crime family in New York City in the '70s.
"There was a very humane part of him," Travolta said in describing the role. "But this movie focuses on the truth of how you behave when you are head of a group that is set up to behave notoriously."
He continued, "There is a balancing act that I loved being able to play—this smart, clever genius mafia guy who at the same time had this strong sense of family, where he cared deeply about his wife and children. I think it's the first time you really see that true dichotomy, and I believe it helps you understand how his world worked and why he became such an iconic part of gangster history."
Speaking to E! News about the film, executive producer Keya Morgan said Wednesday, "None of the stories are true. This had nothing to do with Harvey Weinstein, Donald Trump or any sex scandal. We just wanted the movie to be in more theaters. We had to beg and negotiate to buy the movie back to do a wide release. The movie was never dropped." Recently, Morgan said he screened the movie for a few Academy members. "It created Oscar buzz, so we wanted a bigger release," he explained. "There is major Oscar buzz so we want to make sure it is done properly."
The film doesn't have an exact release date, Morgan said, since there are so many distributors.