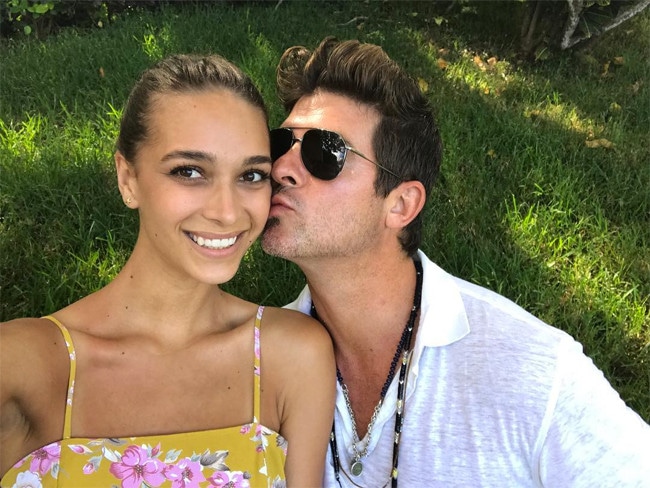 Instagram
In honor of her special day, April Love Geary is striking a pose in her birthday suit. 
The model and Robin Thicke's expectant girlfriend was gifted with two oversized bouquets of red roses from her musical man in honor of her birthday. The mom-to-be turned the petals into props, shed her clothes and posed on her bed to commemorate the moment. "SO EXTRA," Geary captioned the shot. 
Fans and friends seemed to love the snap as they showered her with compliments on her Instagram account. As for the sweet floral arrangements, Geary gushed, "I have the best boyfriend in the world!"
As the mama-to-be and her Grammy-nominated boyfriend celebrate her special day, the two are also counting down to the arrival of their first little one together, a daughter due in March. 
The couple confirmed the news in August along with a picture of their sonogram. 
"Robin and I are very excited to share with you all that we're having a baby!" Geary wrote at the time. "The due date is March 1st, Alan's birthday!" the model added, referring to Robin's late father, Alan Thicke. 
The actor had only nice things to say about his son's girlfriend when E! News caught up with him in 2015. "She's lovely," Thicke said of Geary. "[He has an] album coming out and April is there and supportive"
As the actor added, "We like her a lot."
When asked about their age difference, Robin's stepmother, Tanya Callau, was just as complimentary. "The apple doesn't fall far from the tree," Callau joked. "She's a very mature young lady. A very beautiful, smart, mature young lady."