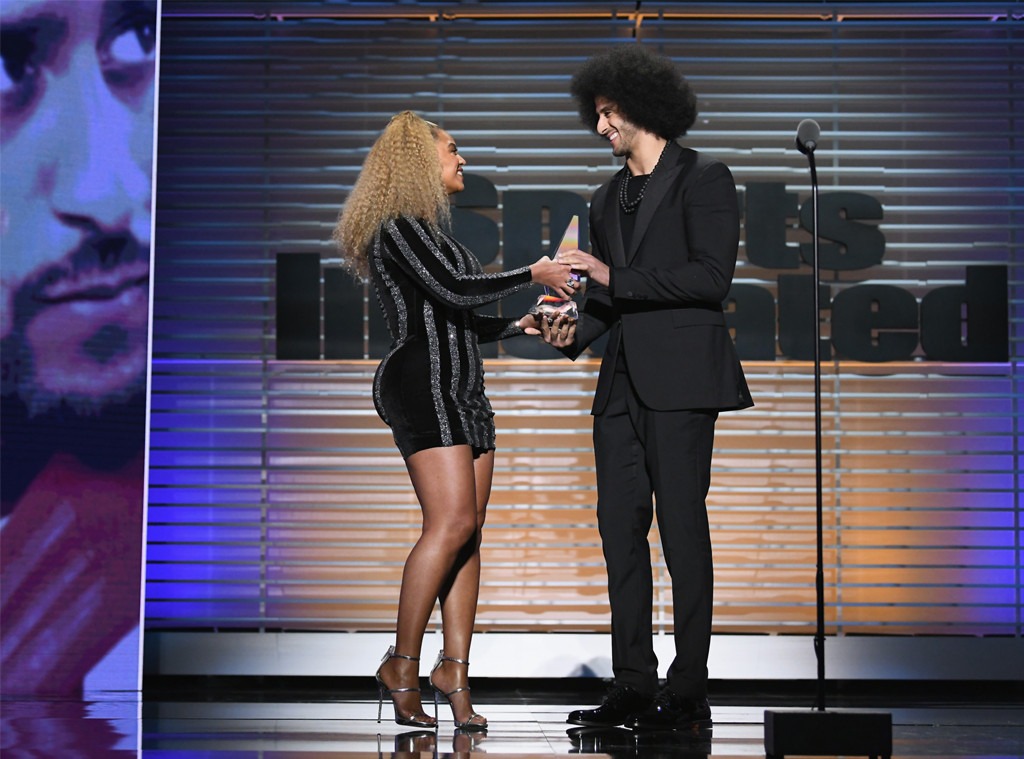 Slaven Vlasic/Getty Images for Sports Illustrated)
Beyoncé is showing her support for Colin Kaepernick.
In a surprise appearance few people knew about in advance, the "Crazy in Love" singer stepped out Tuesday night to present the former San Francisco 49ers quarterback with Sports Illustrated's Muhammad Ali Legacy Award.
"It feels so good to be here on such a special night of appreciation. Thank you Colin Kaepernick. Thank you for your selfless heart and your conviction. Thank you for your personal sacrifice," the Grammy winner shared with the audience inside New York City's Barclays Center. "Colin took action with no fear of consequence or repercussion, only hope to change the world for the better. To change perception, to change the way we treat each other, especially people of color."
The mother-of-three added, "We're still waiting for the world to catch up...His message is solely focused on social injustice for historically disenfranchised people. Let's not get that mistaken." 
The Muhammad Ali Legacy Award is given to an athlete who uses their platform to promote change.
During the 2016-17 NFL season, Colin made headlines when he refused to stand for the national anthem. His actions inspired other athletes and entertainers to speak out and follow suit. 
When it was first revealed that Colin would be receiving the award, Muhammad Ali's wife Lonnie Ali supported the decision.
"I am proud to be able to present this to Colin for his passionate defense of social justice and civil rights for all people," she shared with Sports Illustrated. "Like Muhammad, Colin is a man who stands on his convictions with confidence and courage, undaunted by the personal sacrifices he has had to make to have his message heard. And he has used his celebrity and philanthropy to the benefit of some of our most vulnerable community members."
Previous Legacy recipients include Bill Russell, Kareem Abdul-Jabbar, Jim Brown and Magic Johnson.
During tonight's ceremony, however, the attention was all on Colin.
"I accept this award not for myself, but on behalf of the people," he told the crowd via the New York Daily News. "Because if it was not for my love of the people, I would not have protested. And if it was not for the support of the people, I would not be on this stage today. With or without the NFL's platform, I will continue to work for the people, because my platform is the people." 
Watch the 2017 Sports Illustrated's Sportsperson of the Year event Friday night at 8 p.m. on NBCSN.