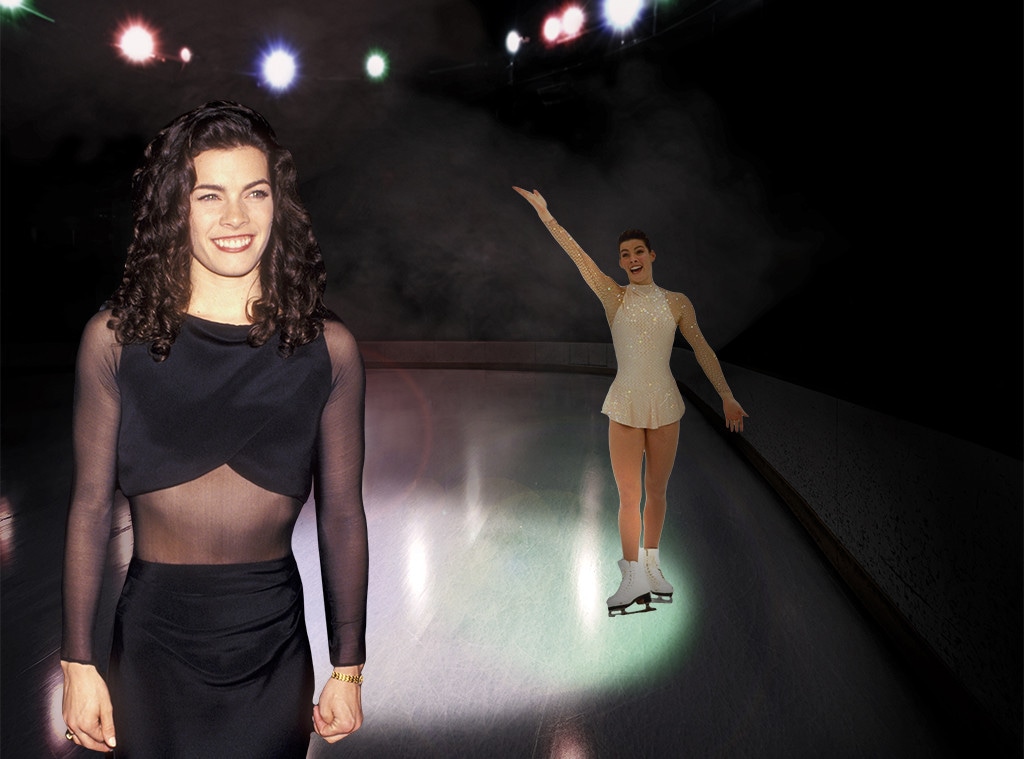 Getty Images; AP Images; Melissa Herwitt/E! Illustration
Like the phenomenon that affects many people in the spotlight, it seems there were two different Nancy Kerrigans. 
There was the Nancy that the media portrayed, the woman with style and grace. She was an effortless skater and fit in with the world of competitive figure skating even more effortlessly, especially in stark contrast to Tonya Harding's athleticism. She was poised on camera and, at least after 1994, she was a victim. 
But behind the scenes, the real Nancy Kerrigan was decidedly different.  
She was still a victim, yes. But despite the glossy, feel-good story that the media painted she was a girl from a decidedly blue-collar background whose father was forced to work two and sometimes even three jobs to support her figure skating. It was, in fact, not a far cry from Harding's own financial situation. 
In short, Tonya Harding wasn't the only famous skater who struggled. And the perception of Nancy Kerrigan as the more glamorous of the world's stars helped to undercut everything she went through to make it to the national stage.
Kerrigan was born in Stoneham, Mass., outside of Boston, to a welder and a stay-at-home mom. She started the sport at six years old, winning her first competition—and showing early signs of serious prowess and promise—a few years later. Once it became clear that she had major talent her parents decided that they needed to start sacrificing in order to help her go the extra mile: Her father even drove the Zamboni at the ice rink in exchange for the price of her skating lessons. 
What happened as a result of those lessons is the story that everybody knows. She was the apple of the announcers' eye and so often the favorite of all the fans. By 1990 she was fourth in the national rankings and she spent the early part of that decade bringing home medal after medal. She won a bronze at the 1991 U.S. Figure Skating Championships, qualifying her for the world competition where the U.S. women would go on to sweep the podium. 
Kerrigan won another bronze at the 1992 Olympics in France, falling behind Kristi Yamaguchi, and when Kristi retired later that year she moved in to take the top spot in America. It was during this era that the Harding-Kerrigan rivalry began to take shape in the press, with the two women often neck-in-neck. Despite the fact that they were, for a time, friends (and were even occasional roommates on the road), the story of their opposition won out. 
And then came The Incident. 
The details of that graphic and terrifying event are well-documented, but what is less remembered all these years later is that at the time, Kerrigan's talent was occasionally overshadowed by her penchant for sour grapes. A major discussion point of I, Tonya, the big-screen adaptation of all the events leading up to The Incident (from Harding's point of view of course) was Tonya's (often bitter) opinion that Nancy would never be happy with anything but first place. And it seems that opinion wasn't far off from the truth. 
Sometimes that took the form of seemingly purposeful outbursts, whether it was Nancy making a face during a competition or the time that she stepped out in front of national television crews after taking 10th place in the 1993 World Games and sobbed audibly to the reporters, adding "I just want to die!"
At sometimes it took the form of more embarrassing hot mic accidents.
The first happened when she lost the gold medal to Oksana Baiul in the Olympics: As she was waiting for the Ukrainian skater to give herself a makeup touch-up before the medal ceremony she was caught rolling her eyes and saying, "Oh, come on. She's going to get up there and cry again. What's the difference?" To make things even more awkward, it was later revealed that the actual reason for the delay was a frantic search for the correct national anthem to play. 
Then when she attended a Disney parade (something that was no doubt forced upon her by some publicist or another), she was heard complaining, "This is so corny. This is so dumb. I hate it. This is the most corny thing I've ever done."
Was she wrong? No. Was it a telling flub? Probably.
Kerrigan fell mostly off the radar of the public stage during the years following her big Olympics appearances, as most professional athletes were apt to do—at least before Instagram existed. She did the occasional on-screen gig, appearing on FOX's Skating With Celebrities (which is exactly what it sounds like: Dancing With the Stars, only on ice) and she had a cameo in the Will Ferrell flick Blades of Glory, but mostly kept quiet while she started a family.
(Kerrigan actually married her agent, when she was 25 and he was 41; another source of drama punctuating her seemingly put-together world. It was her first marriage and his third, but they would go on to have three children together and have been married for over 20 years.)
But then tragedy struck her family.
In January of 2010 her brother, Mark and her father got into an altercation at their home in Massachusetts and Kerrigan's father subsequently died of a heart attack that the doctors believed was caused by the fight. To make matters even more complicated, Mark was charged with involuntary manslaughter—despite the desperate pleas of Nancy and her mother that he be spared. He was eventually sentenced to two-and-a-half years in prison, owed mostly to his history of drug and alcohol charges. 
Nancy eventually went on the Today show to attempt to clear her brother's name and explain that it was simply a family tragedy gone wrong. 
While none of what has gone down in Nancy Kerrigan's private world is her fault or even anything to be ashamed of, there's no denying that it isn't so picture-perfect either. So why is it that she's remembered as nearly that, while Tonya Harding, the victim of spousal and parental abuse and who grew up demonstrably poor, is seen as a stain on the figure skating industry and very nearly a villain?
The entire time the two women were competing against each other on the ice, often so close that it was almost impossible to distinguish who was the stronger skater, it was always clear who was the more successful athlete. Just look at their sponsorships: Kerrigan had all of the lucrative deals from big-name companies like Campbell's, Revlon and Reebok. Nothing illustrates her perceived greater likability more than that, however exaggerated or unfair that might have been. 
But on the ice, Harding was the decidedly stronger skater. They each had their own strengths, but the rivalry came from the media's need to pit two women against each other to make it all the more fascinating. Out of that engineered rivalry came the idea that they were polar opposites: If Harding was the bad girl, that automatically made Nancy the good girl. 
It's just another lesson that in fame, there's always more than meets the eye.