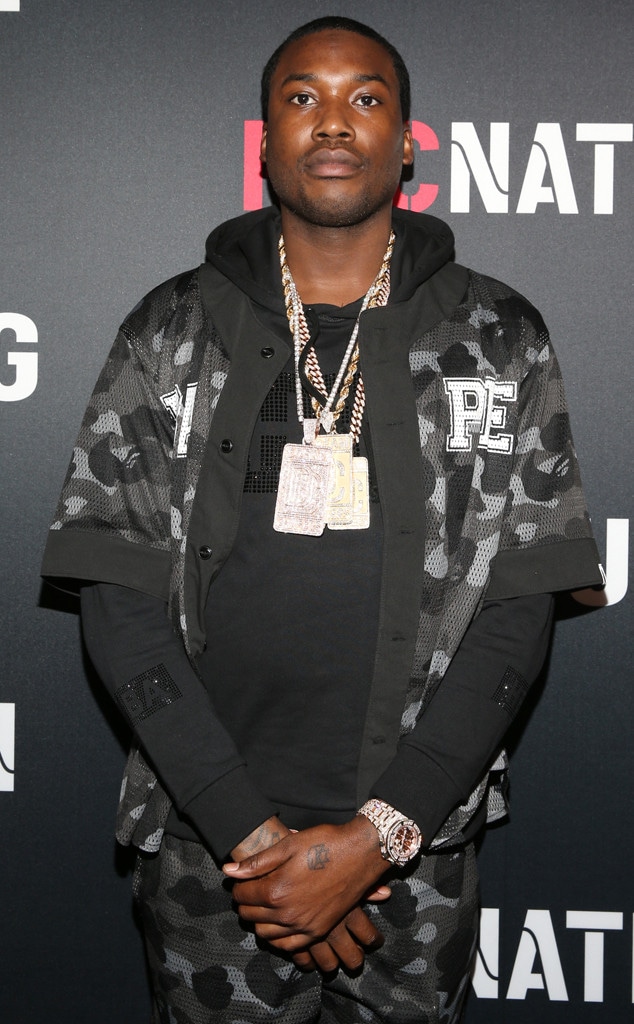 Jonathan Leibson/Getty Images for Samsung
Meek Mill has been denied bail in his most recent prison sentence. 
The 30-year-old rapper was sentenced to two to four years in Pennsylvania state prison in early November for violating probation stemming from a drug and weapons conviction in 2008. While Mill has been in prison since his sentencing last month, his attorney filed a motion two weeks ago to bail the star out.
However, Common Pleas Judge Genece Brinkley denied the motion on Friday, claiming he "is and continues to be a danger to the community in Philadelphia, New York, Missouri, and other locations throughout the United States, he continues to be a danger to himself based upon a history of continuous use of illegal drugs, and is an increased and greater flight risk because he already has been sentenced to a term in state prison and gave false information to authorities when he was arrested in St. Louis, Missouri," the judge said in her formal denial. 
"We are very disappointed with Judge Brinkley's decision to deny Mr. Williams bail, which continues this travesty of justice. He has never missed any court dates, and poses absolutely no threat to the community making him an ideal candidate for bail, a conclusion the District Attorney did not oppose," Mill's attorney, Brian J. McMonagle, told E! News in a statement. "We intend to immediately appeal this decision so Mr. Williams can be released from prison while we continue to work to overturn this wrongful and unjust sentence."
Meanwhile, Mill's legal team also filed a motion for Brinkley's recusal, claiming she assumed "a non-judicial, essentially prosecutorial role in the revocation process by personally revising and greatly expanding the assigned Probation Officer's summary report...and then conducting a hostile examination of the officer at the hearing," the motion court documents stated. 
Mill's attorneys have also alleged Brinkley "offered inappropriate personal and professional advice to the defendant" among other claims as to why the case should be granted a new judge after she has overseen his case for nearly a decade. On Monday, the rapper's legal team filed a supplemental submission in support of Brinkley's recusal, citing her potential awareness of a federal investigation into her conduct with Mill as further grounds for her recusal. 
E! News has not independently verified the investigation. 
Jesse D. Garrabrant/NBAE via Getty Images
The conviction was handed down on Mill following a failed drug test and failure to comply with a court order restricting his travel while prosecutors recommended against imprisoning Mill for his recent probation violations, considering he'd been drug-free since January and had complied with "most" requirements of his probation. 
After his conviction in 2008, the rapper was sentenced to serve 11 to 23 months in prison in addition to 10 years of probation. After being released early in 2009, he violated his probation several times and, in 2014, he was sentenced to spend three to six months in prison. Mill was ultimately granted parole on Dec. 1, 2014. In December 2015, the rapper was found guilty of violating parole again, and he was given six to 12 months of prison and six more years of probation. 
In March 2017, Mill was arrested for misdemeanor assault at an airport in St. Louis. He was arrested again in August 2017 for reckless driving and reckless endangerment on a dirt bike in New York City. Mill accepted a plea deal in both cases, in which he completed community service. 
His most recent imprisonment has drawn attention from fans and fellow stars alike, including rapper Jay-Z. "The sentence handed down by the Judge—against the recommendation of the Assistant District Attorney and Probation Officer—is unjust and heavy handed," the acclaimed rapper wrote on Facebook. "We will always stand by and support Meek Mill, both as he attempts to right this wrongful sentence and then in returning to his musical career."