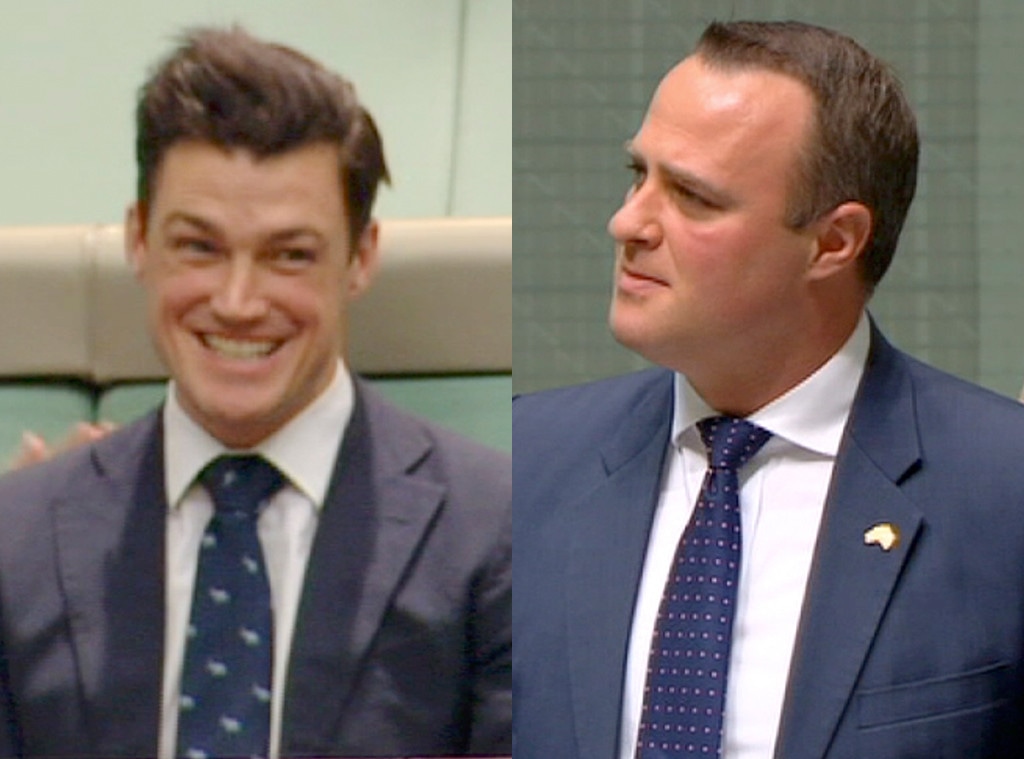 Parliament TV via AP
Love was in the air—and on the Parliament floor. 
Australian lawmaker and parliament member Tim Wilson turned a political fight into a personal triumph on Monday when, during a speech in support of same-sex marriage, Wilson directed his attention to his partner sitting in the public gallery of the House of Representatives. 
"In my first speech, I defined our bond by the ring that sits on both of our left hands and they are the answer to the questions we cannot ask," Wilson emotionally said to Ryan Bolger. "So there's only one thing left to do. Ryan Patrick Bolger, will you marry me?" The proposal marks the first in Australian history to take place on the House floor. 
From the look on Bolger's happy face, his answer was going to be the right one. Bolger gleefully replied "yes," to which Rob Mitchell, second deputy speaker, added, "I should note for the Hansard that that was a yes, a resounding yes. Congratulations. Well done, mate." 
The moment helped to drive home Wilson's appeal to all listening that the Marriage Amendment Bill of 2017 should be passed. The bill works to legalize marriage for all in Australia by defining the act as a union between two people, regardless of their sex or gender, instead of between a woman and a man.  
"Like so many others at 18, I confronted the choice before me about whether I should live my life honestly or not at all. I still remember my thoughts at that crucial moment: if you give in, they win. That moment followed years of self-inspired haunting doubt that was externally reinforced by the legacy of social, cultural and legal stigmatization. I suspect many people find understanding these journeys difficult. It's so paralyzing because you can't seek help from others," Wilson said during his remarks.
"The people you should be able to turn to are the ones you fear speaking to the most because the cost of rejection is so high. As the Attorney-General remarked in another place, it can sometimes overcome. This bill rams a stake into the heart of that stigma and its legacy. If I could go back and tell that scared 18-year-old kid he'd be speaking here—surrounded by Trevor Evans and Trent Zimmerman, and also representing the party of his values with his partner, Ryan, in the gallery—on this bill, he wouldn't have believed me."
As Bolger later quipped on social media, "Well… That was a surprise!"
Congratulations you two!