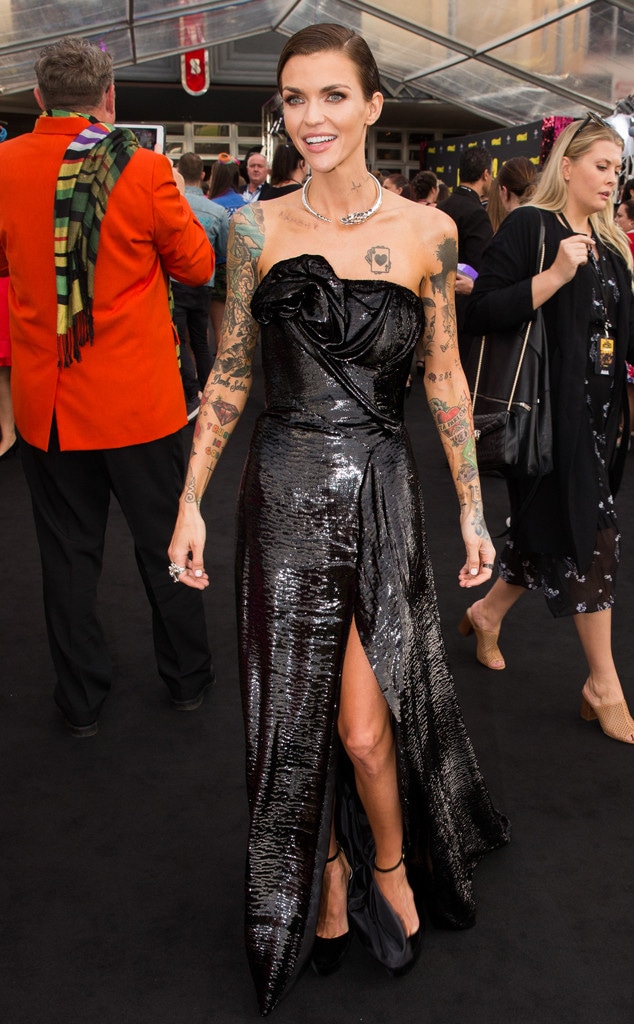 El Pics/ Getty Images
Ruby Rose is stealing a page from gal pal Taylor Swift's lyric book. 
In a long message to her social media fans—and really anyone reading—the Pitch Perfect 3 star took aim at recent reports about her appearance, particularly after she hit the red carpet at the film's Australia premiere on Wednesday. 
To begin, the 31-year-old addressed her acne flare-up, sharing closeup pictures of her cheek and explaining she recently broke out because of hotel pillow cases and consistent phone interviews for the upcoming sequel. "This acne belongs to me, not them, and you are welcome to it," she wrote on one black-and-white shot."I never thought I'd see the day I'd leave my beautiful country balling my eyes out...when I was so excited to come home."
As the candid star continued, "I mean it sucks...for me, I don't see how it's bothering so many others? but I'm a human. It happens..one side of my face is clear and the other is a mess."
After addressing the breakout, Rose criticized recent reports, which she claimed chose particular photos of her to fit a narrative about her health and weight. Rose honed in on photos of her back, noting, "This is always my back..I have a tilted posterior (it's why I have abs but no butt) and spinal curvature from a bad car accident."
The actress denounced The Daily Mail for a story about fan speculation over her weight, writing, "It is very important to know what an eating disorder is, to know how to speak about it properly when you have such a platform such as a national newspaper." 
The actress went on to apologize to anyone such a story possibly affected. "From the bottom of my heart I am sorry if those stories triggered anything in anyone. This is the problem with believing tabloids or any news without research…."
To prevent future stories based on people's comments to her social media pages, Rose has decided to stop comments altogether. "It's time to take that away from them to protect everyone. I can only do what I can to make this a safe place and I will," she explained. 
"THIS IS WHY WE CAN'T HAVE NICE THINGS LIKE INSTAGRAM COMMENTS," the star continued, quoting Swift's new track, "This Is Why We Can't Have Nice Things." "BECAUSE YOU BREAK THEM I HAVE TO TAKE THEM, AWAY…ay ay ay."