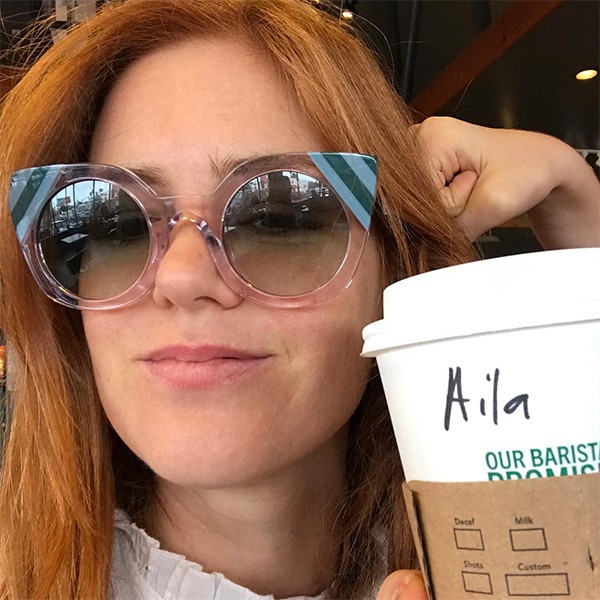 Instagram
If you're Isla Fisher, you may often be identified incorrectly, especially at Starbucks.
The Australian Wedding Crashers star and wife of Sacha Baron Cohen posted on her Instagram page on Sunday a photo of her holding up a Starbucks cup that reads, "Aila," which is how her name is pronounced (you know, like the word "Isle"). That's actually a good guess, considering the baristas have botched customers names even worse, as they struggle to hear them while drinks are made nearby with noisy machinery.
"Better than Izla, Lisa, Eyelay, Amy Adams, Jessica Chastain, Bryce Dallas [Howard] and occasionally when I haven't shaved...Ed Sheeran," Fisher joked.
The actress is often mistaken for Adams, her co-star in the movie Nocturnal Animals, and occasionally the other actresses, because they are all redheads.
See pics of them and other celebrity look-alikes below:
Fisher is totally in on the joke.
She even once sent holiday cards with Adams' face on it!
"I cut-and-pasted Amy Adams' face over mine, so it was Sacha, Amy, and the kids, and then we said 'Seasons greetings from Sacha and Isla,'" she said on NBC's Today show in 2016. "And no one noticed. Everyone was like, 'Oh, your card was so cute.' I was like, 'It was a joke, it's not me, it's Amy!'"
In 2013, Adams told Vanity Fair, "I get Isla Fisher all the time, still. And I know Isla, and for a while our kids went to the same dance school. When I'm with Isla, we both look at one another and say, 'I get it but I don't get it.'"
Earlier this year, Fisher made it clear she is not Adams in a mock PSA that aired on Jimmy Kimmel Live!