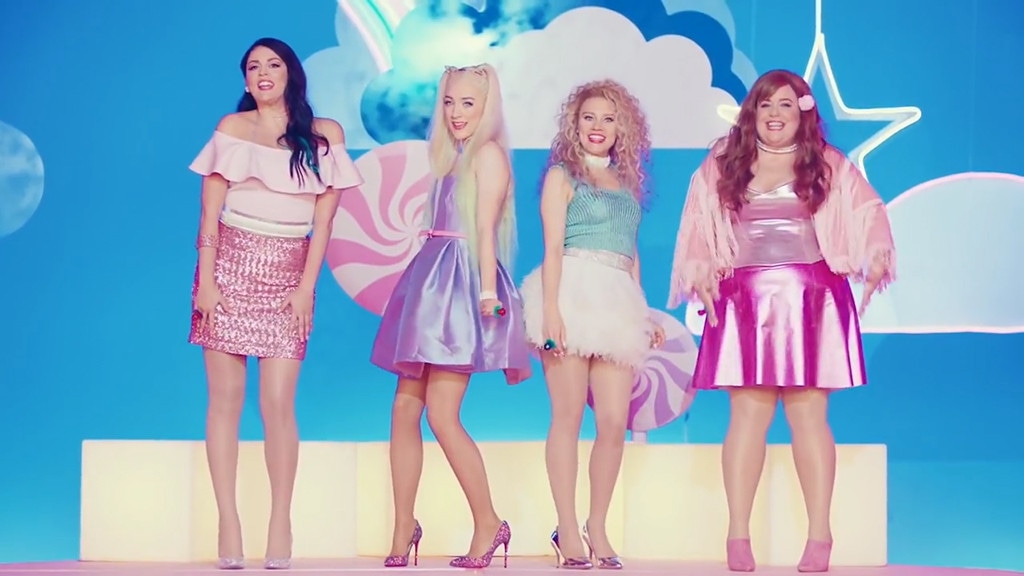 NBC
Men, welcome to women's hell. They've been living in it for a long time.
In a mock bubblegum pop music video that aired on NBC's SNL on Saturday, cast members Cecily Strong, Kate McKinnon and Aidy Bryant and show host Saoirse Ronan wear bright Barbie-like outfits and feign shock about the ongoing sexual harassment allegations involving many powerful and rich men in Hollywood, the news business and politics. Melissa Villaseñor and Leslie Jones join in too.
"Hey there boys, we know the last couple of months have been frickin' insane," Strong says.
"All these big, cool powerful guys are turning out to be, what's the word? Habitual predators?" Bryant says.
"Cat's out of the bag," a crimped haired McKinnon replies. "Women get harassed all the time."
"And it's like, 'Dang, is this the world now?" Bryant asks.
"Welcome to hell," the women sing. "Now we're all in here / Look around, isn't it nice / It's a full nightmare / Ain't it so cool / Playing this Guess Who? / Yeah, it's a lot / But it's what we got / Welcome to Hell, hey!"
The issue of sexual harassment and assault has dominated public discourse for months following allegations against Bill Cosby, producer Harvey Weinstein and other Hollywood power players, Bill O'Reilly, Charlie Rose, other newsmen and the late Fox News CEO Roger Ailes, plus politicians such as Republican U.S. Senate candidate Roy Moore, Senator Al Franken and even President Donald Trump, who bragged about groping women in an Access Hollywood 2005 open mic recording.
In late October, Star Trek: Discovery and Adventures in Babysitting actor Anthony Rapp said actor Kevin Spacey made an unwanted sexual advance toward him when he was just 14. The star apologized, saying he did not remember the encounter, and also came out publicly as gay.
The following day, Netflix announced House of Cards would end after the upcoming sixth season and a day later, the company said production on the show has been been suspended indefinitely. Since then, more sexual misconduct allegations have been made against Spacey.
"Well House of Cards is ruined / And that really sucks," Ronan sings on SNL. "Well here's a list of stuff / That's ruined for us."
The list includes: Parking, walking, Uber, pony tails, bathrobes, night time, and drinking.
On Wednesday, veteran Today show host Matt Lauer's name was added to the list when NBC News fired him after a female colleague accused him of inappropriate sexual behavior. More sexual misconduct allegations were made against him after his firing was announced. SNL addressed the issue on its episode on Saturday, during Weekend Update.
(E! and NBC are part of the NBCUniversal family.)