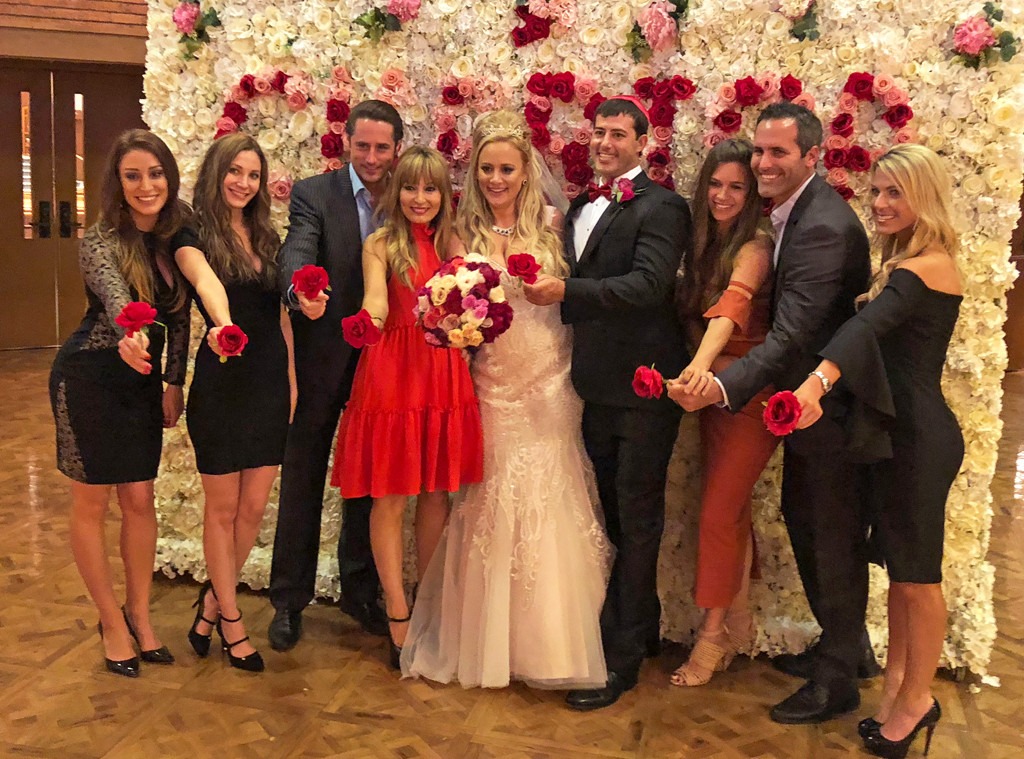 Courtesy Stephanie Coriddi and Jennifer Saxton
Erica Rose has finally found her happily ever after!
The Bachelor alum married Charles Sanders in Houston, Tex. on Sunday, E! News can confirm. Plenty members of Bachelor Nation attended her lavish nuptials, including Vienna Girardi, Tara Durr and her husband John Presser, Cory Shivar, Melissa Schreiber, Renee Simlak, Jeannette Pawula, AshLee Frazier Williams and even Prince Lorenzo Borghese, who was the Bachelor on Erica's season. 
The newly minted Mr. and Mrs. Sanders tied the knot in a traditional Jewish ceremony at temple Emanu El, a source told E! News exclusively.
A source tells E! News exclusively, "Erica's father walked her down the aisle while Erica held her daughter Holland in her arms as they approached the Chupah." 
After the ceremony, the couple posed with the Bachelor Nation alums in front of a wall of roses that spelled out "Cherica," the couple's names combined.
A first, more formal cocktail reception was held at their synagogue featured a string quartet and harpist.
Erica and Charles' family and friends are then gathering for a second reception at a vintage converted movie theater called the Majestic Metro. 
Our source said the "totally non-traditional" and "fun" celebration is Studio 54-themed, and guests walked down a red carpet before heading in. 
: Rexberry Events and Lily's Events
And speaking of the star of the evening, our insider shared that Erica wore a wedding gown, veil and tiara by Ventura Bridal and she has a second dress for the reception, which was custom designed by her close friend, Alex Martinez. 
After the wedding, Erica filled E! News in on the details of the celebration which was coordinated by Rexberry Events and Lily's Events, explaining, "There were two receptions. The first one was my parents vision and they did it. The second party was my creation along with my team. They did the best job!"
Erica gushed to E! News, "All my friends were like, this is the most fun wedding we've ever been to."
"The temple reception was very elegant. We had a harpist and a string quartet and everyone was doing speeches. But I was really excited once we hopped on the party bus and went to the Majestic and that's when everyone started having so much fun."
The bride said that the bash even had a VIP section and two photo booths, which is where most of Bachelor Nation hung.
Erica and Charles' lavish wedding was held just over two months after E! News exclusively revealed they were engaged. 
Up next for the couple, they're headed to Belize for a honeymoon in the sun.
Erica rose to fame after competing for Prince Lorenzo Borghese's heart during The Bachelor's ninth season in 2006. She later appeared on two seasons of Bachelor Pad's second and third seasons in 2011 and 2012, as well as VH1's reality series You're Cut Off!.
Congratulations to the newly minted husband and wife!