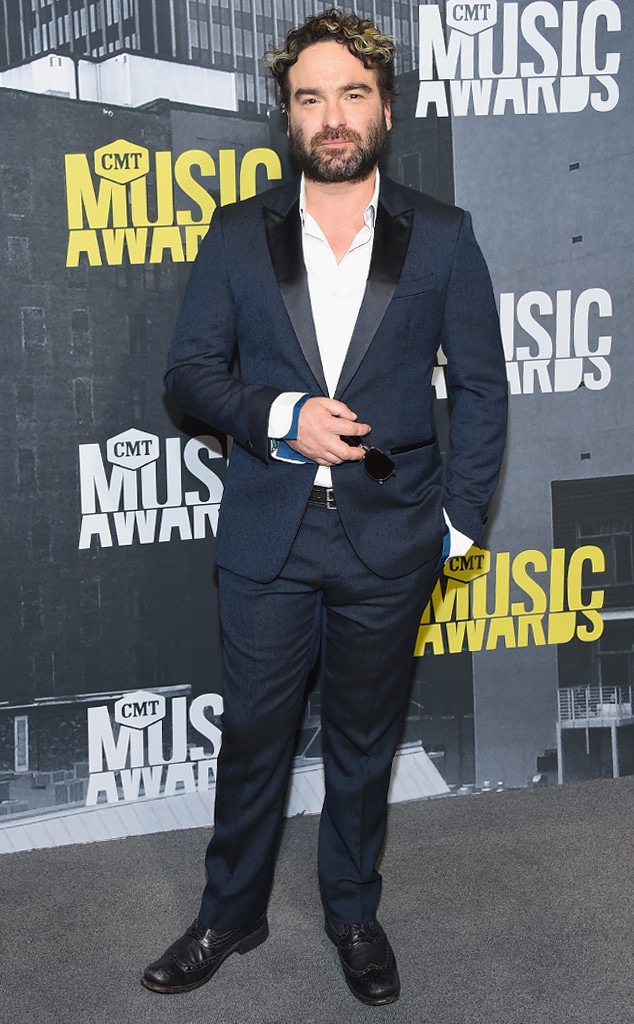 Michael Loccisano/Getty Images For CMT
Rest easy Roseanne fans, David is back. Johnny Galecki's return to the revived sitcom was announced via Instagram, naturally. It's 2017 after all.
Executive producer Whitney Cummings shared a snap of Galecki's official chair on set of Roseanne, announcing to the world that yes, David and Darlene will be back together (at least on screen). The status of their relationship—or any of the relationships on Roseanne, you all remember that original series finale twist—have yet to be revealed. In case you don't remember that twist, the series ended with Roseanne Conner (Roseanne Barr) revealing the series was fictionalized, it was her writing. Darlene (Sara Gilbert) and David weren't actually together, Jackie (Laurie Metcalf) was a lesbian and Dan (John Goodman) was really dead.
Galecki's return to the series was long assumed, but never confirmed. He's currently starring on CBS's The Big Bang Theory. At the 2017 TCA summer press tour, ABC said discussions were still ongoing with the actor.
Roseanne returns for a nine-episode new season in 2018. It's unclear how many episodes Galecki will appear. Shameless star Emma Rose Kenney was cast as the daughter of David and Darlene for the series. Along with Galecki, Metcalf, Gilbert, Barr and Goodman, returning cast for Roseanne includes Lecy Goranson, Sarah Chalke and Michael Fishman. Chalke, who played Becky when Goranson went to college, will also appear in a different role.
"The Conners' joys and struggles are as relevant—and hilarious—today as they were then, and there's really no one better to comment on our modern America than Roseanne," ABC's Channing Dungey said in a statement when the revival was officially announced.
How did this all come about? "I think what happened was, John Goodman went on The Talk, Sara Gilbert's show, and they did a little parody, like a 30-seconds parody and it went over really well," Metcalf told Stephen Colbert on The Late Show. "Then one of the anchors on the show asked John if he would consider doing a reunion and he said, 'Of course I would.'"
Roseanne returns in 2018.