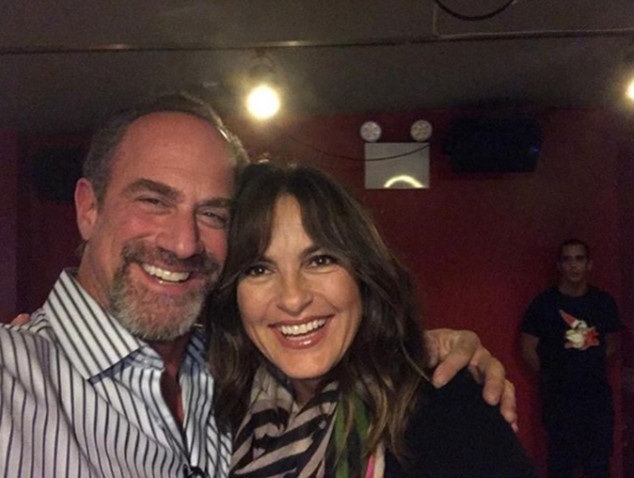 Instagram
It's the holiday present we didn't know we needed, until now!
On Thursday night, the Christmas season got brighter for Law & Order: SVU fans when two unforgettable co-stars reunited.
Ladies and gentlemen, are we ready to see Christopher Meloni and Mariska Hargitay together again?
"'Tis the season..." Mariska shared on Instagram with a selfie. "Ran into this #HAPPY man." But wait, there's more!
Christopher posted a separate—and clearer—photo of the reunion with the message, "#Friends #Seehappy #jingleHells."
The two reunited at The Skinny on Orchard Street for the launch party of Christopher's new Syfy series Happy!.
The series follows a degenerate ex-cop whose life is forever changed by a relentlessly positive, imaginary friend and premieres December 6.
As fans recall, Christopher and Mariska starred as Detectives Elliot Stabler and Olivia Benson, respectively, for 12 seasons of SVU.
And while the show never took this pair's relationship into something more romantic, the duo had chemistry that fans will never forget.
"She was always ready for anything new…There was always an unspoken shorthand to what we were doing. That makes it just so much easier, and off camera as well," Christopher told James Lipton on Inside the Actors Studio. "There's a lot to be said for that when you're working with someone for 16 hours a day, you better get along when the cameras aren't rolling as well as when it is. That was priceless, I think for both of us."
Law & Order: SVU airs Wednesday nights at 9 p.m. on NBC.