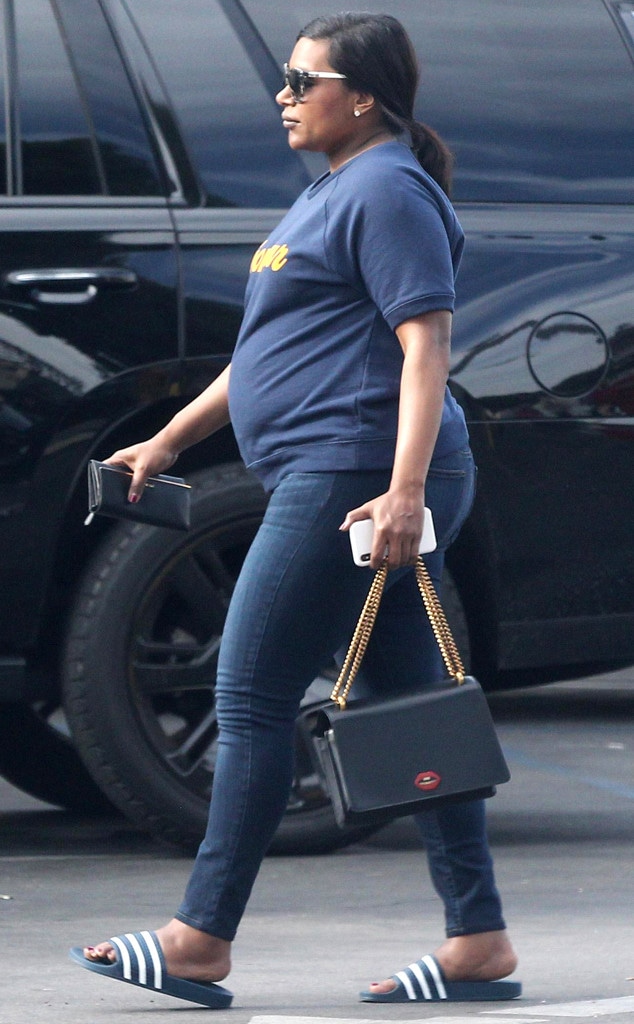 JS/Miguel Aguilar PacificCoastNews
Let the countdown to baby begin!
As Mindy Kaling's due date quickly approaches, the actress stepped out in Los Angeles Wednesday afternoon for a few errands.
Wearing denim jeans, Adidas slides and a navy blue ban.do sweatshirt that read "bonjour," the mom-to-be was dressed comfortably for a visit to the local nail salon.
She would later pick up a healthy smoothie before heading home.
Throughout her pregnancy journey, Mindy has tried to keep a low-profile in Los Angeles. In fact, she has rarely posted photos of herself on social media.
At the same time, she has expressed her excitement about becoming a mom sooner rather than later.
"I'd like to be the fun mom, I know I'm gonna be the dorky mom," she confessed to Willie Geist on Sunday Today. "So if I can be kind of fun too, I think that would be nice."
"[Motherhood is] so unknown to me," she added. "I have a lot of control over a lot of aspects of my life, and this is one where I'm like, 'OK, it's out of my hands,' which is kind of a fun feeling."
One thing she couldn't control was her co-stars spilling the beans that she was expecting a baby girl. Yes, we're looking at you Oprah Winfrey.
"At first it was like, 'OK, if anyone was going to announce big news about your private life, Oprah Winfrey is the person,'" she said on the Ellen DeGeneres Show. "You can't complain that much about it. You also can't be like, 'Hey, Oprah, zip it.' Because she's almost like a religious figure. I actually thought, 'Well, ok, if there's one person I have to tell my daughter about that revealed her existence to the world, Oprah's pretty good.'"
Best of luck Mindy in the final weeks of your pregnancy.