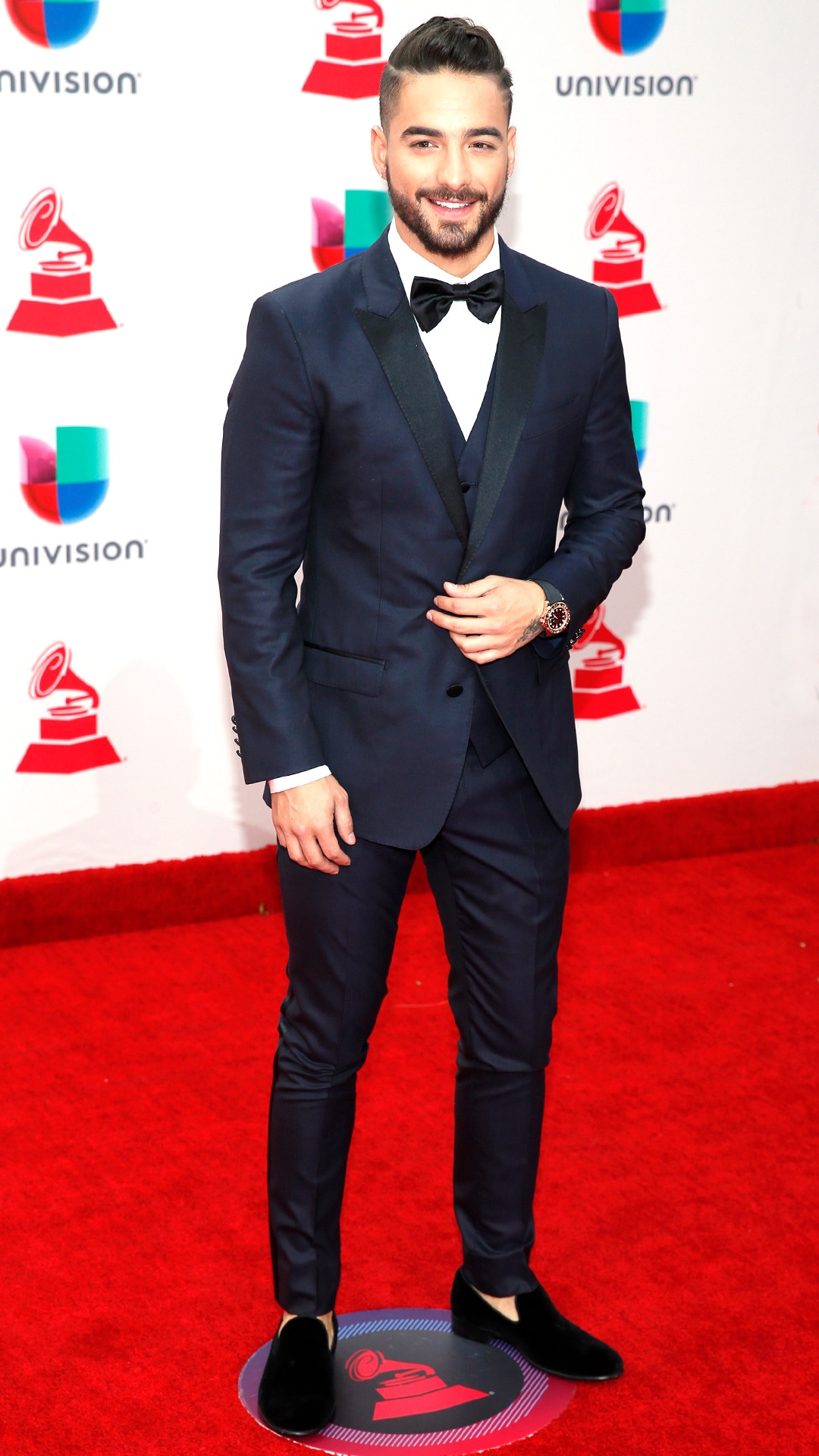 Eric Jamison/Invision/AP
Let's get right to it, Maluma dominated 2017, but we have a feeling this is just the beginning for him.
In the past 12 months, the Colombian superstar has completely blown us away, but we know there is so much more on its way. 
From hit songs with Marc Anthony and Shakira to out of nowhere dropping three songs in a short film to breaking global social media records, that was 2017 for Maluma.  
His infectious beats, signature look and the way he heats up the screen, it's no wonder he's become a household name—everywhere!
At the end of 2016, Shakira dropped her music video for "Chantaje" featuring the Pretty Boy, Dirty Boy, that track scored him three 2017 Latin Grammy nominations. In total, the star garnered a total of seven Latin Grammy nominations.
The star toured the world but also managed to find the time (we're not sure how) to record an album and plan a US tour. 
Not to mention, our shocked faces when Maluma dropped X, a short film, that includes three new songs including "GPS" featuring French Montana. Flo Rida also featured the star's on his new track "Hola." 
When asked by La Opinion about his accomplishments this year Maluma said, "I feel really grateful, it's a blessing from God, I came to this world with an extraordinary purpose, I came to show people that you can do it. I am a dreamer, and my dreams have taken me to where I am today, and I'll keep going because this is only the beginning of my career. I am 23, and I believe that the best is yet to come."
"I'm working hard to get to the next level," he continued. "I believe that as an artist, the biggest honor is to have the love from your fans. And knowing that I'm one of the most followed on social media, knowing that I could have more songs playing on the radio right now, it gives me a lot of happiness and makes me hungrier every day, because the sky isn't even the limit." 
But above it all, the most important thing to the singer is his family. His name alone shows how highly he values his parents and sibling. 
"[The name] Maluma comes from my mom is Marlli and my dad's name is Luis, and my sister's name is Manuela. So it's the first two letters of each of their," he explained at the 2017 Billboard Latin Music Conference. "They're my motor in life, and they mean everything to me, so that's why I have them tattooed on me and that's why I also have them in my artistic name."
Maluma, whose name is Juan Luis Londoño Arias, referenced a tattoo on his arm that he got earlier this year of four elephants that symbolizes his family, he noted that he was the smallest elephant. 
The star has built a massive following on social media, especially on Instagram. He is currently the most-followed Latin male artist on Instagram. His Instagram Stories are extremely popular, so much so that he ranked No. 5 this year on the list of most-viewed Instagram Story for a public figure. 
"That connection that I have with my fans is really special, and every time, when I have a moment or when I have free time, the only thing that I think about is what I'm going to post, what I'm going to say to my fans," he explained in an interview with Reuters. 
On his new album F.A.M.E. we can expect, an almost bilingual album and maybe a few big-name collaborations. 
"I'm trying to find the balance and do like, 'Spanglish' music or some songs in Spanish and other in English or do a translation," Maluma said.
Maluma is also closing out the year by holding three spots on Vevo's global list of most-watched music videos of 2017.
Shakira's "Chantaje" featuring the star came in the No. 2 spot with a whopping 1.6 billion views. That was followed by his "Felices Los 4" video, which features a cameo by Wilmer Valderrama, ranked No. 4 in with 1.1 billion views. His song "Vente Pa' Ca" with Ricky Martin finished in 8th place with 987 million views. Very impressive!
The official dates for the 2018 MALUMA F.A.M.E Tour include:
Friday, March 23, 2018, Washington DC—EagleBank Arena
Saturday, March 24, 2018, Boston, MA—Agganis Arena
Sunday, March 25, 2018, New York, NY—Madison Square Garden
Friday, April 6, 2018, San Jose, CA—SAP Center
Saturday, April 7, 2018, Los Angeles, CA—The Forum 
Sunday, April 8, 2018, San Diego, CA—Valley View Casino Center
Thursday, April 19, 2018, Houston, TX—Smart Financial Centre
Friday, April 20, 2018, El Paso, TX—El Paso Coliseum
Saturday, April 21, 2018, Laredo, TX Laredo Energy Arena 
Sunday, April 22, 2018, San Antonio, TX—Freeman Coliseum 
Friday, April 27, 2018, Odessa, TX—La Hacienda Event Center 
Saturday, April 28, 2018, McAllen, TX—State Farm Arena 
Sunday, April 29, 2018, Dallas, TX Verizon—Theatre 
Friday, May 4, 2018, Denver, CO Bellco—Theatre 
Saturday, May 5, 2018, Las Vegas, NV—Mandalay Bay Events Center
Sunday, May 6, 2018, Phoenix, AZ—Comerica Theatre
Thursday, May 10, 2018, Charlotte, NC—Bojangles Coliseum
Friday, May 11, 2018, Connecticut Venue to be announced 
Saturday, May 12, 2018, Chicago, IL—Allstate Arena
Sunday, May 19, 2018, Miami, FL—American Airlines Arena
Monday, May 20, 2018, Orlando, FL—Amway Center 
There are additional tour dates to be announced.
As Maluma's 24th birthday approaches, we can't help but look back and admire all that he's accomplished in 2017 and throughout his entire career. But as he once said, this is only the beginning!